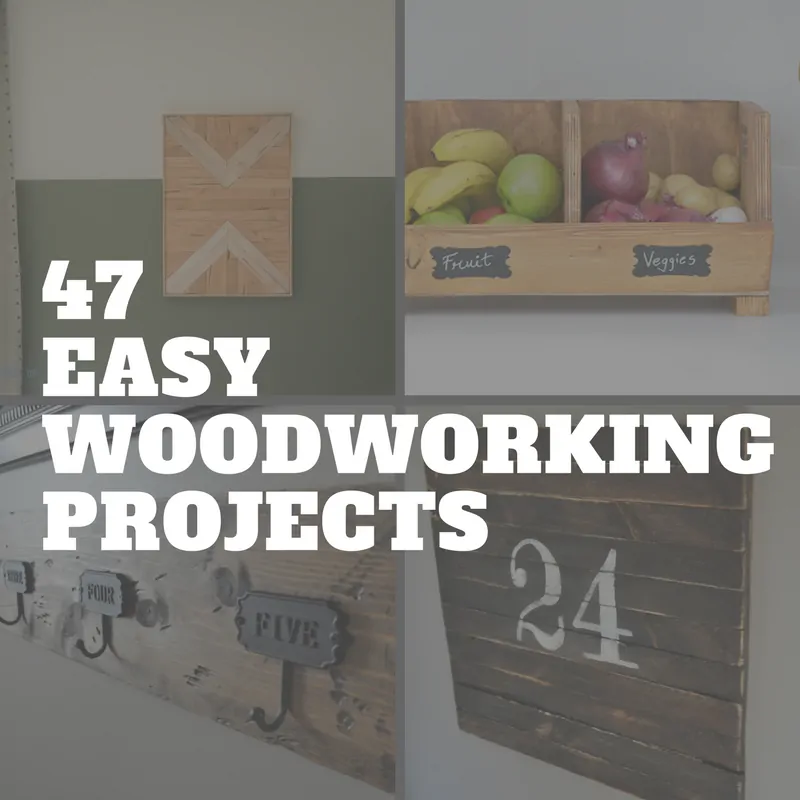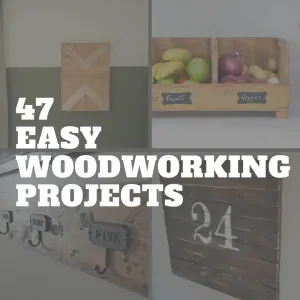 Get started building an awesome wood project today.
This article for anyone who wants to try some easy woodworking projects. 
Any skill level can use this list of projects, but beginners will reap the greatest benefits.
Get Started
For many getting into it, woodworking can seem like a daunting task. 
It can be difficult to figure out where to start. 
There are tools galore, and most of the projects you find online seem impossible to build for a newbie. 
It is best to start out with a simple project.  Preferably something that you need in your house.  For example, you may need a shelf because you have some books lying around.  Now you have some motivation to get started.
Then you will need to find what you need to build that specific piece.  You'll generally need tools, fasteners, hardware, lumber/materials, and paint/finish.
Don't get intimidated if you don't any of the stuff required for a project.  Most of the tools are affordable. Check out my post on beginner tools to help see what you need.  And building a piece yourself is always cheaper than buying a completed piece from a store.
Find your project and check out the tools and materials required. Then compare it to what you already have. 
As long as you are comfortable with the cost, then get started.  You won't regret it.
Here is a list I've compiled by browsing the web for simple, easy woodworking projects.  Use it at your leisure.  It took some time to compile this list. None of these are my projects – I have linked to great blogs across the internet.  Enjoy!
Home Decor
The projects in this section are primarily meant for decoration around the home. They are all fairly easy to accomplish and should require minimal tools.
1. Pallet Skyline Wall Art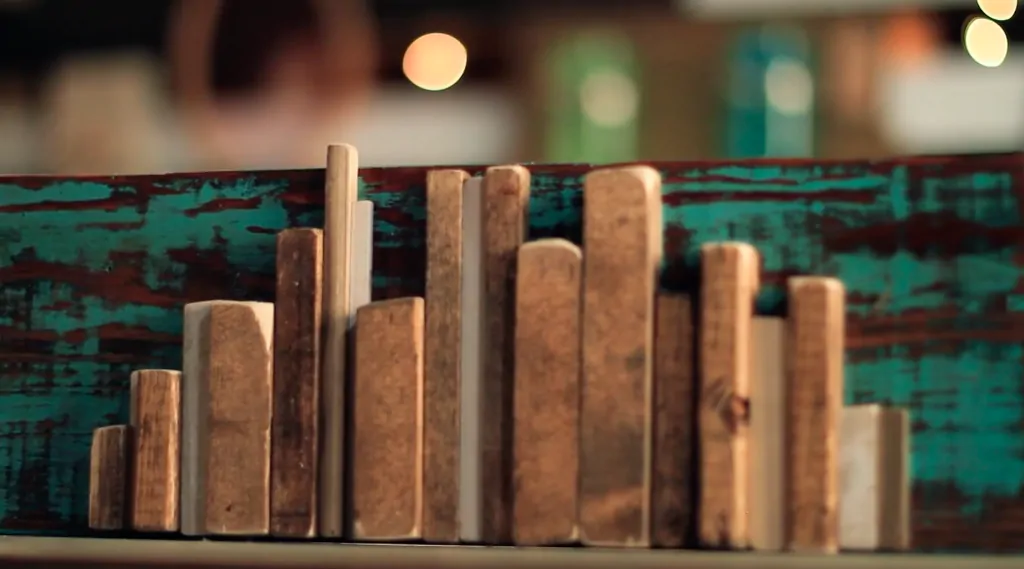 This is a great project for beginners.  It is straightforward and doesn't require very many tools.
You may not want to make one that looks exactly like this, but going through the tutorial is enough to spark the imagination.  If you think pallets are neat or need a simple project to do with your kids, then this one is for you.
Check this out at Pallet University.
2. DIY Blanket Ladder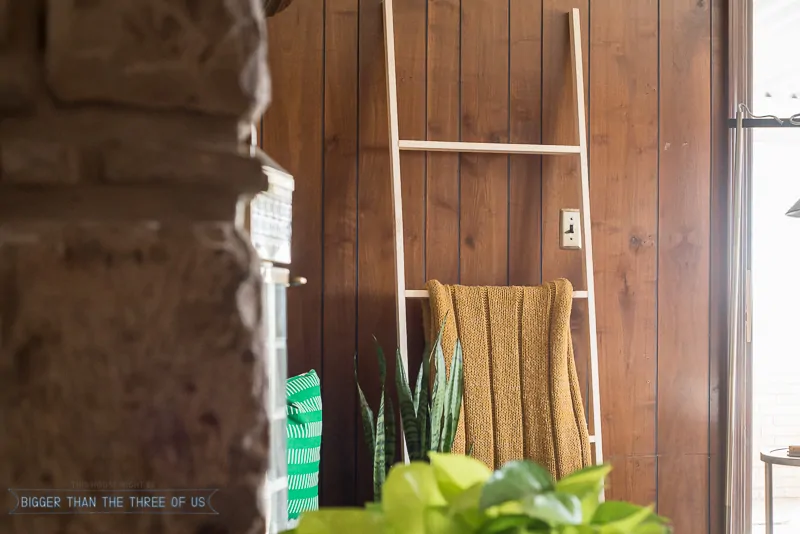 If you are looking for a simple upgrade to your decor, then this wood ladder might do the trick.  This project by Bigger Than the Three of Us is super quick, simple, and infinitely customizable.
Some of my favorite projects are the ones where they give you a foundation.  Sometimes you don't need exactly what the project entails, you just need a guideline to give an idea of how to proceed.
Find this at Bigger Than the Three of Us.
3. Wood Wall Art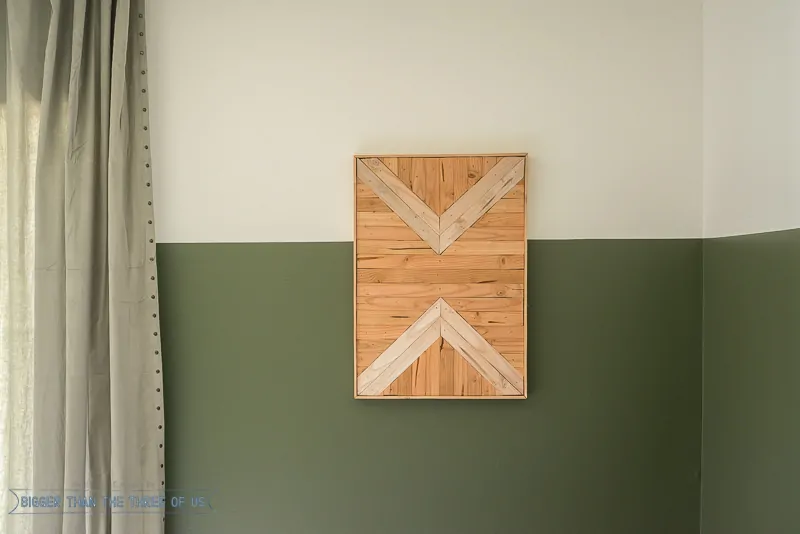 It is so simple and the result is great.  A neat design like this can add interest to the room and cost next to nothing. I guarantee it would probably be 10 times the cost to buy a piece similar to this.
This project is so easy that anyone can do it.  Plus, with a little creativity and imagination you should be able to make something unique you can put on your wall with pride.
Get this at Bigger Than the Three of Us.
4.  DIY Succulent Frame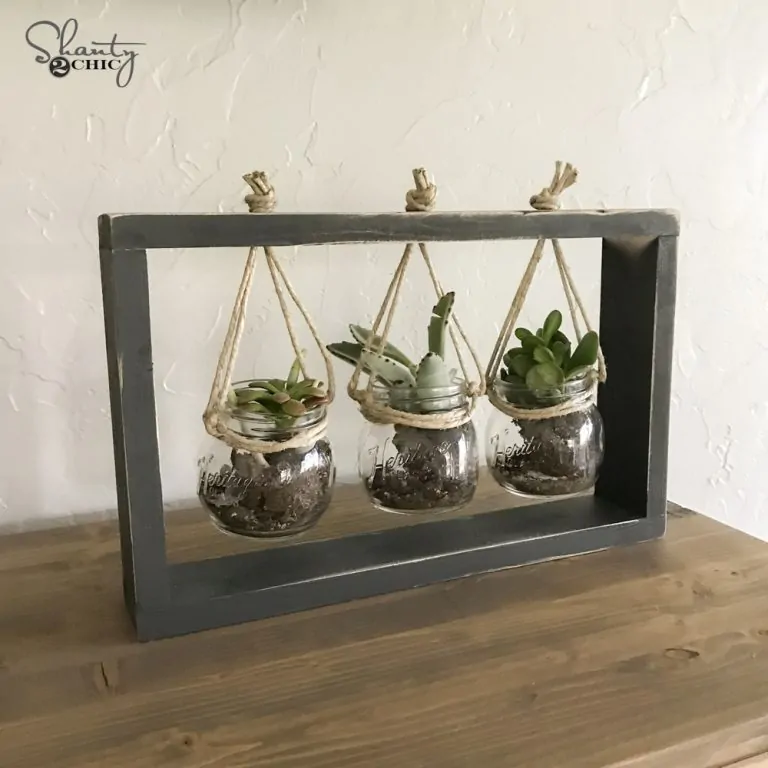 Make this product with one board and just a few tools.  Shanty 2 Chic offers a good video tutorial with this one, so the process should be super simple.
The best part is you can grow succulents or herbs in the jars.  It is an easy yet effective project.
Build this at Shanty 2 Chic.
5.  Wooden Hexagon Tray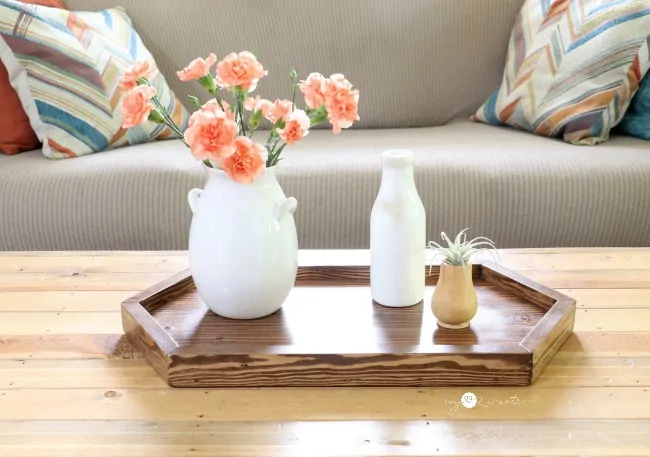 This tray is made with few materials and it is entirely customizable.  I like how it is strong enough to use but also looks good merely as a decoration.
Any beginner should have little trouble building this.  It is a great project to introduce yourself to woodworking.
Check it out at My Love 2 Create.
6.  Wood Star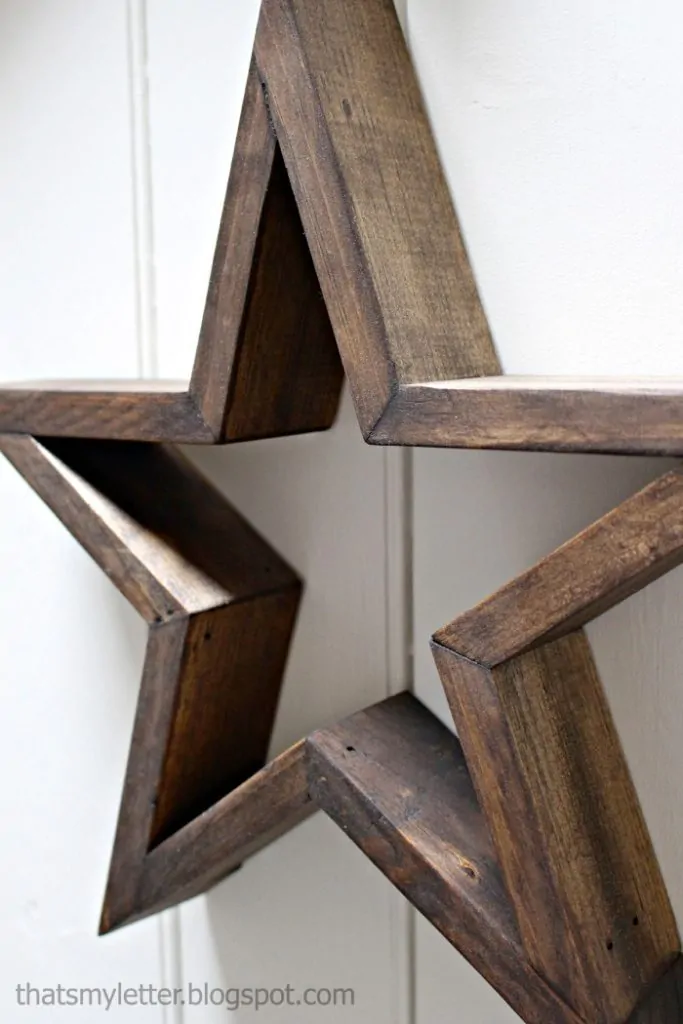 Add some interesting decor to your wall with these 3 dimensional stars.  I like how the depth makes it stand out.
This project requires very little in the way of tools and materials.  Simply cut a board a few times and then nail the pieces together.  Stain or paint it the way you like.
Get it at That's My Letter.
7.  Plywood Quote Art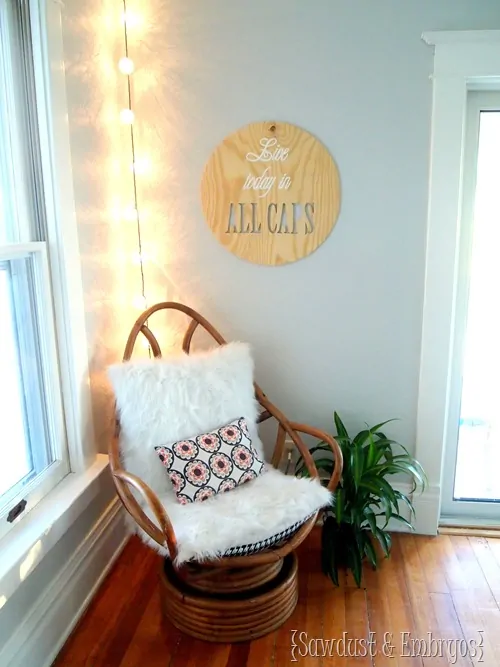 If you love the look of plywood then this project is for you.  It can be attractive in the right setting, such as this example.  This project is simple and the only major undertaking is using the jigsaw.
Make this for yourself or as a gift.
Find it at Reality Daydream.
8.  Wood Shim Sign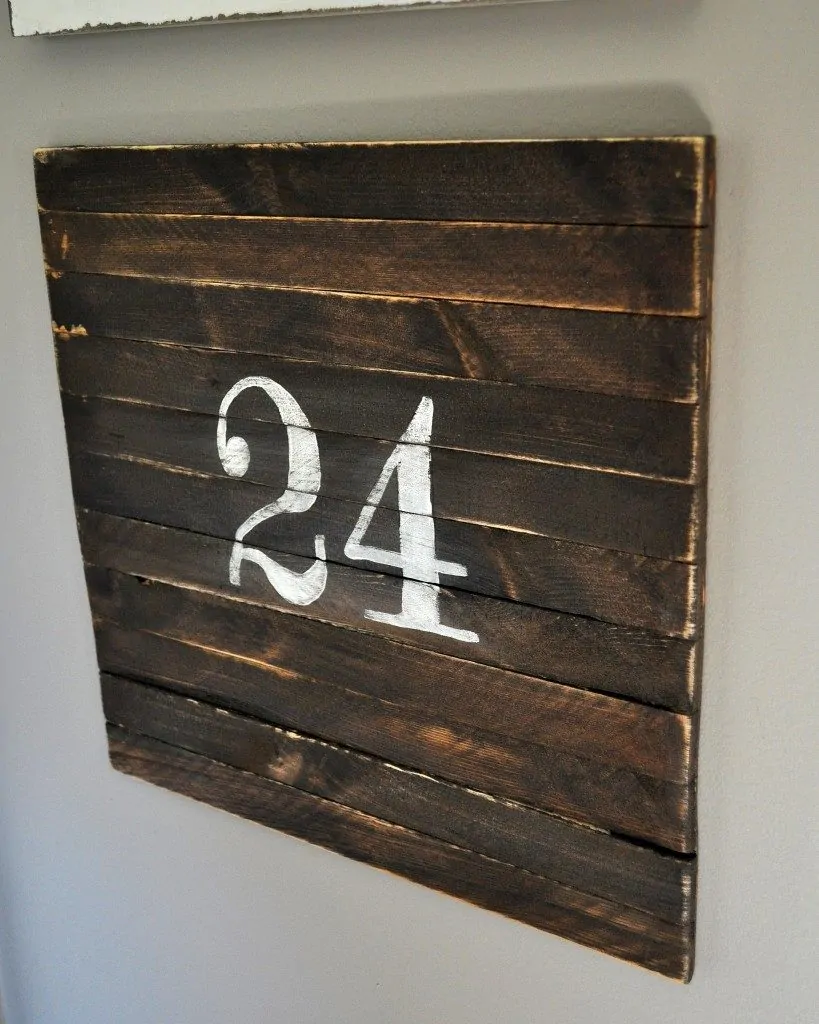 This project is for you if you need more decor on the walls.  It is attractive and simple.  Also, you can pretty much write or paint what you want on the board in any color.
It requires very few tools and only some simple wood pieces widely available.
Check it out at Little Glass Jar.
9.  Scrap Wood Wall Art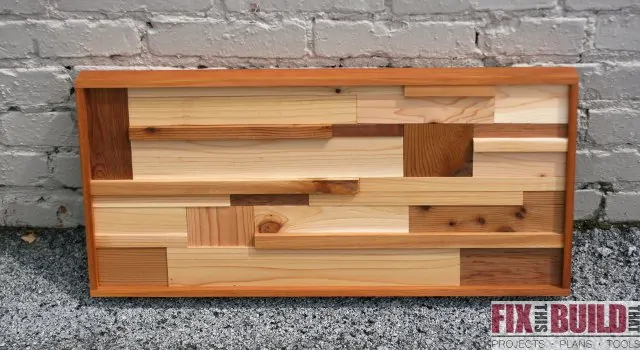 Do you have plenty of scrap wood laying around?  You can make good use of it with this wall art project. Not only is it easy and straightforward but the results are pretty cool.
A beginning woodworker should have a fun time building this, and others will be asking just how you did it.
Get it at Fix This Build That.
10.  DIY Wall Shelf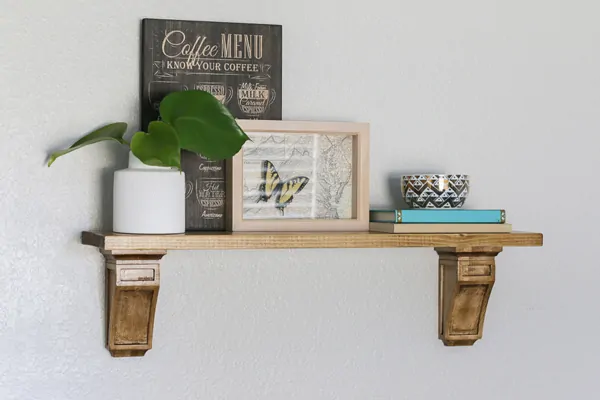 Build a wall shelf and get your home organized.  This shelf is easy to build and looks great in every room of the house.
You can expand this design and make it bigger or smaller. Use any color or stain that you would like.
I like how it incorporates the pre-made corbels so that it looks fancier but doesn't actually require extra effort.
Find out how to build this at iHeart Organizing.
Furniture
This section contains slightly more difficult projects than the others.  This is to be expected because furniture can involve many different parts and require some more tools.
Don't let that deter you, however, because the tutorials I gathered here are all straightforward.
11.  Pallet Bench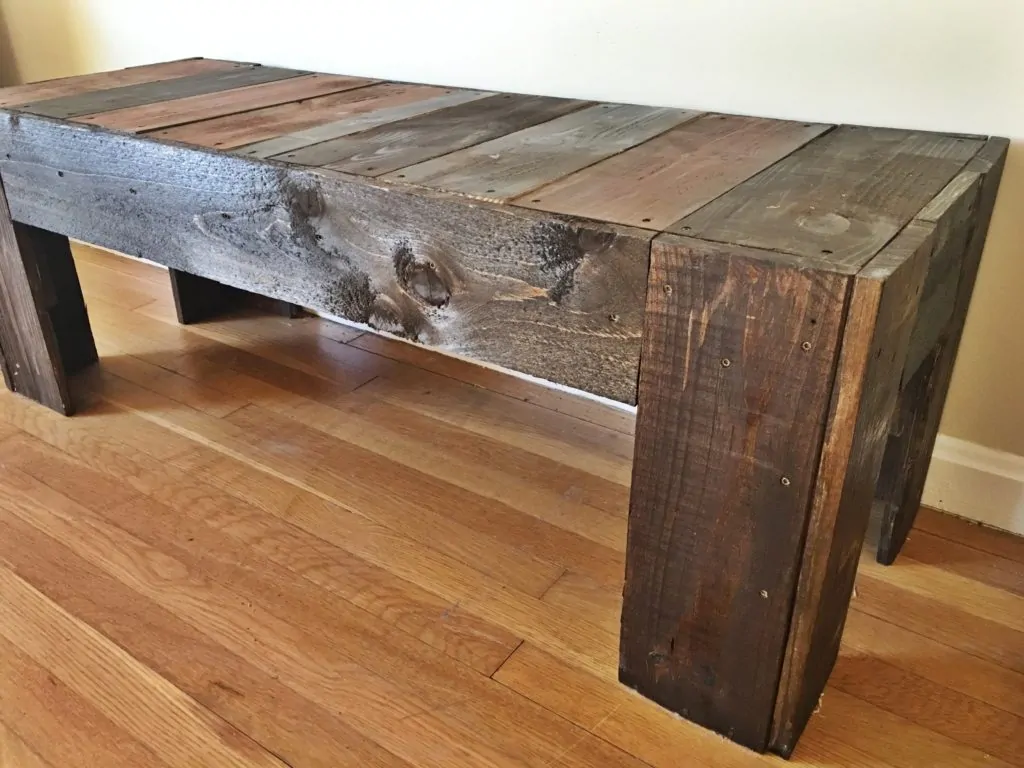 If you love the look of pallet wood like many people do, then you may want to add this bench to your collection.
Because it is stained, it allows you to have some customization over the finished look of the wood.
This is a simple project that will get you a good feel for building more structural pieces of furniture.  It does not require many tools and most beginners should be able to do it.
See it at Pallet University.
12.  Command Center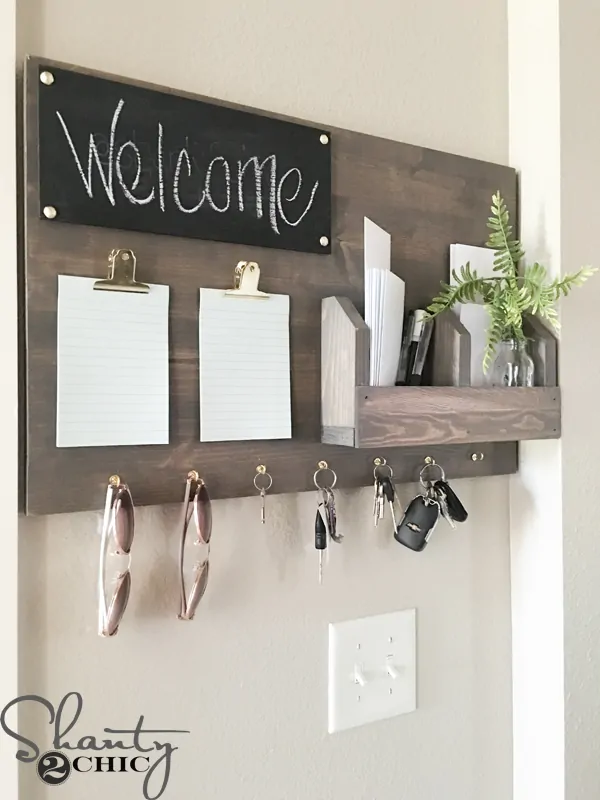 A great project for organizing your entryway.  It is very beginner friendly and does not require very much material.  A few hardware pieces are required, such as the hooks and notepad clips.
Paint or stain this piece whatever color you would like to match your house.
Check it out at Shanty 2 Chic.
13.  Painted Wood Headboard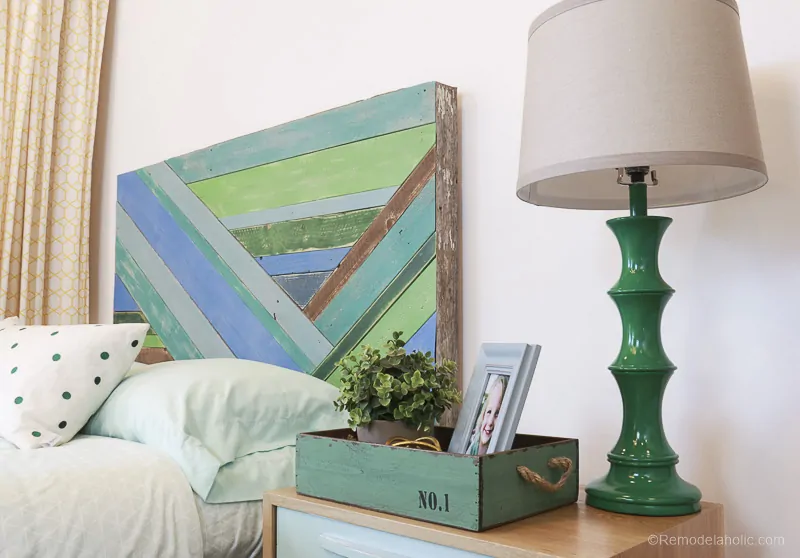 This is a great project for many reasons, the main one being how cleverly it is designed.  It uses few materials and hangs on the wall with easy to make french cleats.
It is not complicated, however, and you will find many ways to customize this design.  Colors, shapes and sizes can all be changed.  Use the well made tutorial for expanding your piece.
Get it at Remodelaholic.
14. DIY Pocket Shelf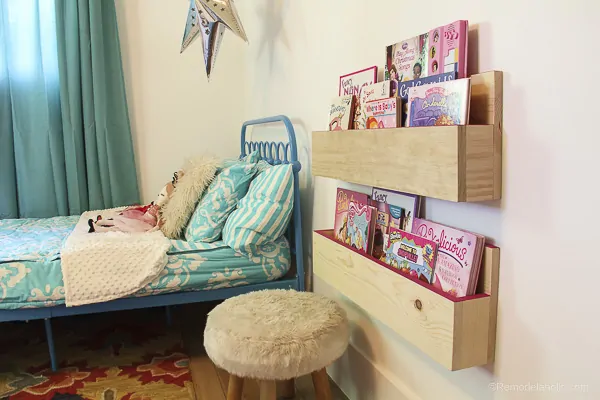 If you have a kids room with books scattered on the floor, then this project is for you.  These neat looking shelves serve a very useful purpose.
It requires few materials and should be simple enough that just about anybody could make these.  It is so much better building something lasting like this for yourself or your kids than going out and buying a pre made piece.
Check it out at Remodelaholic.
15.  DIY Stool Plans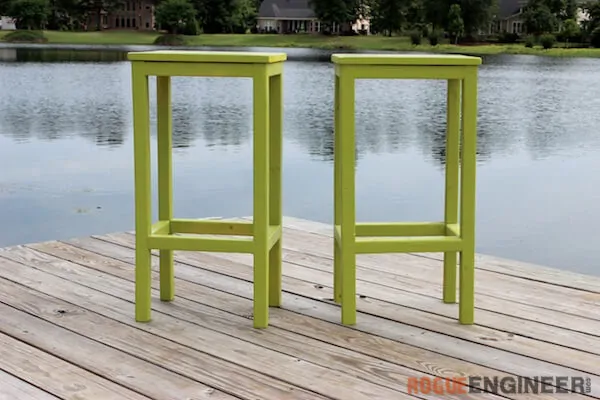 These stools could not be much simpler to build.  Simply cut the pieces to the right length and screw it all together.
They are sturdy and useful for any kind of outdoor bar or deck party.  Paint them or stain them whatever color your heart desires.
Get the plans at Rogue Engineer.
16. Stacking Storage Cubbies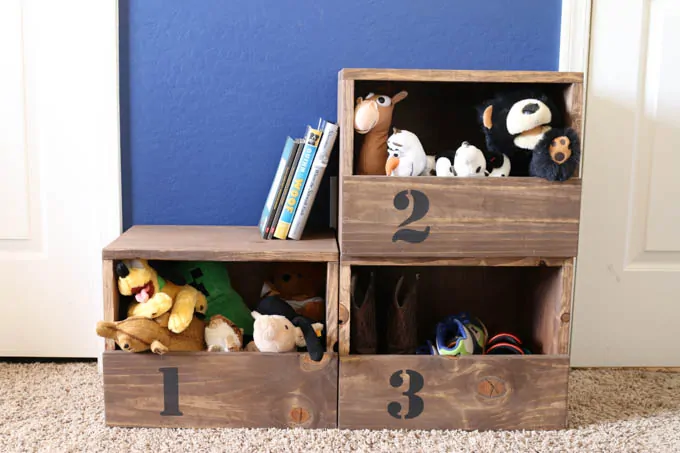 Here is a neat project for organizing all kinds of things.  Start with your kids rooms and build more from there.
They are super simple to build, requiring very few tools and little materials.  I especially like how they can be stackable.  It makes them appear very modular and gives it a clean organized look.
Find how to build them at Pretty Handy Girl.
17.  Entryway Coat Hooks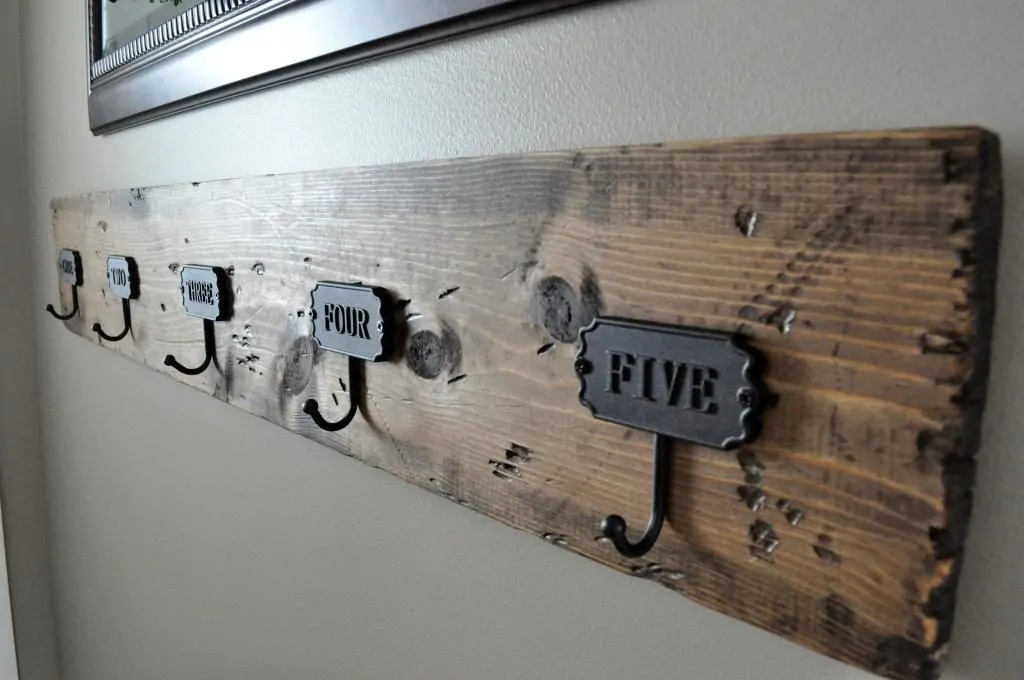 Sometimes a simple upgrade like this entryway coat hook piece can transform a wall from useless and bland to handsome and productive.
I like the way that the wood was antiqued and beat up.  Any beginner can achieve this look with a little practice.  Just get some stuff like a hammer or a small chain and make some indentations on the wood.
Build this one at Little Glass Jar.
18. Number One Shelf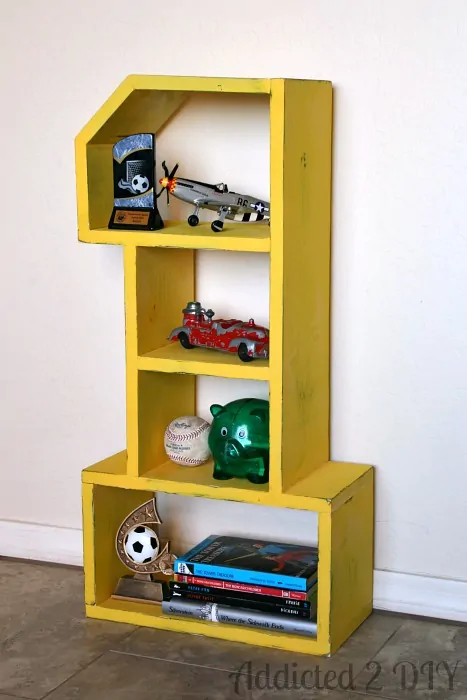 This is one of those designs that doesn't seem like much as you are building it but when the finished product is done it is super cool.  I can imagine having this in my room as a kid; I would have loved it.
It is easy to build, just use a few boards and some paint.
Get the plans at Addicted 2 DIY.
19. Produce Storage Bin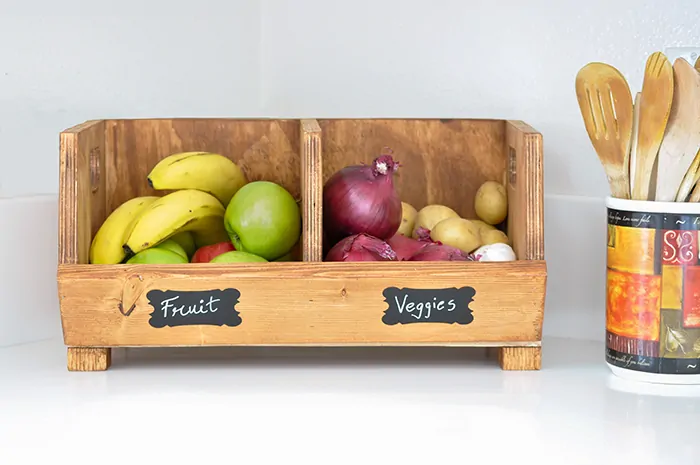 I can see myself building a piece like this but expanding the plans to 3 or 4 cubbies.  It is always nice to have an organizer like this instead of having some apples rolling around in a bag on the countertop.
This project is really simple and it should last a lifetime.  Make it how you want it.
Get started at Anika's DIY Life.
20. Pet Bowl Stand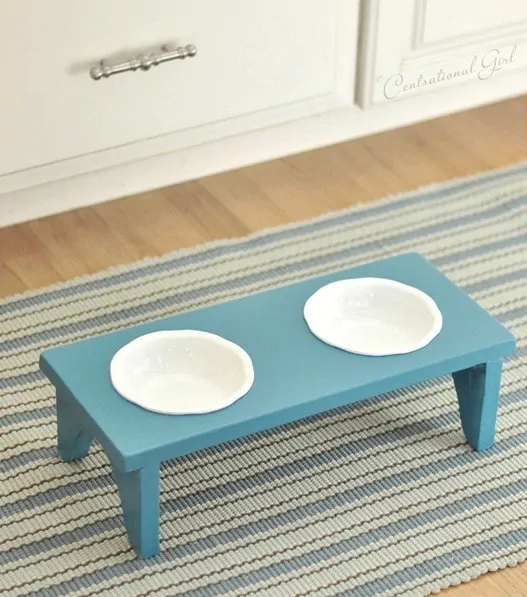 You could buy one of these at the store, but why not make it yourself?  You can customize the design and make it any color you would like.
Also, if you have specific bowls you like to use for your pets then you can build it to suit those.  Stop the spillage of food and water and build this neat pet bowl stand.
Find the plans at Centsational Style.
Crafts
These crafts can double as awesome home decor and perfect gifts.  They are all easily made by a beginning woodworker.
Pick out your favorite and get started.
21.  Heart Vase Wreath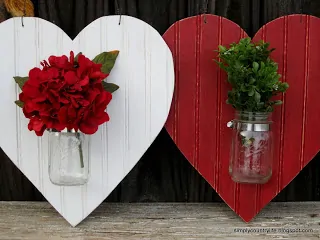 This is a neat project that should be accessible for a beginner.  I love how the jar is cleverly held to the bead board with a large hose clamp.  Its something that I may not think of doing.
You could easily change the style or design to something like a star or do some different colors.  It does not have to be limited to hearts or the Valentine's day theme.
Learn how to make this at Simple Country Life.
22.  Fall Yard Signs
These cool signs are easy to make and fully customizable.
Obviously anything related to fall decor is perfect for these, but don't let that limit you.  Make some signs for a classroom or a business.  The design could be used for all kinds of things.
Build this at Simple Country Life.
23. Wine Caddy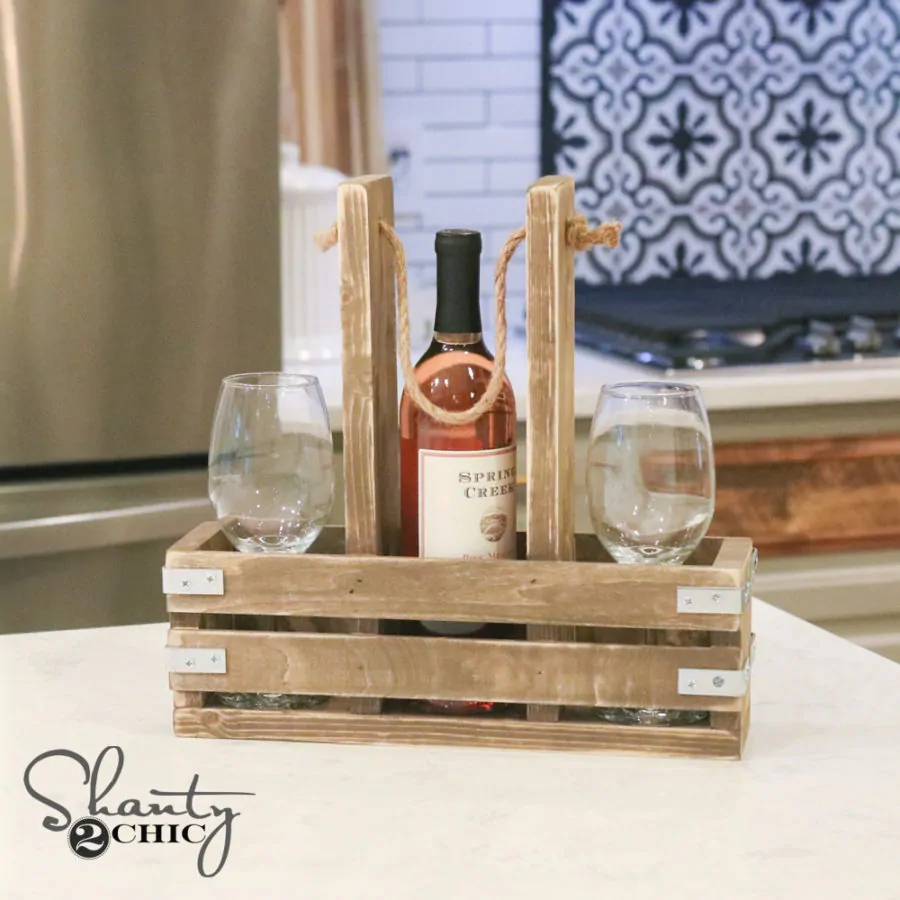 Make this fun craft with just a few materials and tools.  I like the fact that you'd probably be hard pressed to find anything like this to buy, so you know its one of a kind.
It is very beginner friendly and it could even make a neat gift if you know someone who appreciates wine.
Check it out at Shanty 2 Chic.
24. Mug Holder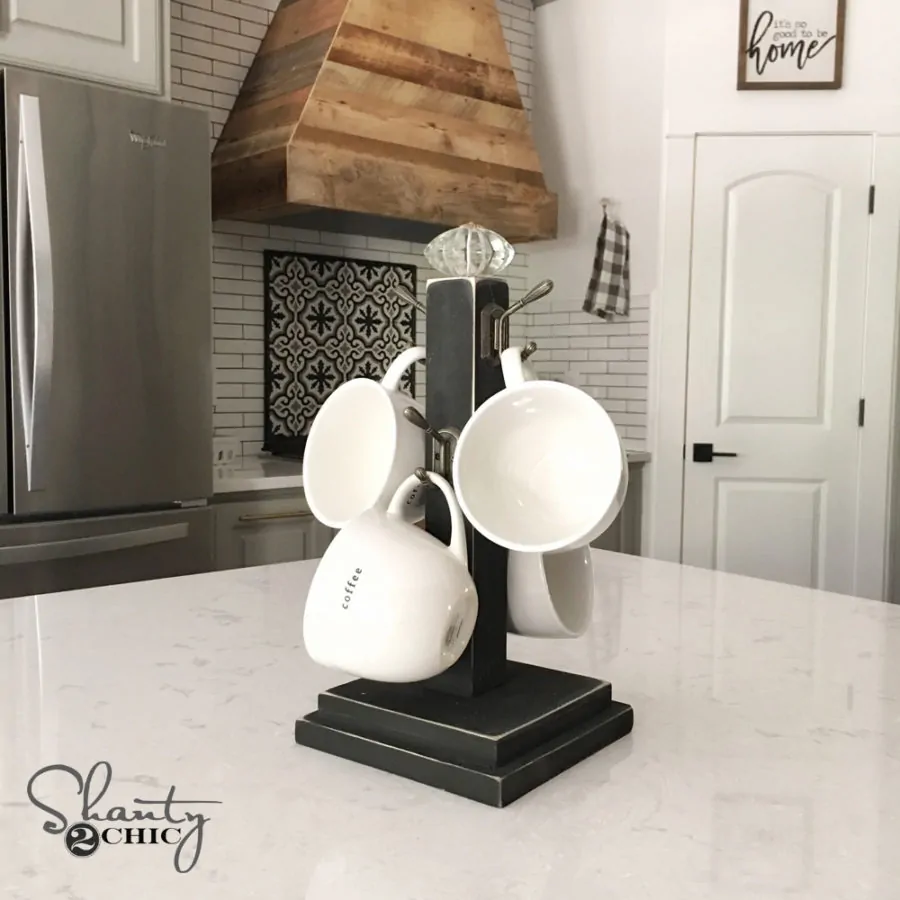 Everyone I know has a ton of coffee mugs everywhere.  So instead of giving the gift of a coffee mug you should make this holder for someone.  It is super simple and so useful.
The amount of wood and tools required is so little that anyone should be able to build this.  I wish I had one for my kitchen.
Check it out at Shanty 2 Chic.
25. DIY Trivet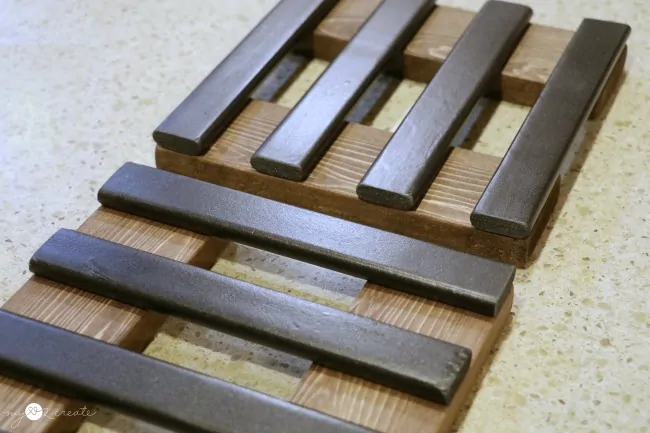 This is an easy and practical project for any amateur woodworker.  It does not require very many tools or materials.
The best part about it is you can put these to work in the kitchen and make them fit your pans.  Not all trivets are the correct size for the specific pans that you own.
See how to make these at My Love 2 Create.
26. Outdoor Chalkboard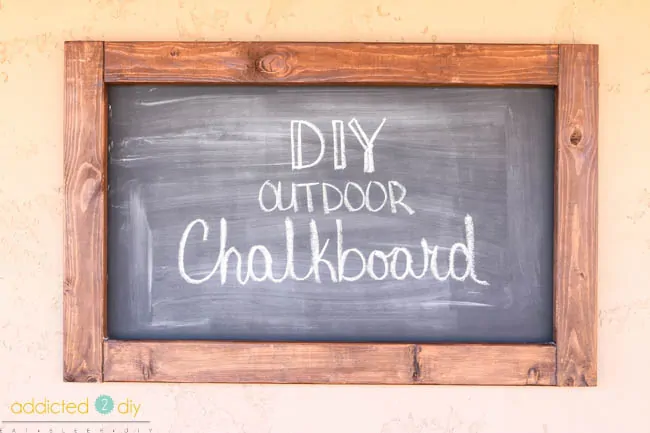 This is a neat craft that will spruce up any area that you put it in.  It is fairly basic construction with 2x4s and hardboard backing.  It is built strong too, so don't worry about it falling apart later.
Build this to whatever size and style you would like.
Find the plans at Addicted 2 DIY.
27.  Tool Tote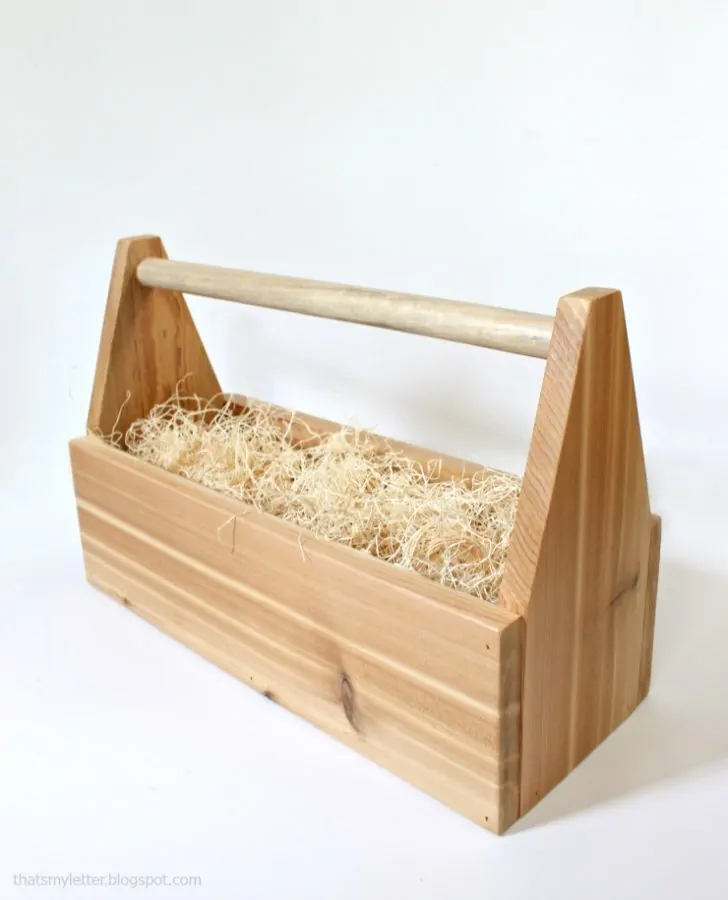 Build a tool tote as a gift or just to use yourself around the house.  Not only is it strong and durable, but you will enjoy the simple and clean design.
If you choose to give this as a gift, you can fill it up with tools to give as well.  Pretty cool.
See it at Pretty Handy Girl.
28. Dinnerware Caddy and Paper Towel Holder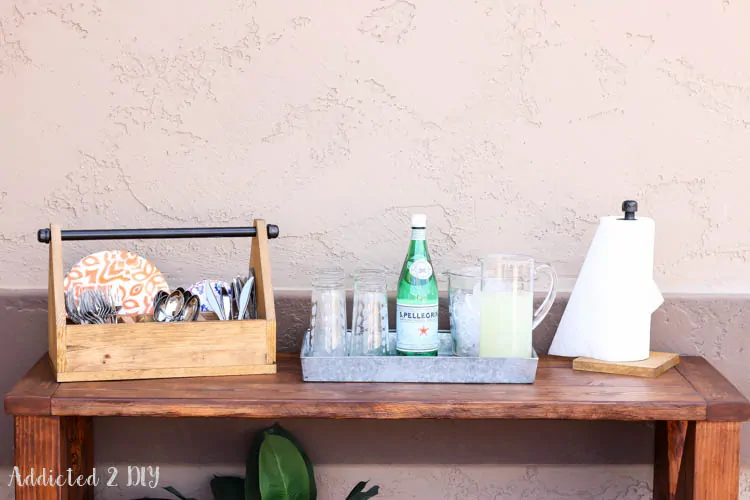 This two part project will make your outdoor meals much more legit.  I like how you can start with the caddy and paper towel holder for now, but with a little imagination you can easily come up with some new ideas for expansion.
Just design something else and build it in the same style.
Check it out at Addicted 2 DIY.
29. Wood Burning Tags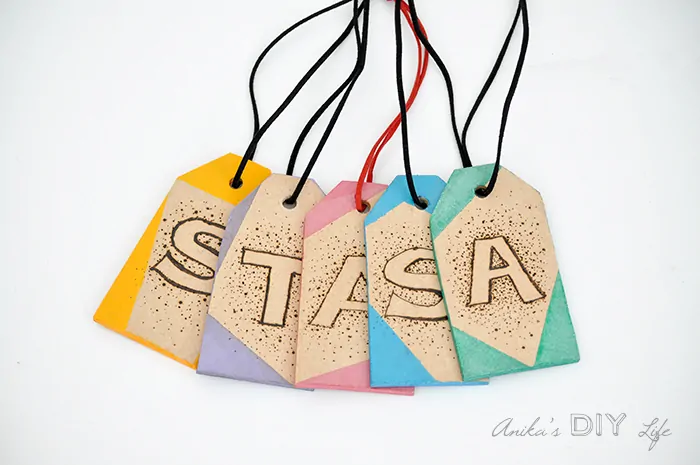 Make these tags to give as a gift or to organize any other crafts that you may make.  They are cute and colorful.
If you are interested in wood burning, then this is a great craft to begin with.  Start with a letter and add some flair as you desire.
Check it out at Anika's DIY Life.
30. Handcrafted Rulers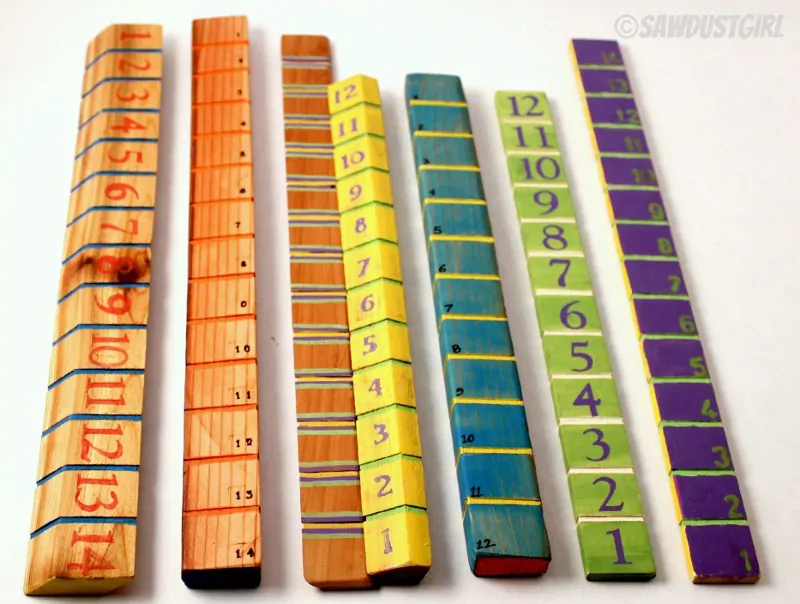 These wood rulers are easy to make for any beginner woodworker.
They are fully customizable with any color and style you would like.  I think they would make a great gift for any schoolteacher in your life.
Make them at Sawdust Girl.
31. Wood Napkin Rings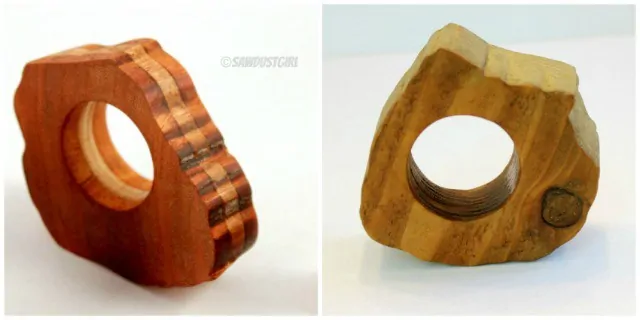 Display your creativity and love of woodworking with these unique napkin holder rings.  Or give them as a gift.  I like how if put on a dinner table they would add a great sense of style to the setting.
These are easy to make and you can even use your scrap wood that you have sitting around.
Get the plans at Sawdust Girl.
32. Paint Stick Basket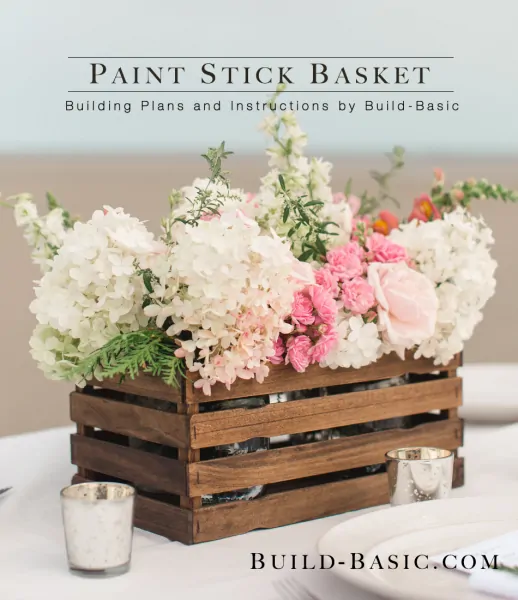 This craft would be good for all kinds of situations.  I can imagine using it as a centerpiece for all kinds of events.  What better way to add a personal touch than to build these baskets yourself.
They use few materials and the construction is quite simple.
See how they're made at Build Basic.
Games
These woodworking games will definitely impress at your next gathering.
Build a few and let the fun begin.
33. Yardzee Game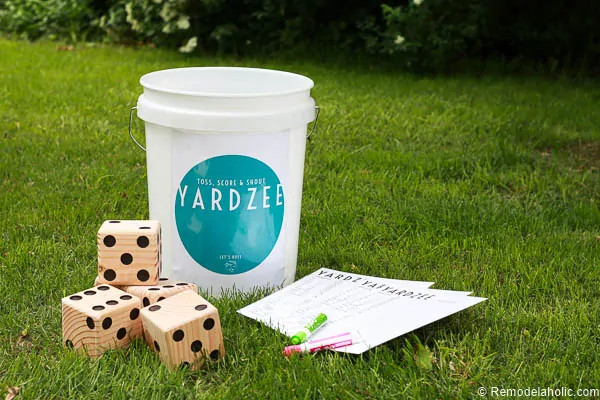 I think these yard dice are super fun.  They should be easy to make for nearly anyone.  And the plans allow for different ways of coloring in the dots.
It only requires a few woodworking tools and one piece of 4×4 wood.  The plans also come with printable stencils and a logo to put on a five gallon bucket.
Check it out at Remodelaholic.
34. Ring Toss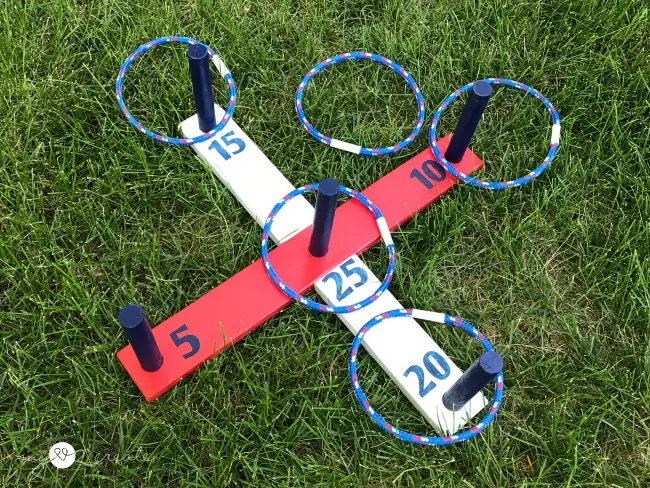 This is a fun and simple game that a beginner woodworker should enjoy making.  I'd say you shouldn't buy any game like this, you should instead always make it yourself.
It is a neat design.  I like the use of pocket holes to hold it together.  Build one for your next outdoor get together.
Find the plans at My Love 2 Create.
35. Football Toss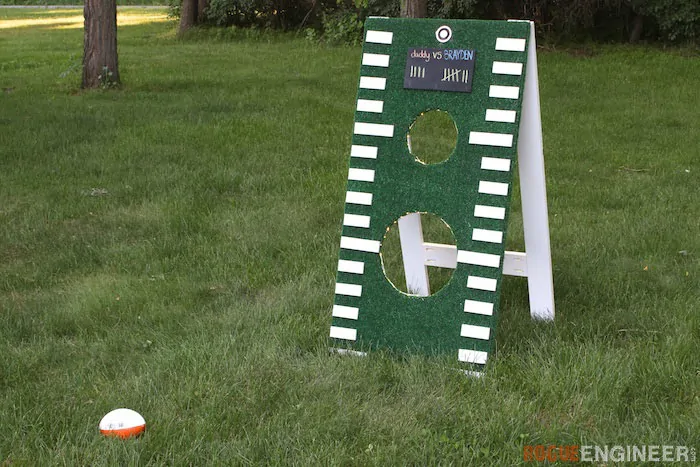 This project is fairly easy for a beginning woodworker.  It requires just a few tools and you can always add your own personal flair to it.
I like the nice touch of led lights inside the rings and he even adds a bluetooth speaker to this board.
Check it out at Rogue Engineer.
36. Playing Card Holder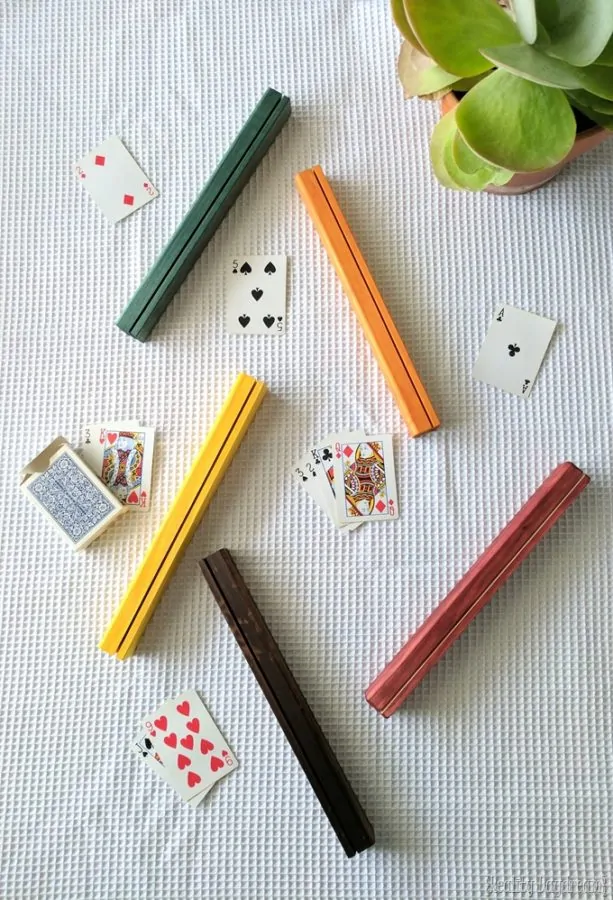 This is a neat craft to help with holding cards for any card game.  It is especially useful for children who have trouble holding the cards in their hand and being able to see them all.
I like the simplicity of it plus the cool colors that you can make them.
Check it out at Reality Day Dream.
37. Bowling Lane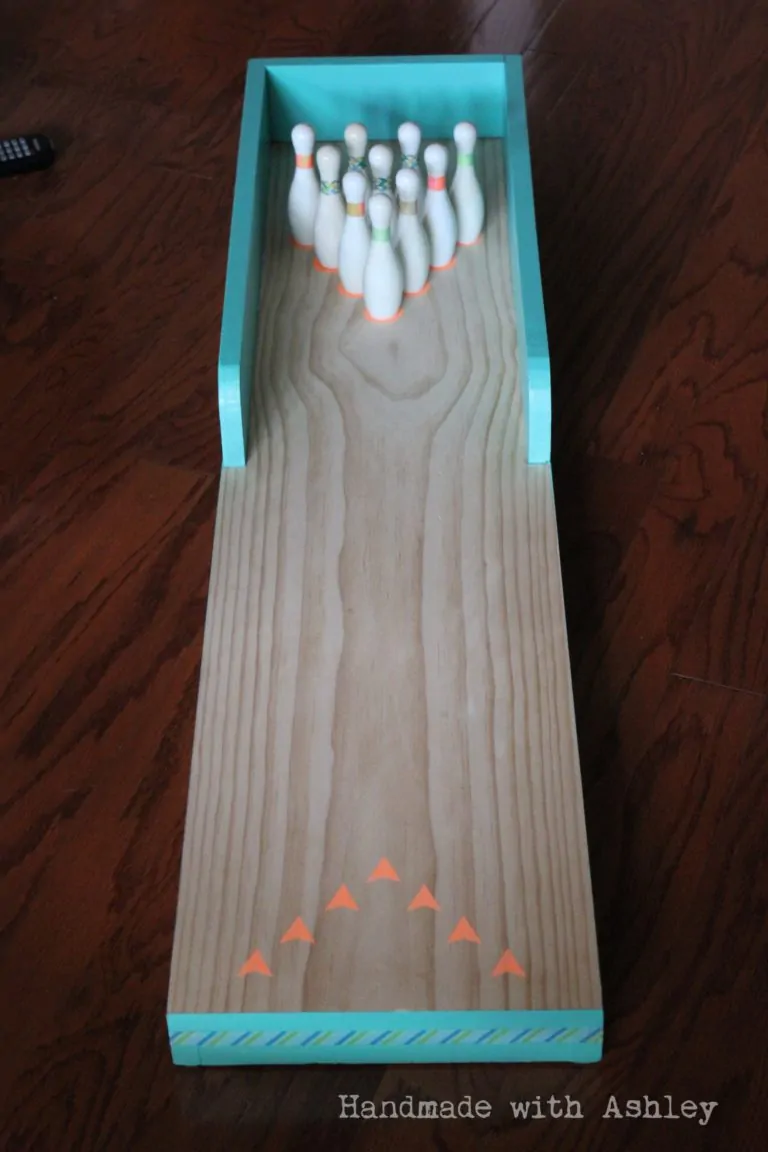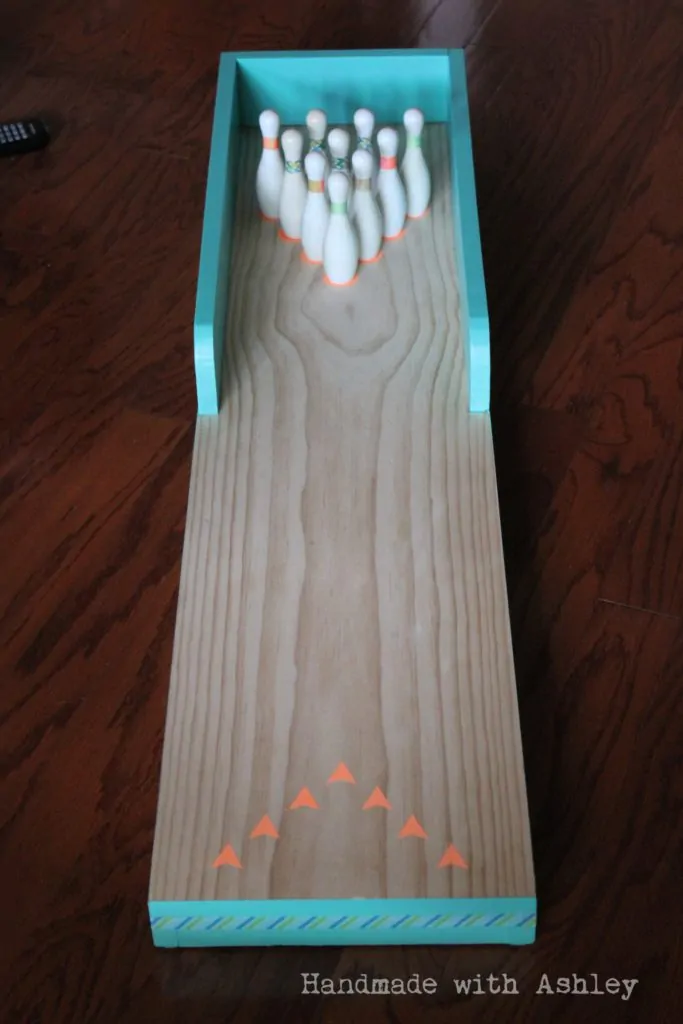 I think this game looks like a lot of fun.  It requires a few steps that should be easily accomplished by any beginner woodworkers.
If you love bowling then this game would be the perfect addition to your outdoor activities.
Check it out at Handmade with Ashley.
38. Cornhole Board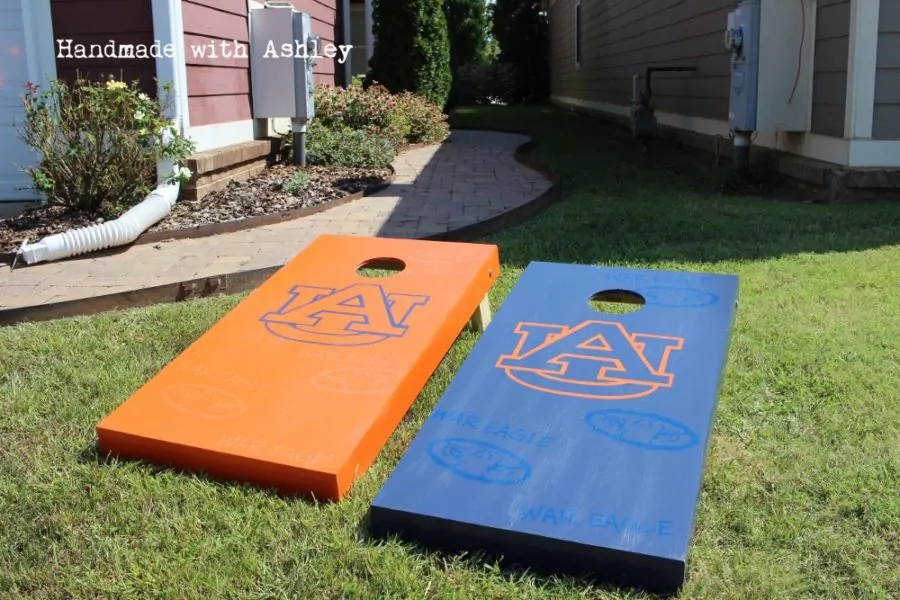 Cornhole is a popular game these days and no one should be without these playing boards.  Customize them with your own design.  Any sports team or college can be painted on the front.
These would be a great addition to your outdoor activities.
Find it at Handmade with Ashley.
39. Connect Four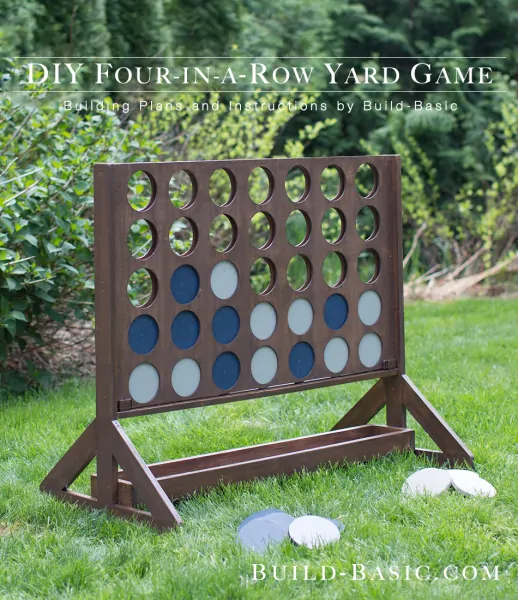 Four in a row is a game many grew up playing.  You can make this yard sized one with a little bit of time and effort.
The holes can be tough to drill out, but any woodworker is going to have to exercise a little patience to experience the reward.  Impress everyone by busting this out at your next outdoor gathering.
Find it at Build Basic.
Outdoor
Spruce up your outdoor areas with some home made decor.  It is super simple to get started on any of these projects, so don't hesitate to pick one out and make it.
40. Plywood Plant Stand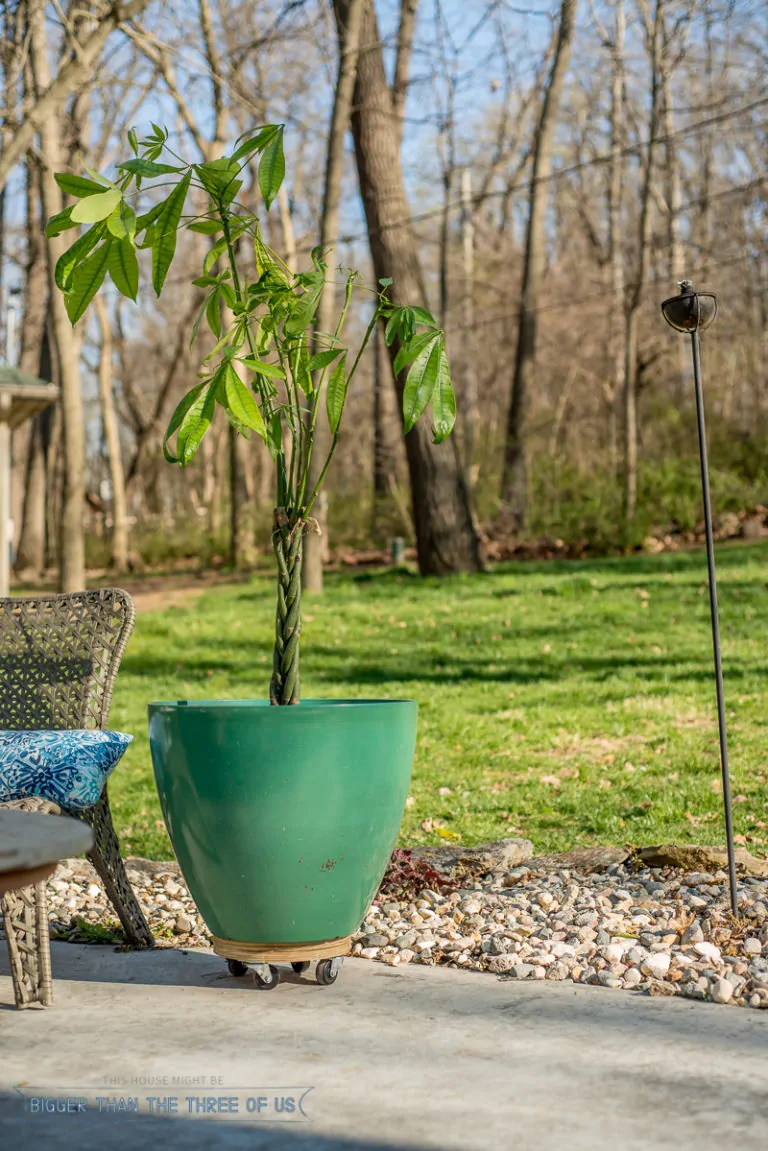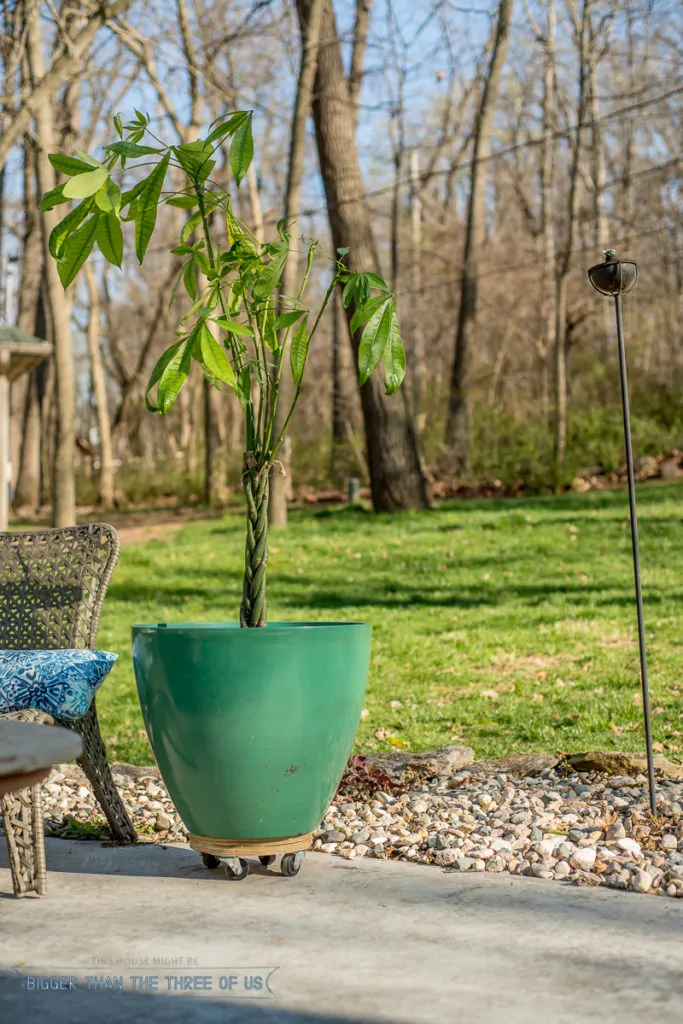 This project makes good use of some scrap plywood.  If you have some laying around and need to upgrade your patio area then this is a great task.
It appears to be quite simple and definitely won't cost you very much to make.  I like how low key it is, and the fact that you can make it the exact size you need depending on your planter.
Check it out at Bigger Than The Three Of Us.
41. Cedar Planter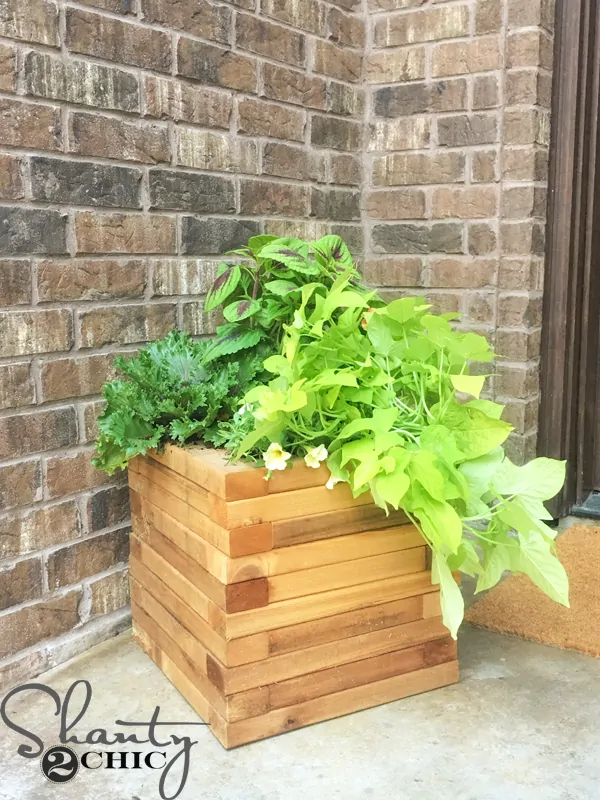 Build this planter with simple tools and basic wood.  You only need some cedar 2x4s and pocket holes to make this neat project.
The best part is how great the wood looks.  Not only is it pretty but you know that it is solid and strong.  It looks great once you put some plants in it.
Check it out at Shanty 2 Chic.
42. Address Number Planter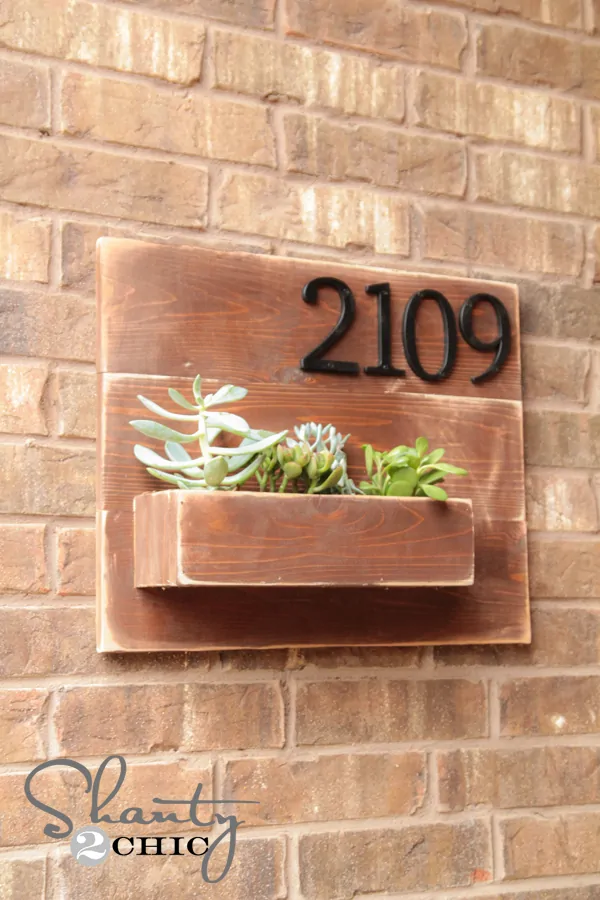 This project uses cedar wood to enhance your entry way.  If you need to upgrade the exterior of your house, making this cool planter will do the trick.  You can then put your house number on it to add the finishing touch.
It should be easily doable for a beginning woodworker.
Check it out at Shanty 2 Chic.
43. Wooden Welcome Mat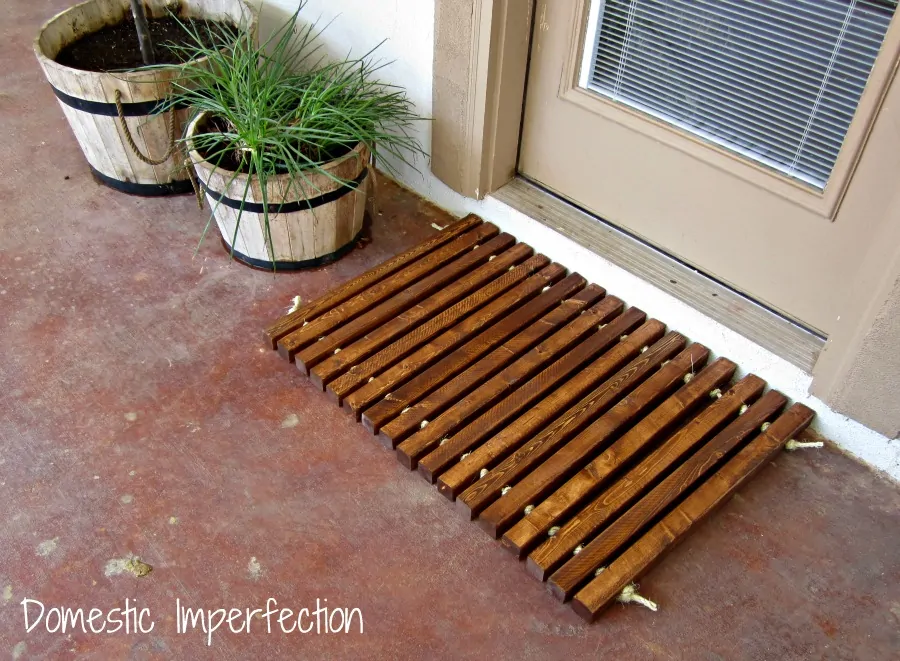 Make this wooden door mat and enhance the entryway to your place.  It is super simple to make and is very rewarding.
It won't cost much to get these materials and it is certainly easy enough for the beginner to build.
Find the plans at Domestic Imperfection.
44. Cedar Wall Planter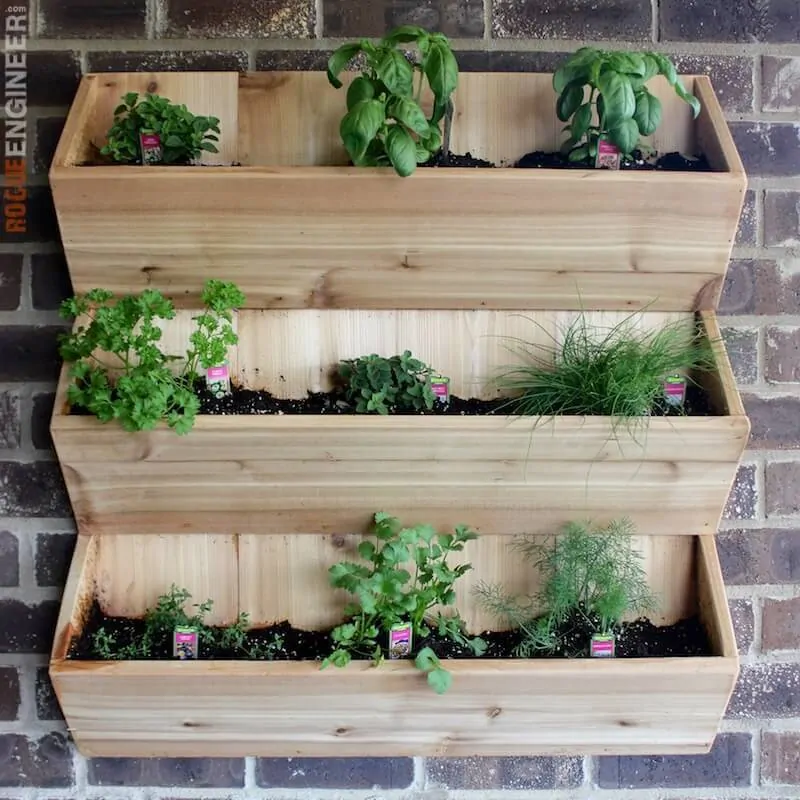 Make use of this wall planter by growing your favorite herbs in it.  I especially like the use of cedar.  It is a cool wood that does well outside and in damp environments.
This project is really simple and is geared towards updating the exterior of your house without breaking the bank.
Check it out at Rogue Engineer.
45. Pallet Wood Planter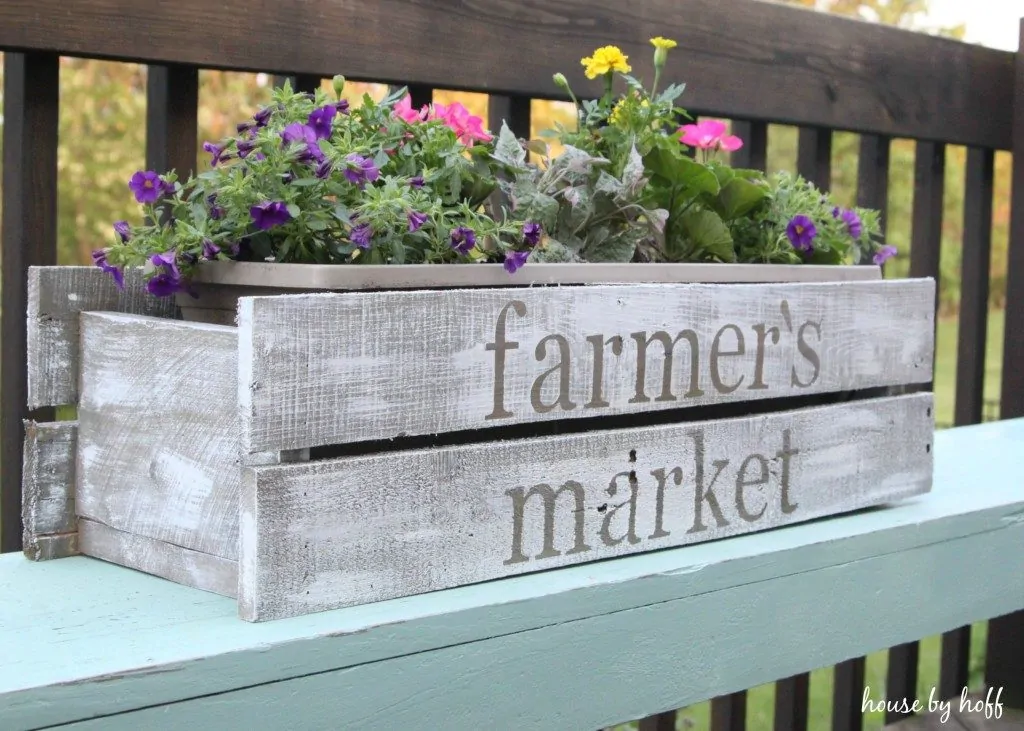 This is a versatile planter box that you can use around the house.  Make it as big or as small as you would like to fit whatever container you may have.
I like how you can use some reclaimed wood or pallet lumber to make it more rustic.  Add some stenciling and it is good to go.
Check it out at House by Hoff.
46. Chair Drink Holder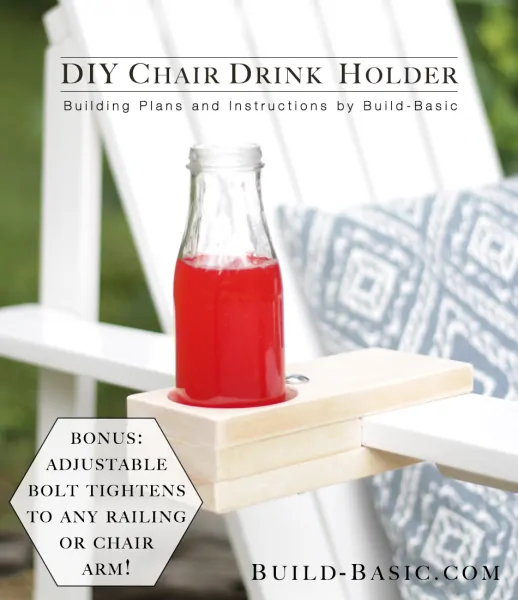 This is a really simple project that can be done in one day.  Make several of these and everyone can benefit from cup holding convenience.
This project requires minimal materials. It is nice looking and probably better than most cupholders you might find stock on chairs.
Check it out at Build Basic.
47. Drawer Planter Box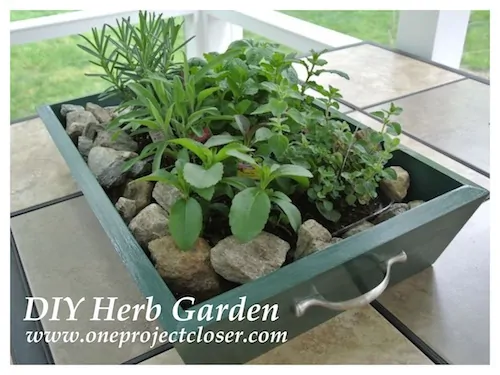 Although you could use an old drawer and replicate this project, it is more fun to build it from scratch. Not only will you get practice building a drawer, but you will make a super cool planter.
It requires a couple handy woodworking skills to make.  A beginner should be able to navigate the plans without much trouble.
Find it at One Project Closer.
Conclusion
If this list helps you start a woodworking project then I will consider it well worth the effort gathering these tutorials together. I will be checking for more projects that I can add to this list.
Let me know what you think of this list in the comments.