Using a clear coat is a great way to protect your wood pieces, whether it is an outdoor bench, indoor shelf, or kitchen tabletop. It will stabilize the wood and give it a nice look.
There are many options for finishing these items, and in this article, we will look at what you can use to protect your stained wood projects and furniture.
I'll show you our top choices for a quick decision, but for more info this post explores all of the types of finishes that could work for your project.
Our Top Finishes
You can see our picks for the best finishes for stained wood below.
Oil Based – General Finishes Arm-R-Seal
Water Based – General Finishes High Performance Topcoat
Choosing a Finish for your Project
Before we start by looking at the actual products you can use, I will talk about background information regarding the two categories of finishes you can buy.
Then we will look at my preferred finishes for different situations, such as what finish to use when it is a heavy-duty use surface, more apt to water damage, or something lighter use like a wall shelf.
We will look at the advantages and disadvantages of water-based vs. oil-based and what gives you the most durable topcoat.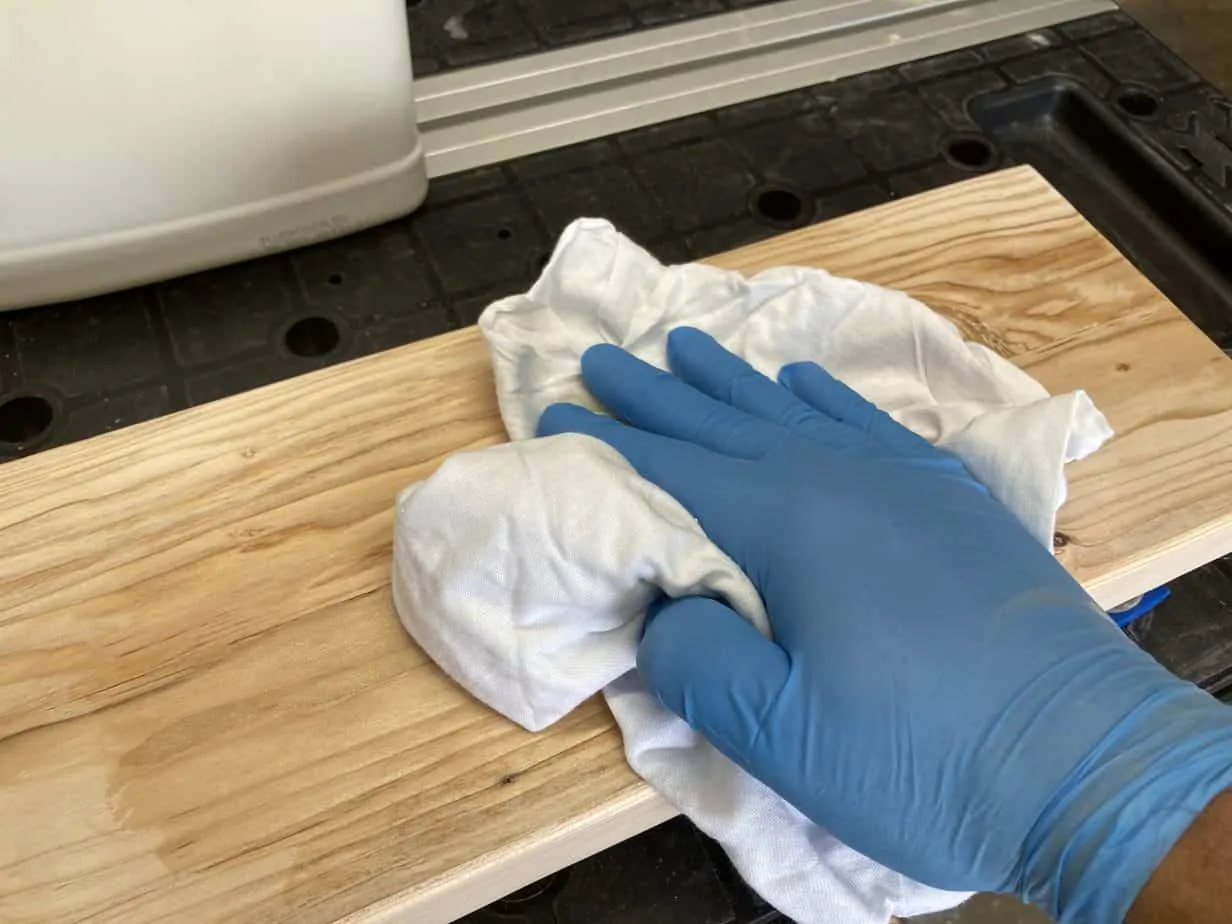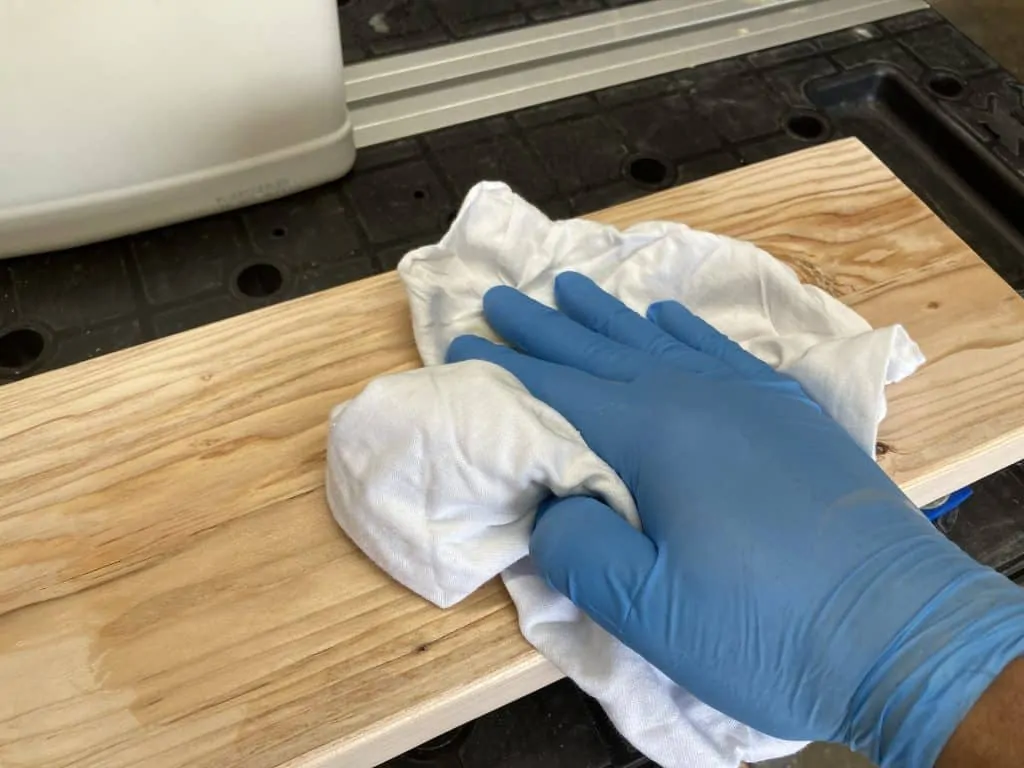 Another thing to consider is your desired sheen. You can go with a high gloss finish (great for exterior projects) or a semi-gloss that will split the difference.
One thing to remember is that there is no perfect finish – for most, it will simply be a matter of taste.
Try several different coats out and use them to find what you prefer as the best clear coat for stained wood. Decide which ones you like best based on ease of application and performance.
Types of Clear Coat Wood Finishes
Penetrating Finish – Oil Based
This type of finish absorbs into the actual wood fibers and pores of the surface. Soaking into the wood allows it to penetrate and protect the top of the wood.
These finishes are not very glossy and give an excellent natural look to the wood. They can change the darkness of the wood or even the color, so be sure to test these before applying.
These are usually easy to apply because you can use a brush or a cloth to wipe them. Drying time varies between each specific oil or wax finish. You will need to look at the directions to know exactly how to apply your chosen finish.
Using Oil Based Finishes
Using an oil finish involves rubbing some type of oil mix into the surface to create a nice low sheen finish.
How much of an oil finish you use will depend on its intended use. For a tabletop or butcher block island countertop, you may need to put over three coats of tougher oil like linseed oil. As a general rule, with oil finishes, more coats are better.
When applying oil-based finishes, you should use a damp rag or apply with a brush. This way, you can control the amount of oil you are putting on.
There are more strategies for applying oil-based finishes, but the best way to learn is to get your hands dirty. Below we will look at some options for oil-based finishes that are penetrating the wood.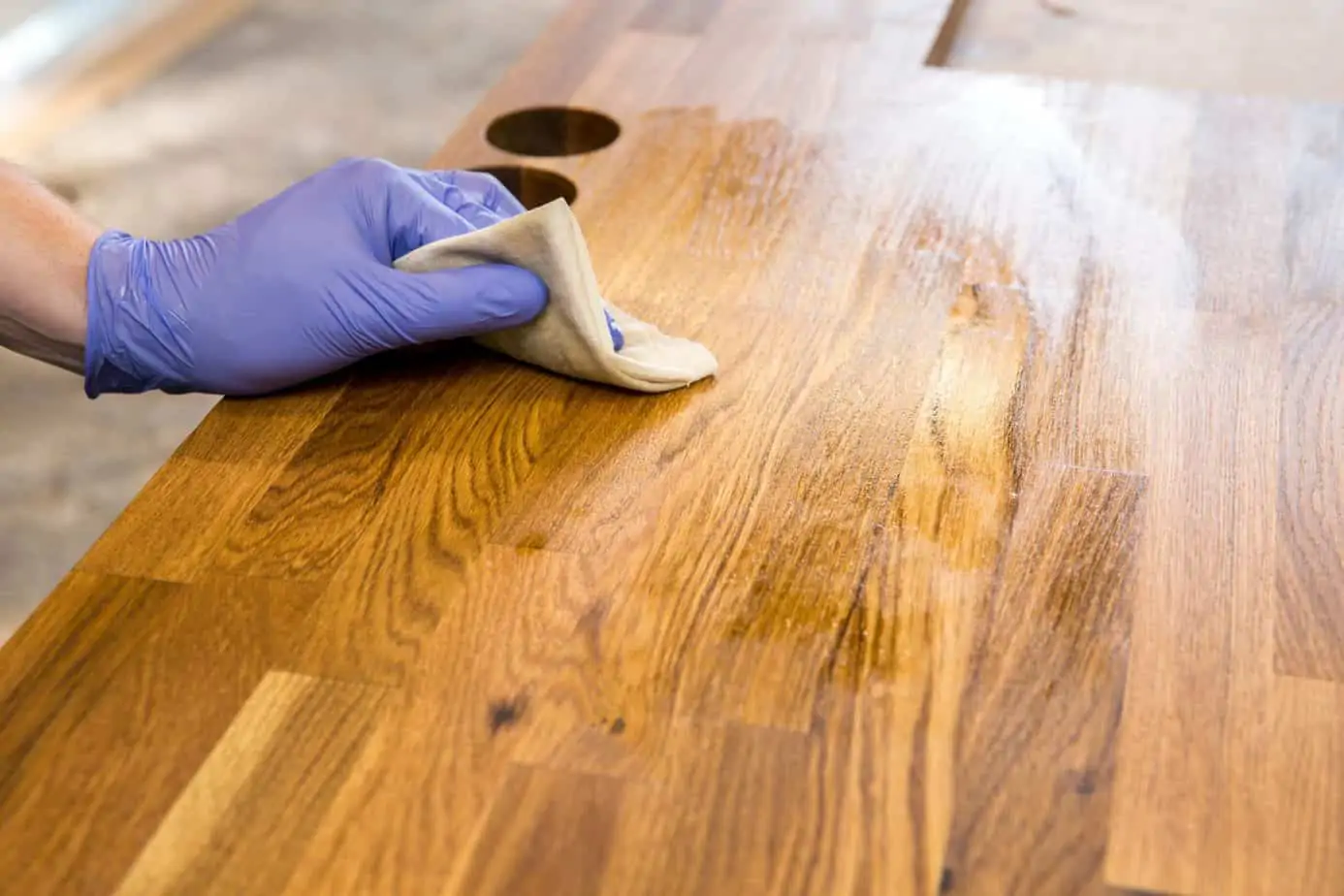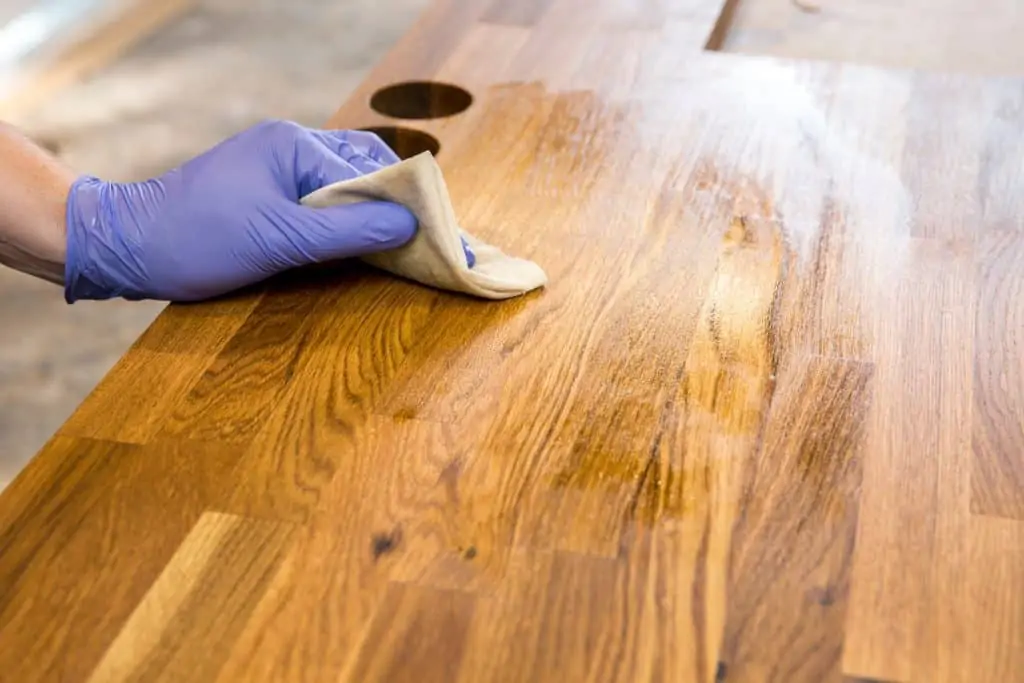 Tung Oil
Tung oil is a low sheen and great for interior and exterior use.
This oil is one of the top choices for cutting boards because it can be reapplied often and is naturally derived, so there are food-safe options available.
Linseed Oil
Linseed oil is another good option for a penetrating oil finish. It has characteristics similar to tung oil, but it can take a long time to dry.
Danish Oil
This finish is a mix between oil and varnish that will add some extra protection. It will darken the wood, so be sure to take that into account when applying your stain. Some kinds of danish oil will come with added color/stain.
Wax
Wax is easy to apply and can be used to create a higher sheen, depending on what type of wax you buy. You simply apply with a cloth, let dry, and then buff it out after a few minutes.
Surface Finish – Oil Based and Water Based
A surface finish will create a layer on top of the wood that will become hard and protective. These finishes are commonly used on furniture and outdoor wood items.
Choosing which one to use can depend on many factors, but for most uses, I will usually go with polyurethane.
It is not critical to go with the direction of the grain of the wood when applying your topcoats. With thin coats, you will be able to get a nice clear finish that is durable and ready for some wear and tear.
When you sand between coats, I generally recommend going with the grain of the wood, but even then, it will not matter too much.
Polyurethane
Polyurethane is a very protective finish that is suitable for many situations. It is a little more challenging to apply than penetrating oil, but it is still ideal for a beginner.
You can find polyurethane in different sheens, such as high or low gloss. There are also combination stains and finishes available too.
It has some drawbacks, such as being difficult to remove brush strokes and dust from the final finish. It is also not great in high UV environments and prone to yellowing.
Polycrylic
A polycrylic is great for a more DIY-friendly finish. It is lower VOC for better conditions when applying indoors or not well-ventilated areas.
It isn't prone to yellowing like polyurethane, but it is less protective and doesn't do as well in environments with moisture present. Here is a great choice for getting started with a polycrylic based finish.
Lacquer
Lacquer creates a great level of protection and is commonly used on furniture. It isn't the best for a burnishing wax that will be applied after the finish.
One important part of lacquer is that it is almost always sprayed on. This requires spray equipment and a well-furnished spray area.
The main advantage to this finish is that it will almost always be better looking than polyurethane.
Shellac
A shellac finish, also known as a french polish, is an older style wood finish that can be found on many antiques. It is still a great way to finish furniture and is used often today.
It can be made into a very fine-looking finish, but it is more fragile and susceptible to water and scratches than a finish l like lacquer or polyurethane. You can brush this on, and it is also available in spray cans.
Which Finish Should I Use for Stained Wood?
Deciding which finish to use can be a difficult decision if you make it that way. The worst thing you can do is overthink it.
For stained wood, you can generally use any of the products mentioned above.
The main thing to keep in mind is that you will get the best results by matching the oil or water-based stain with an oil or water-based finish.
For the majority of my projects, I like to use a urethane-based finish from General Finishes. I will post a link to it below.
It is easy to rub on with a clean towel, and after several coats, it provides a great protective coat.
Best Clear Wood Finish – General Finishes Urethane
This is the best finish I have found for indoor furniture, and this includes stained and painted furniture.
This finish works well in a ton of instances. I use it for tabletops, shelves, and other wood projects.
It is easy to apply by rubbing on and doesn't seem to have too many bubbles doing it this way. You can lightly sand between coats and get a really smooth, crystal clear finish.
For outdoor projects, I like to use a spar urethane or spar varnish that is made specifically for that application.
These types of finishes are common on exterior doors and boats where water will be encountered regularly. We will look at that below.
For flooring you will generally want to use a polyurethane because it is very durable, but it won't be subjected to the UV rays that an outdoor finish will.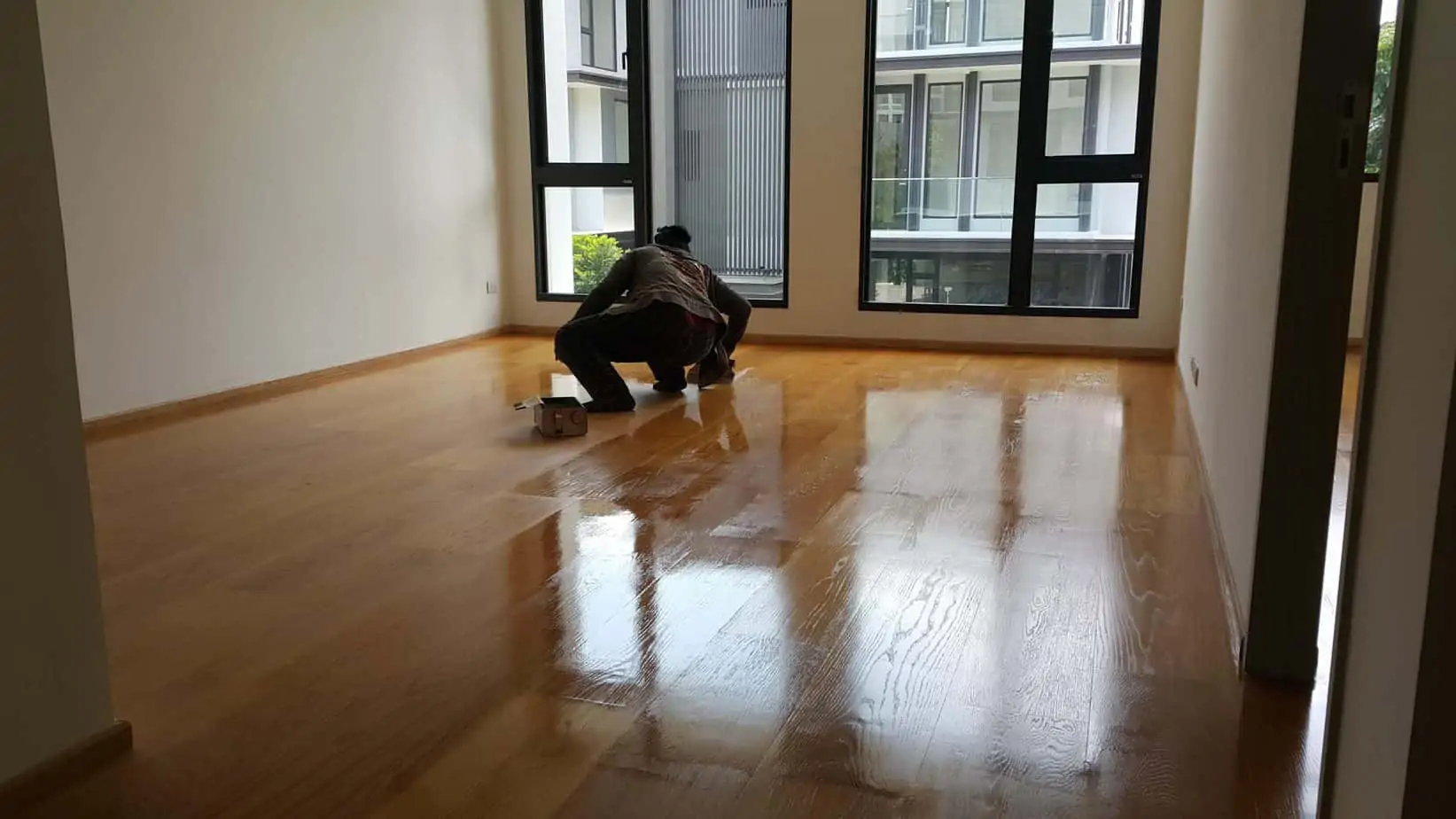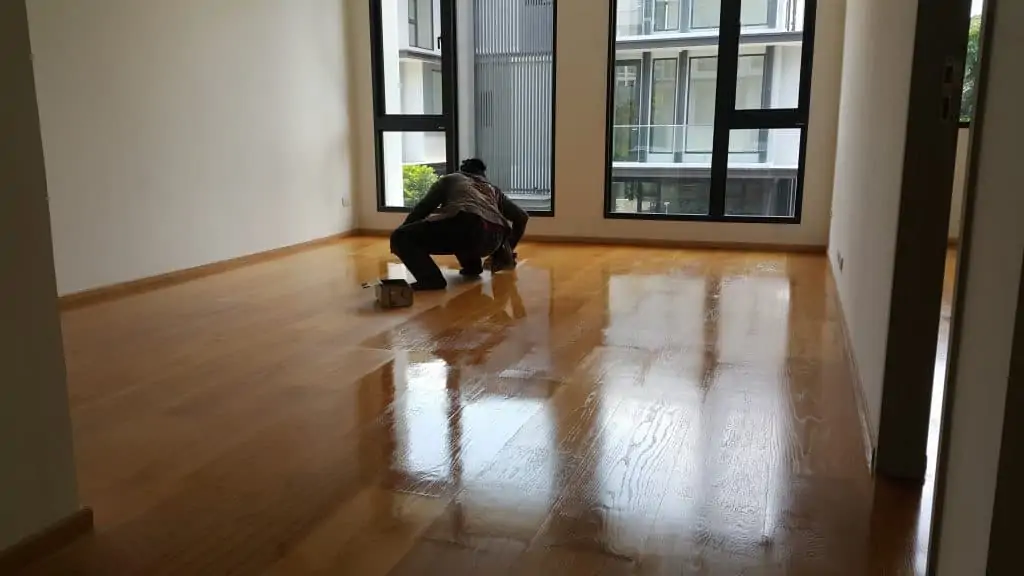 Best Clear Coat for Chalk Paint and Milk Paint
One option for sealing chalk or milk paint is using a protective wax. It is great for waterproofing and creating a protective layer. There are disadvantages to using wax, of course. Some disadvantages include :
Waxes can yellow over time. Some waxes are too hard and difficult to rub into wood surfaces, and they can leave a sticky, clear residue on the surface of painted pieces that can attract dirt or dust.
Clearcoat sealers can be used over painted furniture, including latex paint. Be sure to use water or oil-based depending on the underlying coat.
You can use a water-based polyurethane type product over chalk paint, or a polycrylic is a good choice as well.
Do You Have to Seal Chalk Paint?
The short answer is yes. If you want to be able to use the furniture like most pieces, such as occasionally putting a drink on it or using it for setting books on it, etc., you will want a clear coat.
This will protect it from moisture and spills.
If you have a piece that will be used exclusively for display purposes, then you can probably get away with leaving it unfinished, but even then, I would use a clear coat to protect it from dust or fingerprints.
Latex paint won't require this treatment because it is already sealed. But even then, I would choose a clear coat if the piece will have any use at all.
You can, of course, use wax over milk and chalk paint furniture for this purpose as well.
Best Sealer for Outdoor Furniture
Choosing a clear coat for outdoor furniture is a decision you should not take lightly. It can be very difficult to effectively seal outdoor furniture properly, and we will look at some options you have to consider before committing to a product.
If you are painting, you will want to seal outdoor furniture within six weeks of painting because, during that time, the paint may not be completely cured yet and could possibly become damaged from the sun.
If you're looking for the best sealer that's going to last, you'll want to read up on two major options: oil and varnish.
Some woodworkers apply an oil such as linseed or tung oils.
These are usually painstakingly reapplied about once per year in order to maintain warmth from UV exposure and protection against moisture seeping through cracks.
Unfortunately, this process doesn't work well for someone who wants their wooden outdoor furniture looking its best without having the time or experience necessary for natural finishing.
The best type of exterior finish is probably a spar varnish. "Spar" refers to the masts of ships, and we use the vernacular now to refer to an exterior type of finish.
There are many companies that make an outdoor spar finish, such as Minwax Spar Urethane, Total Boat, or Epifanes Spar Varnish.
I highly recommend trying one of these on your next outdoor wood project. These will all be oil-based, so be sure to have the appropriate thinner for your product.
I generally don't recommend a water-based product for exterior use, but the ones they make now are usually high quality and will be great for outdoor use. Just be sure to get several coats and good coverage for a durable finish.
Should I Use a Water-Based or Oil-Based Finish?
One of the most important distinctions is whether you want a water-based or an oil-based finish.
Water-based finishes may have advantages in terms of ease of use and environmental concerns, but they also tend to yellow over time, whereas oil-based finishes are more expensive but will not react with oxygen which causes them to become dark through exposure to air (oxidation).
Oil-based finishes are typically preferred by professional furniture finishers because they provide greater protection against spills and wear than water-based products.
Ultimately this decision will come down to a few factors:
What you are comfortable and familiar with
What type you used for stain/paint
Interior or exterior use
Do I Need to Spray or Brush the Finish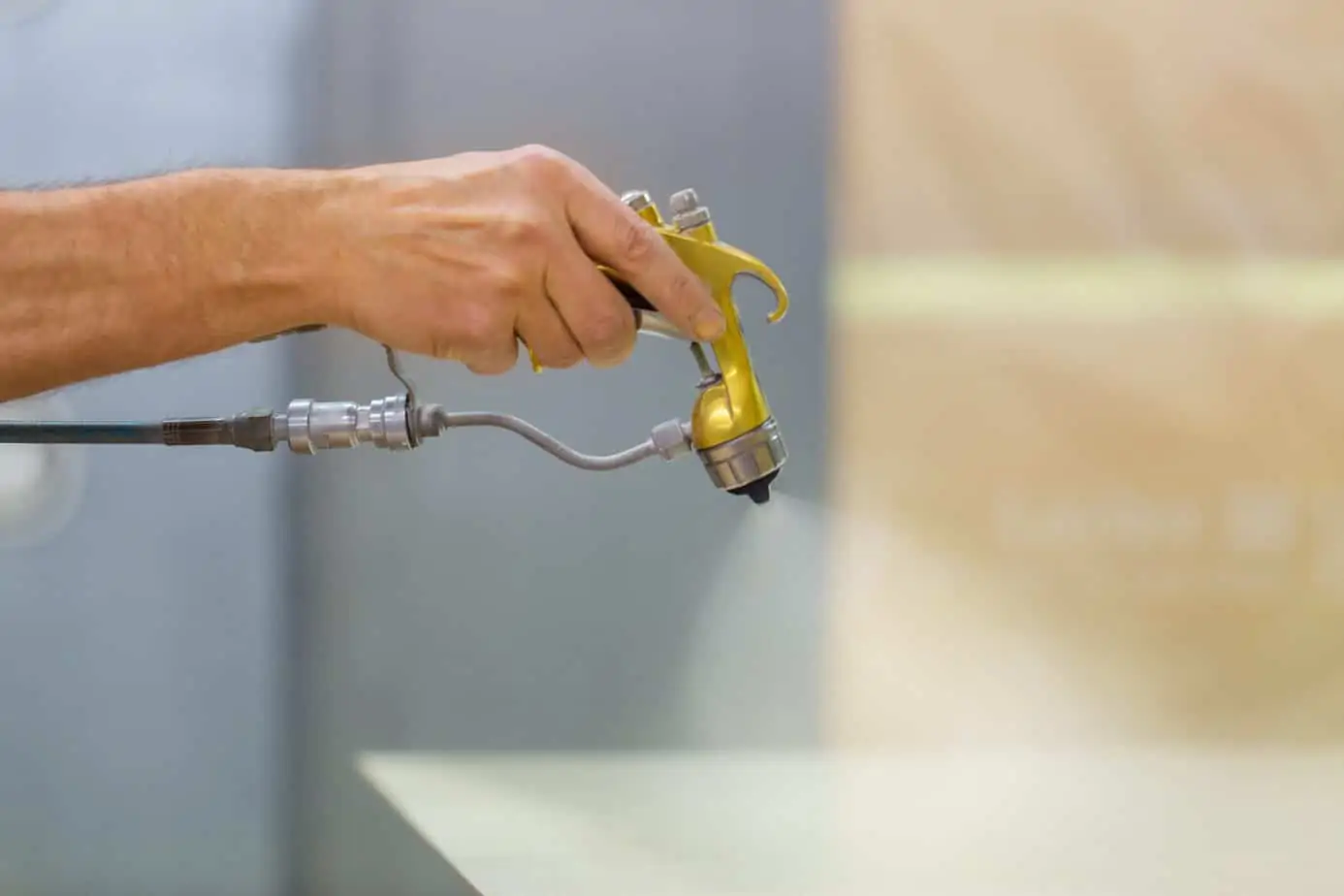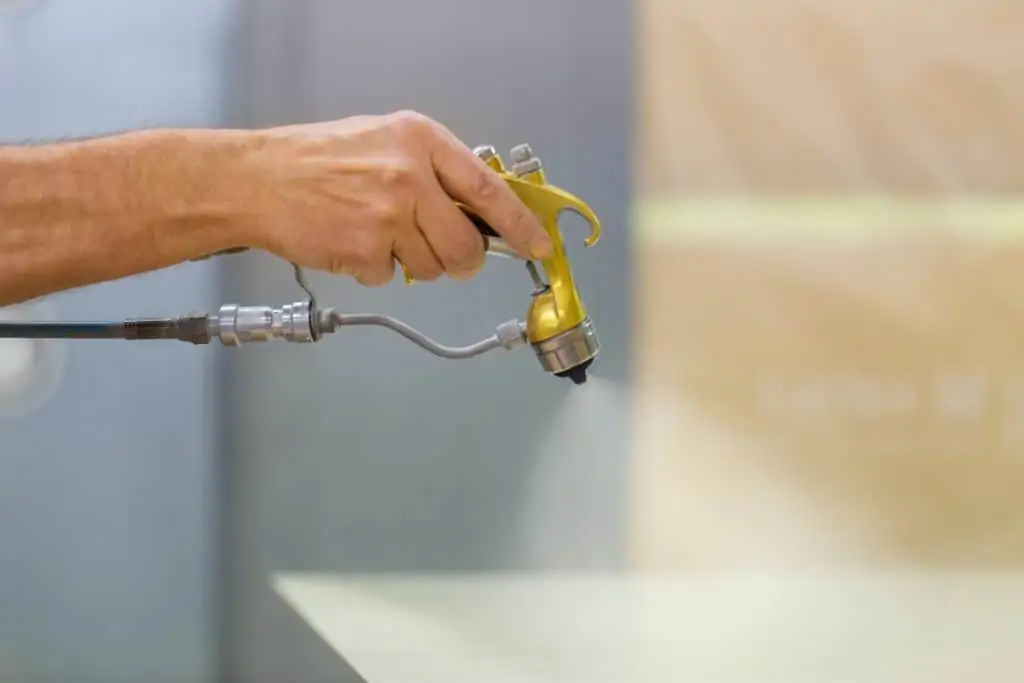 Unless you have a full setup for spraying a finish on, it will be best to either rub or brush apply. With my preferred method of using a polyurethane, I don't see the need to spray except to speed things up.
If you have a large area to cover and need to reach within intricate details, a spray can be a good option.
If you don't have the equipment to do the spraying, you can always use a hybrid approach and purchase some spray cans that will supplement your brush or cloth applied finish.
I choose a cloth to rub on the finish over a brush.
A brush will leave brush marks and it is a little harder to apply an even amount. With a cloth you apply thin coat over and over until you reach your desired thickness.
Conclusion
The type of finish you end up using on your furniture will depend on a few factors, such as whether it is for indoor or outdoor use, what type of paint/stain was used and how much time and experience you have.
Ultimately this decision comes down to the individual's preference but is sure to do research before committing!
We hope that our guide has helped by arming you with all the information necessary to make an informed choice. If there are any questions left unanswered, feel free to reach out anytime.