A farmhouse table can bring a house together and make it feel whole.
Nothing is much better than getting the entire family around a big table and serving a nice meal.
The tables curated here are awesome and easy to make.
A capable DIYer should have no issue building most of these, and an experienced woodworker could even improve on a lot of them.
I really enjoy the ones that incorporate some unique details, like a trestle style leg design.  Or a different kind of wood top that looks exotic.
You can take some of these designs yourself and improve on them as well.
But whatever you do, make sure you build something that embodies the spirit of good meals, fun times, and well made furniture.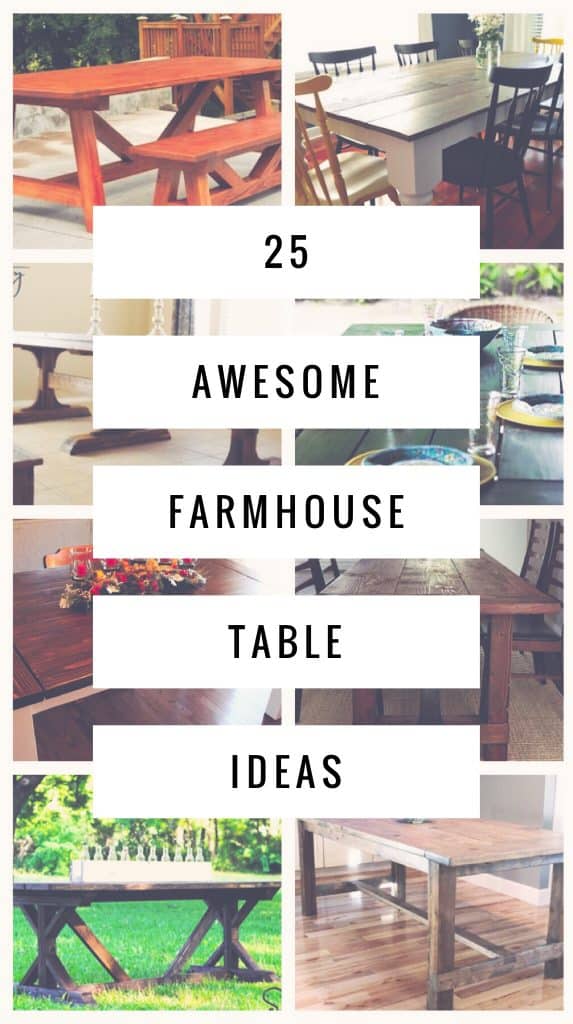 1. X Brace Table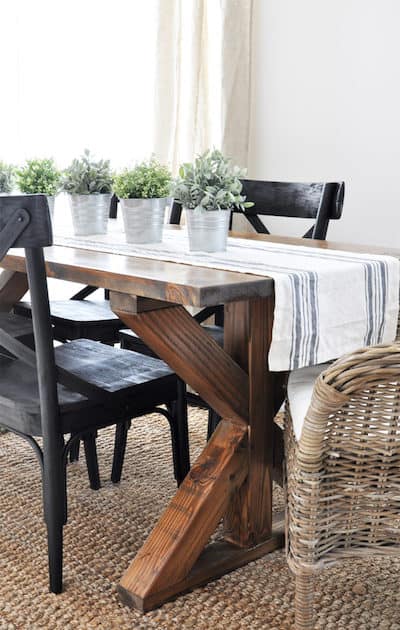 This table incorporates a neat x-brace leg design that gives it an authentic farmhouse look.  The large timbers add to that vibe.
It is a relatively easy build that requires some basic woodworking tools.  The plans include all the steps needed from start to finish.
2. Simple Pocket Hole Table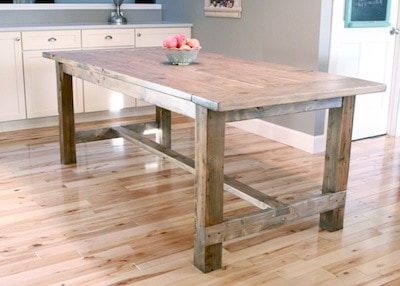 Image Credit: Ana-White.com
This table is a simple build that you should be able to do with little effort.
It focuses on using pocket holes for its construction.  If you are interested in pocket hole construction but have yet to get into it, check out my post on buying a Kreg Jig.  It is a great tool that will allow you to build all kinds of projects.
3. Distressed Top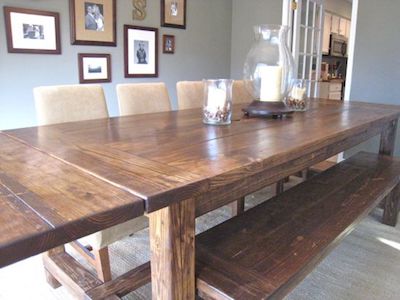 Image Credit: tommyandellie.com
This is another simple farmhouse table with straightforward and very detailed plans.
It is all built using common pine boards available at any lumber yard or big box hardware store.
4. French Farmhouse Table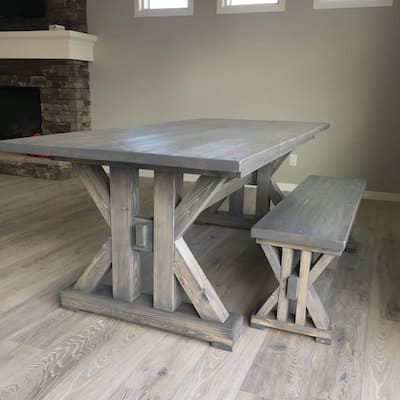 Image Credit: handmade-haven.com
This is an awesome looking table that has some great features.  The weathered gray stain brings it all together.
My favorite part is the intricate leg designs.  It makes it more than just a simple table.
5. 4×4 Table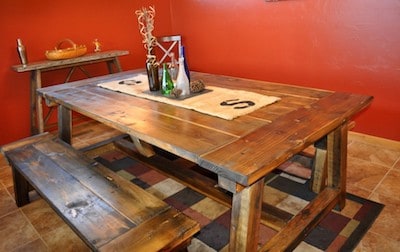 Image Credit: diypete.com
6. Kitchen Table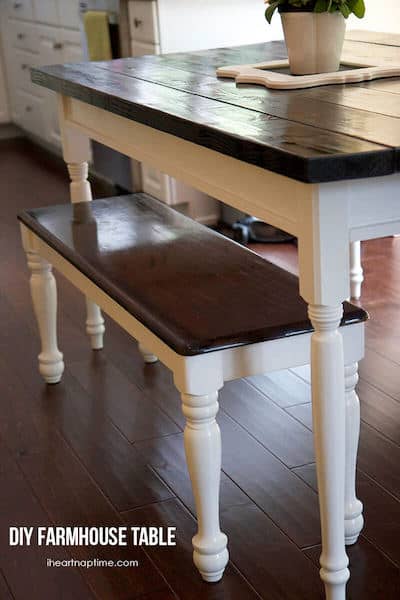 Image Credit: iheartnaptime.net
This farmhouse table has clean lines and nice turned legs.  The top of the table and bench are both stained a dark color which contrasts nicely with the white legs and apron.
7. Square Legs Table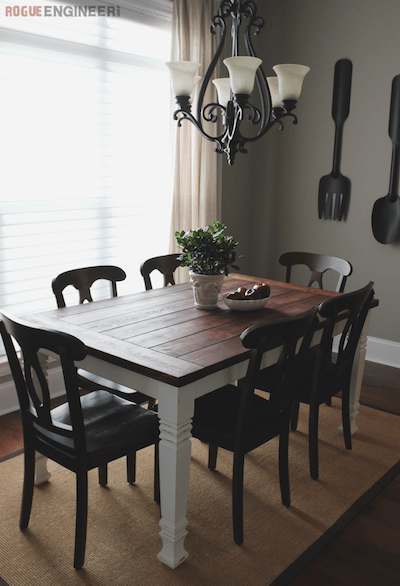 Image Credit: rogueengineer.com
This table has nice square turned legs that have attractive decoration carved into them.  This profile on the legs gives it a unique appearance.
You can buy these legs premade and assemble all without much problem.
8. Large Farmhouse Table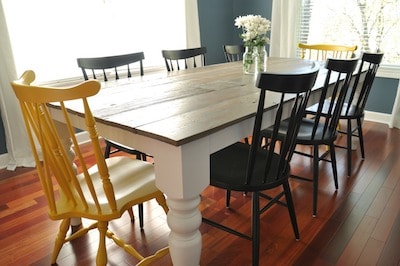 This large table can accommodate 8 people.  It is nice and wide so you can sit at the ends and 3 people can sit on each side.
The legs are pre-made and look very strong and sturdy.
9. Pine Farmhouse Table
This is a simple table built with common materials.  It is a farmhouse table in the sense that it is plain, strong, and can seat many people.
I can see someone taking the plans here and customizing the size to accommodate their personal needs.
10. Benches and Truss Legs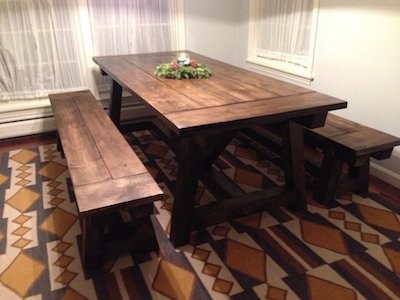 This design has some great features that make it pleasing to the eye.
The matching benches are very cool, and the truss style legs remind me of an old trestle bridge.  It is definitely a strong design.
11. Large Farmhouse Table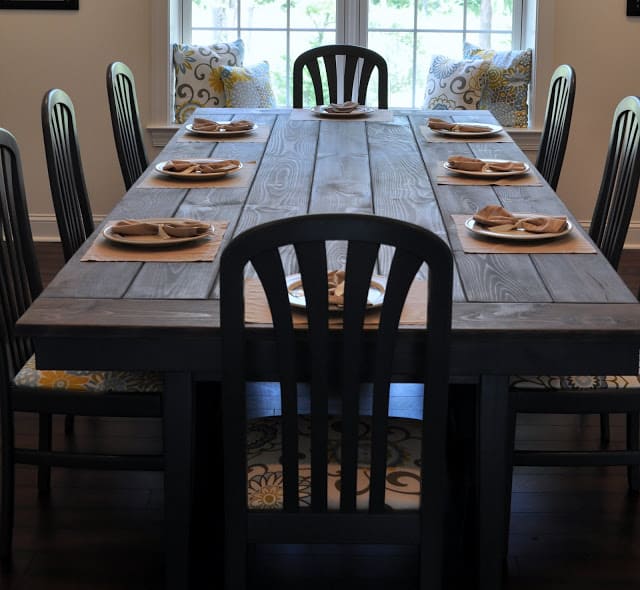 Credit Image: eastcoastcreativeblog.com
This is a large, nice looking farmhouse style table.
The legs are in a different spot than most of the others, somewhat farther in underneath.  You should compare this style with some of the other tables to see what will work best for you.
12. Table with Leaves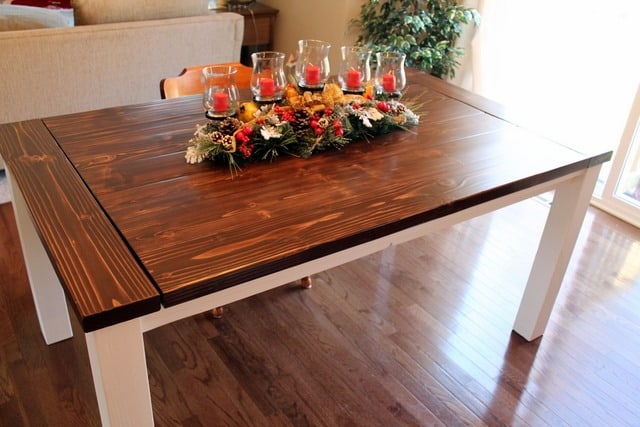 Credit Image: sweettoothsweetlife.com

This is a unique farmhouse table because it is design with leaves to extend the length of the table.
It is really a cool design and you should be able to take it and build your own.
13. X Style Table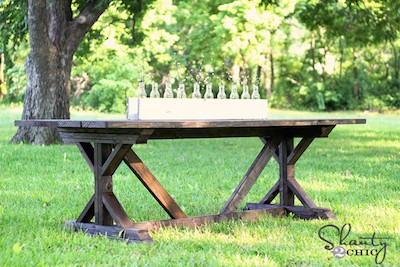 Credit Image: ana-white.com

This is another style of X-leg table.  You can use these plans to make a really beautiful farmhouse table.
The inner design is really neat as well with its trestle style bracing.
14. Easy Farmhouse Table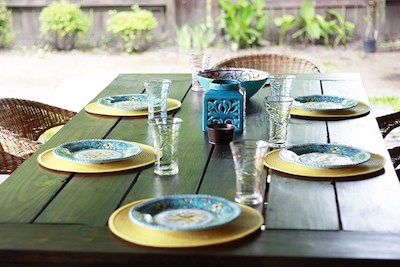 Credit Image: amber-oliver.com
This table is nice and simple.  It should be easy to build with common woodworking tills such as a drill and Kreg Jig.
I like that it is almost an outdoorsy style table.  This lends itself well to using on the deck or patio.
15. Square Farmhouse Table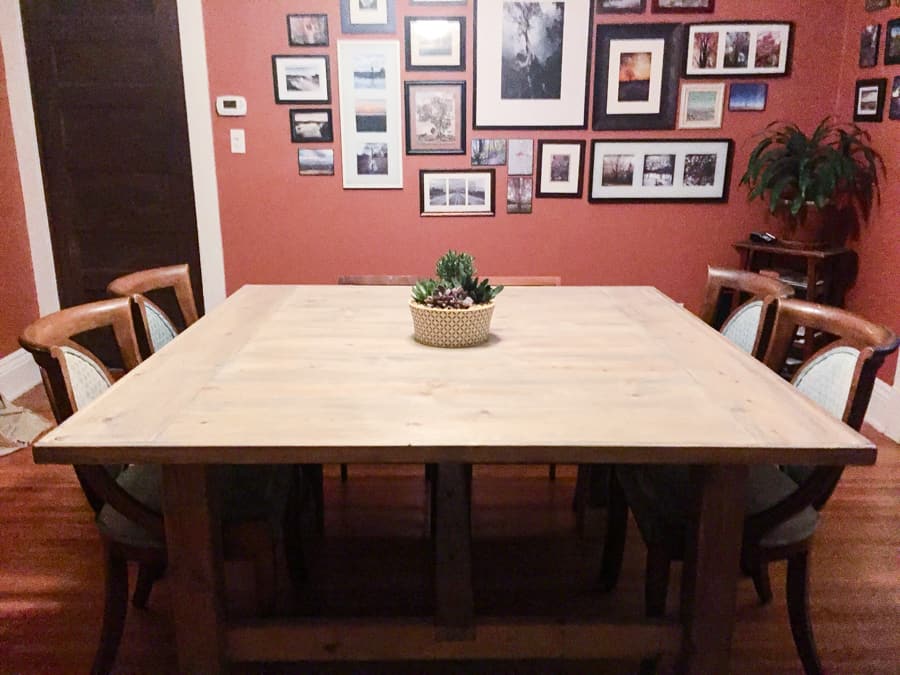 Credit Image: jenwoodhouse.com

This table is actually square, so it can seat 2 people on each side.
This design could come in handy for a room that cannot accommodate a long rectangular design.
16. Basic Small Table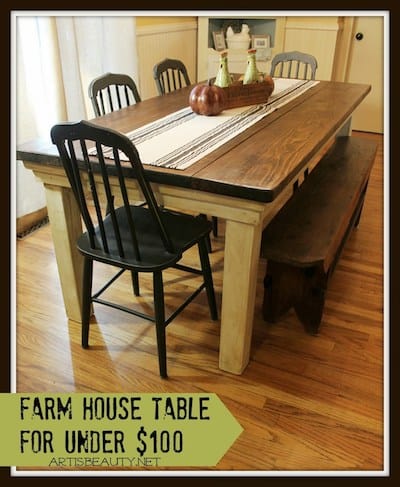 Image Credit: remodelaholic.com
This table is fairly small and quite basic, which lends itself to being cheaper and easy to build.
The apron edge design has a little flair that makes it pleasing to the eye.  I like the bench on one side, which is always a cool feature of farmhouse designs.
17. Rustic and Weathered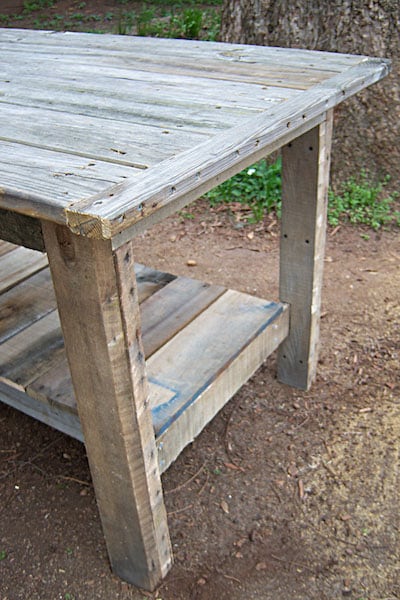 Image Credit: Ana-White.com
The plans for this table normally use new and clean wood, but this design is great because it uses weathered wood.
This gives it a special kind of look, and I would not be surprised if this is usually used outside.
18. Narrow and Long Table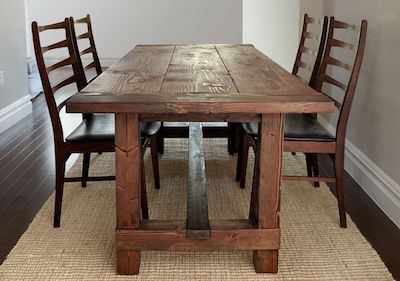 Image Credit: PopularMechanics.com
This table uses wide boards for the table top.  This gives it a strong and sturdy feeling.
It seems more narrow than some of the others.  You can use this for narrow rooms, similar to the one that is in the picture.
19. Center Leg Design

Image Credit: shanty-2-chic.com
This design is quite a bit different from the other farmhouse tables in this list.
The center leg design is great for those who don't want four legs at each corner.  I like the pedestal design at the bottom.  It looks burly and heavyweight.
20. Straightforward Style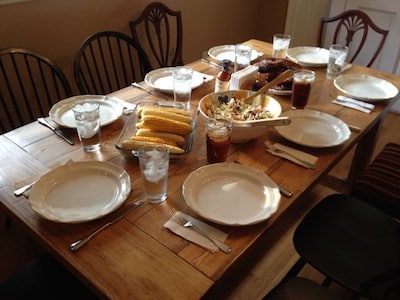 Image Credit: edhart.me
This table uses 2x4s for almost all the legs and support pieces.  The top is made from some wider boards.  You can adjust the size of these as needed.
If you are looking for a straightforward, no frills design then this is the table for you.
21. White with Turned Legs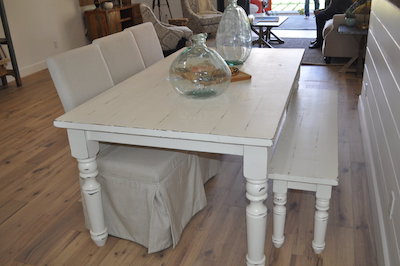 Image Credit: theawesomeorange.com
This table and bench combo will look great in a number of settings.  The turned legs add some great appeal to the design.
The best part is how the legs and bench both match.  Go to the plans to see where you can buy pre-made legs like are used in this build.
22. White Legs and Dark Top Table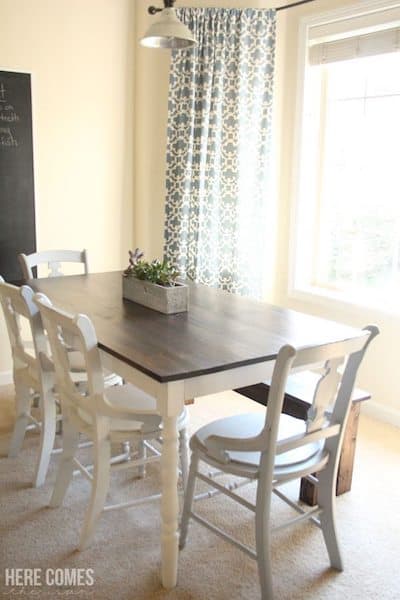 Image Credit: herecomesthesunblog.net
This table build is based on plans by Ana-White.com, but it is changed just a little bit.  The small legs make it seem more like a breakfast or kitchen table.
I like the variation and can see this table fitting into some smaller spaces.
23. Tapered Legs Table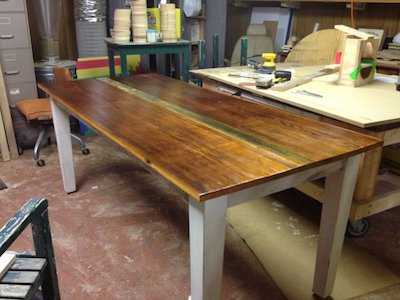 Credit Image: instructables.com
This table is built with large legs that have been tapered for a more appealing design.
I also enjoy the weathered top.  It looks like a table that's been around a while.
24. Large and Wide Farmhouse Table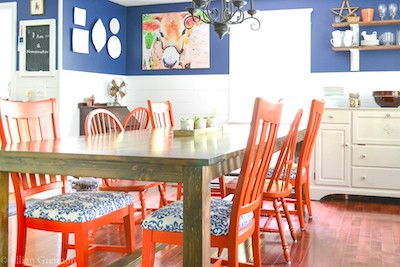 Image Credit: iamahomemaker.com
This table is large enough to seat several people, up to 8.
The neat part about this table is the way the legs and frame is a assembled.  A pin is used that goes through the legs, so this is not only very strong but also aesthetically pleasing.
The size can be adjusted to your liking of course, but who wouldn't want a bigger table if they have the room?
25. Well Crafted Farmhouse Table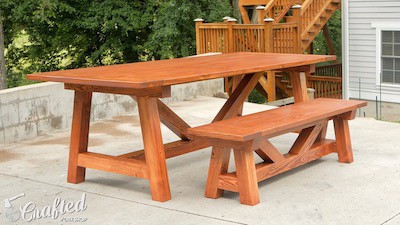 Image Credit: craftedworkshop.com
This table is well built and looks true and straight.  The top boards are all planed and aligned perfectly.
If you have a more capable workshop, then this is a build for you.  You should probably have some kind of planer for this project.
I also like the matching bench.  The way it is made you will not find any screw holes or other blemishes.
I hope this list has helped you come up with some great ideas for building your own farmhouse table.
If you need help getting started with your DIY projects, then you should find out what tools you need along with some tips to get started.