While there are many tools that a woodshop needs, a planer is a great way to really advance your woodworking abilities. It will allow you to go from good to great and refine the projects that your make.
I do not recommend buying one if you don't already have the essential tools, but it is certainly a tool every DIYer and serious woodworker should consider.
I've made this "best of" guide here to bring all the best benchtop planers into one place and help you discern one from the other. It does not include floor planers or hand planers. Both of those are in different categories and usually serve different purposes.
Note: my personal planer is a Wahuda (formerly Cutech), but it is not listed here because they stopped shipping them out to design better packaging. I really like it, and will update here once they get shipments going again.
My Top Choices for the Best Benchtop Planer
Here is a quick overview for those wanting to find something quickly.
Who Needs a Benchtop Planer?
Hobbyists and new woodworkers who are really looking to step up their game. Basically anyone who likes to build things on a regular basis (out of wood of course). This can include:
Hobbyists
Weekend warriors
Anyone working on the job site

A benchtop planer is great for this because it is still somewhat portable
Even if you make a few projects a year then you might be inclined to get a planer strictly because it will make things easier.
If you are more of a cabinet maker or are in the business of making cool stuff out of wood, then I recommend that you upgrade to a floor model planer. It will have more features and greater capacity and power.
Even some of those who do serious woodworking can get by with a benchtop model instead of a floor model, however, but they may be seriously interested in finding the BEST benchtop planer as opposed to simply the cheapeset
What is this Guide?
This guide is to help beginners and experts both find the best benchtop planer.
All these planers will do a decent job planing hardwood, but each tool varies a little from the other. The higher priced units offer a few more thoughtful features.
For example, the Rikon comes with a spiral cutterhead, and the Dewalt DW735X has two speed settings for finetuning. I look at each planer based on price, features, and consumer reviews. Then I rank and list the pros and cons of each tool.
Check out the comparison guide and planer reviews below.
1. Dewalt DW735X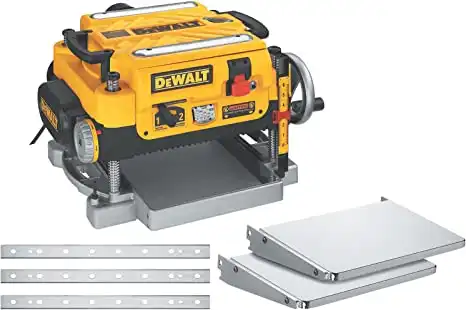 Features
3 Blade cutterhead
13″ Width
2 Feed speed settings – 96 or 179 Cuts per Inch
15 Amp Motor
Automatic carriage lock to reduce snipe
Fan assisted chip exhaust
Details
This planer offers some great features at a price that is competitive with any other benchtop planer. There are two feed speed settings. This allows for a faster speed for strictly dimensioning rough lumber, and the slower speed gives you a finer finish. The more cuts per inch allow it to do a better job.
Unlike the other planers, this one comes with an infeed and outfeed table. This adds up to a total table surface that is 33 1/2 inches long. This helps with snipe issues and general usability.
The dimensioning abilities are as follows:
Max cut depth 1/8″
Max width 12 1/2″
Max depth 6″
Knife changes with this planer are fairly straightforward. It requires one tool, the blades are reversible, and indexing is simple with pins that fit into the blade. This means that there are small raised pins that fit into holes in the blade. That way the blade will always be in the right position when you set it into the cutterhead.
Supposedly the blades last 30% longer than traditional disposable blades.
Another good feature is that it has dust port than can either be directed onto the floor or hooked up to a vacuum. It is fan assisted, meaning it will blow the wood chips out of the way. You will probably want to have a vacuum no matter what, but this will make sure that wood chips don't get stuck anywhere along the way.
The planer itself is 90 lbs. This will allow you to use it as permanent shop fixture or take it to a job site. (It is 90 lbs, so that trip to the job site might exercise your back a little bit)
What's Good About it?
It is a simple and easy machine to use. The instructions are clear and the setup of the machine is intuitive.
The exhaust port is easy to get to and clean.
The blades are easy to change.
It is heavy duty. It is really as close as you can get to a permanent shop planer while remaining portable.
What's Not So Good?
Some users have reported that the unit is abnormally loud. This is just in comparison with some other planers available.
The feeding rollers can slip a little but this usually only happens in cold temperatures.
It is susceptible to clogs, such as when you plane a bad knot. This requires some care. Make sure that there are always chips coming out of the dust port. Otherwise it is probably clogged up. A vacuum may help this problem.
Summary
A good, solid planer for the money.
2. Rikon 25-130H
Features
6 Row, Helical Style Cutterhead
13″ Width
10,000 RPM Cutterhead Speed
15 Amp Motor
Infeed and Outfeed Tables
Complete Steel Construction
Details
This planer offers a feature that you can't find in any of the others at this price point: a helical style cutterhead. There are several advantages to this design. First of all, it produces a clean and efficient cut.
There are 26 steel blade inserts making up six rows on the cutterhead. Each one of these inserts is a two sided blade. This means that you can rotate a damaged blade to the other side, or replace it completely.
This planer comes with an infeed and outfeed table, along with all steel construction. The steel body creates rigidity and strength, allowing you to not worry about its stability.
The flat top allows you to return the board over the top of the machine if you are operating a two person team. This is a neat design because they have thought about the efficiency and ease of use. Snipe is still a factor on this machine, as with many planers of this size. Make sure to plane the board before cutting it to size.
The dimensioning abilities are as follows:
Max cut depth 1/8″
Max width 13″
Max depth 6″
This model does have a wood chip fan and dust port. This will allow you hook up a vacuum to your machine and keep your shop clean.
Rikon makes replacement blades for this model, along with a floor stand accessory.
This planer is 73 lbs. That is about 20 lbs lighter than the Dewalt DW735X
What's Good About it?
The machine is built with quality materials and a smart design. The learning curve is not too steep, so it should have a place in most wood shops.
The cutterhead works well to efficiently remove stock. The blade inserts can be replaced with ease.
It is a good size and has decent capacity. It is well on par with any of the other planers in its category.
What's Not So Good?
The blade inserts for this unit are somewhat expensive. One user reported having to change his blades quite often. This should not discourage one from buying it, however, because all blades will need to be replaced as you use them.
The snipe on your boards can be relatively bad with this planer. Make sure to keep it supported well and to not cut your boards to length until after you have planed them.
Summary
A very affordable helical style planer that does a decent job.
3. Dewalt DW734
Features
3 Blade cutterhead
12.5″ Width
96 Cuts per Inch @ 10 RPM
15 Amp Motor
4 post carriage lock to reduce snipe
Details
This planer is a budget workhorse. It is cheaper than the Rikon and its big brother, the Dewalt DW735X. But don't let that deceive you. It is still a quality planer with some great features.
First of all, it has a powerful motor that should last for a long time. Don't hesitate to invest in this machine if you are worried about its longevity. At 15 amps, it has enough power to plane a range of hardwoods.
The blades are indexable and reversible. This means that you can easily rotate a blade around when it gets wore out. The indexing pins help you align it perfectly so the cuts are even across the cutterhead.
The infeed and outfeed table amounts to 33-1/2″ of table support. This is helpful to prevent or minimize snipe and help you get the boards in and through the planer.
The dimensioning abilities are as follows:
Max cut depth 1/8″
Max width 12 1/2″
Max depth 6″
Like the DW735X knife changes are easy. It requires just one tool. The blades that Dewalt provides are also supposed to last 30% longer than traditional disposable blades.
Difference Between DW734 and DW735X
The DW734 does not have a chip assisted fan like the 735. This means that your vacuum will have to do most of the work, but that is not a deal breaker in my opinion. It still has a dust hood and dust collection port.
Also, the 735 has two feeding speeds. The slower infeed speed allows the planer to make more cuts per inch, creating a finer finish. This planer only has one speed at 96 cuts per inch. This will likely be quality enough for you, but there will be certain situations where that feature is beneficial to your work.
This planer is 80 lbs. This is about in the same range as the other planers. It is heavy, but it needs to have some weight to it to keep its stability.
What's Good About it?
It is a strong and quality machine. The design is intuitive and simple. There are no extra features that will get in your way of simply planing boards.
The blades are easy to change. They are reversible, so it requires less replacement parts.
The measurements on the depth guide are clear and easy to see. You will be well aware of what you are doing at all times.
What's Not So Good?
The feeding rollers need to be cleaned every once and while, or it will start slipping. Some users have reported having issues with this. Generally, the rollers will struggle more when the temperature is low. Keep this in mind when operating this machine.
Some users have reported the blades wearing out quickly. Again, this is kind of the nature of the beast. Planing wood is hard work and blades will only last so long. That is why Dewalt has made it painless to replace the blades.
The chips from the wood and sawdust tend to fly all over the place. If you are in a shop environment, it is wise to have a dust collection system in place. This could simply be a shop vac on the floor hooked up to the dust port.
Summary
A great budget planer. Minimal features, but the ones it does have are quality and should last a long time.
4. Delta 22-555
Features
2 Blade cutterhead
9400 RPM or 18,800 cuts per minute
13″ Width
58 lbs
15 Amp Motor
Left or Right Dust Port
Details
This Delta planer is an effective machine for the hobby woodshop. The price is lower than some of the more high end benchtop planers available. It is built from a few different materials to control the price and weight.
The outer shell, for example, is made from a type of plastic. This is in contrast to the others like the Rikon where it is solid metal. That does not ruin the rigidity of the product, however, because it has a four post construction that keeps the cutter head solid and in place. The measurements and quality of the fittings is not compromised by the plastic outer shell.
Like the other planers in this list, it runs off of a 15 amp motor. The feed speed is reasonable for the power of the motor. It is powerful enough cut almost any wood, you will just need to adjust the cut depth on some of the tougher hardwoods. It may only be able to cut less than 1/16 of an inch at a time.
Snipe is an issue just like on the other planers (although a few users did not have any snipe issues). You should take the normal steps to cut down on snipe, such as making sure to adjust the infeed and outfeed tables, not cutting the board to length till after it is planed, and even using sacrificial boards beside the board you are planing.
The dimensioning abilities are as follows:
Max cut depth 1/8″
Max width 13″
Max depth 6″
This cutterhead only has 2 blades. They are reversible and easy to change. So you will get a good lifespan out of each blade since you can simple switch it around. The two blade cutterhead seems to perform just as well as some of the 3 blade models. One positive to this is that it is cheaper to replace the blades, although they may or may not need to be replaced more often. These blades are indexed with holes so that alignment is straightforward and easy.
The dust port on this machine can be directed to the left or right side. This is nice because it can be changed according to your shop layout. It does not have a fan assisted dust port like the DW735X, but a basic shop vac should help with sawdust control when you run the machine.
This planer is lighter than most at only 56 lbs. As long as it is on a stable surface this could be a big benefit to you if you need to move it around frequently. For example, you may need to take it to a jobsite if you are a carpenter. 56 lbs is very manageable compared to the 80-90 lb range of the other models.
What's Good About it?
It is lightweight and built with careful consideration of materials to reign in the price. You may see this as a bad thing, but they have not cut back in the crucial components.
It is basic to use and good for a part time woodworker. Anyone who is planing boards day in and day out should not consider this planer unless it is all they can afford.
The dust port can change sides to accommodate your shop situation.
The blades are easy to change.
Users have reported it to be quite accurate, so your cuts should be satisfactory.
What's Not So Good?
Its cheaper construction can affect quality control and its longevity can be questionable. Anything built with a significant amount of plastic instead of metal runs the risk of having more stuff break.
It lacks some more advanced features like dual feed speed settings. This is a compromise you make to take advantage of a better priced product.
Some users have reported getting units that were not calibrated very well, and the four post construction had too much slack in its joints. This resulted in poor planing, along with excentuated snipe issues.
Judging from some user reports, it can be hit or miss with this unit. This is not surprising considering it is geared more toward the budget minded side of things.
Summary
A cheaper option that can usually provide similar results as the better models.
5. WEN PL1326
Features
Spiral Cutterhead (26 Blades)
13″ Width
18,000 cuts per minute
15 Amp Motor
Fan assisted dust port
Details
The Wen planer is almost in a class by itself because it is on the cheaper side of things, but it has very good user reviews. Most of the people who buy this planer (with realistic expectations) are very happy with their purchase.
It has some of the same features as other planers in its price range. This includes a 15 amp motor that is powerful enough for most cuts as long as the depth is not too much. It also has a easy depth management and a clear gauge for you to see where the cutterhead is set up.
The infeed and outfeed tables are made from granite for strong and durable use. This also helps with the stability of the machine.
The dimensioning abilities are as follows:
Max cut depth 3/32″
Max width 12 1/2″
Max depth 6″
The machine uses a "spiral" cutterhead, meaning there are 26 square blades that are offset on the cutterhead. This is better than the straight blades, but I'm not sure that it is a true spiral. It is still a nice design, nonetheless.
Snipe is an issue just like any other planer, but it uses a three roller system to help minimize the issue.
Like the DW735X, this machine has a fan assisted dust port. This is a great feature to have at such a low price point. It separates this unit from the others in its price range. Although it you will still need a shop vac or some kind of vacuum system, it is very helpful to remove sawdust and wood chips away from the cutterhead. This allows it to more efficiently make cuts.
The shell of this unit appears to be plastic, but with its cast iron base and granite feed tables its rigidity should not be an issue.
This planer sits right in the middle in terms of weight at 79 lb. This is a decent weight because you can still move it around but you will not have to worry about it moving around when planing boards.
What's Good About it?
Good quality construction, with more thought put into each feature than normal at this price point.
Side handles make this machine easy to transport.
Fan assisted dust port helps get rid of wood chips and sawdust.
The blades are easy to change.
Heavy duty infeed and outfeed tables.
Roller system helps minimize snipe.
What's Not So Good?
Quality control can be issue at this price point, but still very uncommon. Only a few users have experience issues with this unit.
It lacks some of the better features on higher end units like dual feed speed control.
Summary
An impressive planer that can hold its own against higher end units.
6. Porter-Cable PC305TP 12″ Benchtop Planer
Features
2 Blade cutterhead
12″ Width
16,000 cuts per minute
15 Amp Motor
Details
This planer is a great budget choice for those beginning woodworkers or anyone who isn't going to need an amazing machine for just a couple projects.
If you are simply needing a planer every once in a while for small projects, I wouldn't hesitate to get the Porter Cable. I have always been a fan of their products because they are usually simplistic and powerful.
This machine uses a 2 blade cutterhead. The blades aren't too hard to change, but I did see where the Powertec blades are actually cheaper for replacement blades.
You should expect some snipe with this machine, simply take the necessary precautions to minimize this occurence.
The unit uses 4 pillars for raising up and down – this is a proven system among these benchtop planers.
It is actually on the lighter side at just 64 pounds.
What's Good About it?
Nice, clean construction with a powerful motor
No frills or distractions, just turn it on and use it
Easy blade changes along with cheap blades
Nice infeed and outfeed tables
What's Not So Good?
It lacks the better blade designs for higher quality cuts
No speed control
Summary
A cheaper planer for those needing an introduction to planing.
FAQ
What is a thickness planer?
A thickness planer is the simply a planer like the benchtop planers we reviewed above. They call it a thickness planer outside of the United States, but there is no difference.
Who makes the Best Planer?
Although there are several brands that are high quality, I generally like two the best. These are Dewalt and Wahuda. Wen is also a good choice.
Do I need a spiral cutterhead?
No this is not necessary. These planers work out of the box with their straight blades. Upgrading to a spiral cutterhead has some advantages of course. These include:
Easier blade changes – change one square instead of the entire length of the blade
Faster cutting – the spiral design can allow increased feed speed
Higher quality cut – sometimes the cut can be improved from the flat blades