A pocket hole jig is a useful tool for beginning and expert woodworkers alike.  It is a versatile and dependable tool to use when you are building a project.
I use mine all the time because it performs so well.  The joints are strong and very easy to make.  I have used the Kreg K4 jig as well as the Foreman, and both make my life so much easier.
Relevant Links
Buy the Kreg K4 here
Buy the Kreg Foreman here
Best Pocket Hole Jig
Easy Learning Curve
It is an alternative to some of the more traditional woodworking methods, like mortise and tenon joinery.  While using pocket holes is sometimes frowned upon for more traditional and high quality woodworking, it is great for beginners who simply want to build things.  It is a great stepping stone into more fine woodworking circles.  The DIYer may venture into more mortise and tenon and dovetail joints once he or she is comfortable designing and working with wood.  This can only happen with entry level tools in the beginning.
Professional and more experienced woodworkers can also use pocket hole jigs for a variety of uses.  This could include shop furniture where the joint style is not important, or areas in a project where you will not see the pocket holes.
Cabinetry is a popular candidate for pocket holes.  I used it in my own kitchen remodel when I built the cabinets.  I can't imagine building the face frames using any other method.
This goes to show that nearly anyone can benefit from having one of these tools in their shop.  I would not be able to make a ton of the things I have in the past without a pocket hole jig.
This article sets out to answer a few questions:
What does a pocket hole jig do?
Why should I use one?
What are the best ones to buy?
What Does a Pocket Hole Jig Do?
Simply put, a pocket hole jig joins two wood boards together.  From this point on it is very versatile.  You can use it in plywood and a ton of different sized boards.
It is important to understand how boards have traditionally been connected together in woodworking.  A mortise and tenon joint is a popular method.  It is strong and dependable.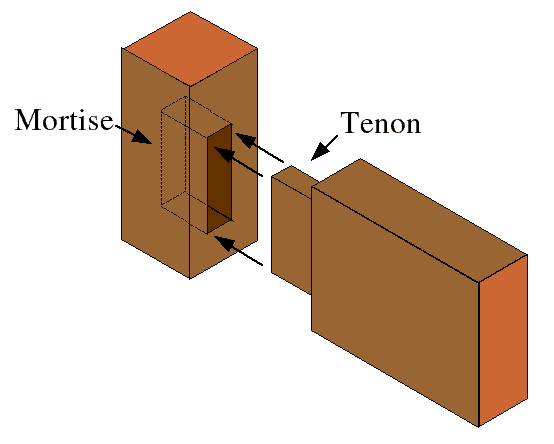 A pocket hole joint replaces this method by allowing you to butt two boards to each other and secure it with screws.  It eliminates the need for cutting out the tenon and mortise.  I'm sure you can see how this makes it dramatically easier to accomplish.
The main negative with this approach is with a mortise and tenon there is no evidence of how the joint is completed.  So you end up with a clean looking joint.
With pocket holes you will have a hole for each screw you drive.  These holes are not attractive to see in a finished piece of furniture.
Usually you can limit these to one side of the board.  If you are experienced with this process then you can easily learn how to position these holes in good spots so that no one will see them.
Here is an example of two pocket holes that I used in one of my projects: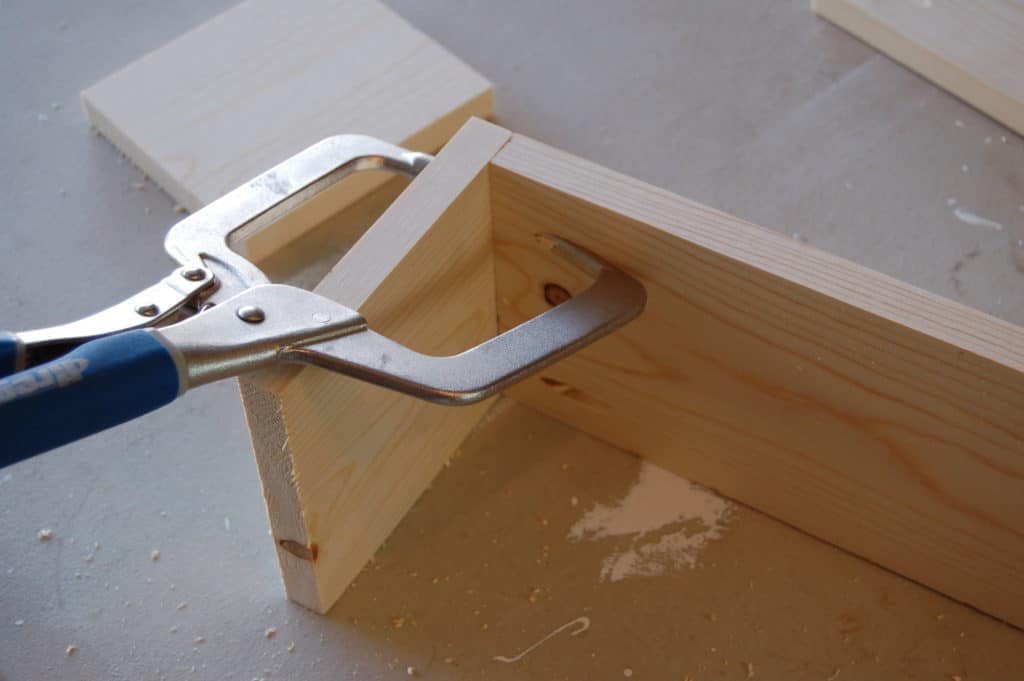 Why Should I Use a Pocket Hole Jig?
If it is not already clear why you should use one, I will explain a few things that convinced me to buy my first jig.
 Kreg tools has a ton of accessories and tools that allow you to build efficiently and easily with pocket hole joinery.  The clamps (like seen in the above photo) help you align your boards correctly.  They also off a variety of pocket hole jigs to suit your style of woodshop and your budget.  I have been using Kreg tools for a while and they keep coming out with new and useful equipment.  So when you buy a pocket hole jig there is a large support system there.  This is unlike a lot of tools out there.
Making traditional wood joints is time consuming and difficult (for beginners).  This is not meant to be a knock on classic wood joinery; it has its place for fine woodworking pieces and high quality furniture.  I do not recommend starting out trying to learn these practices, however.  Get some projects finished and under your belt using a pocket hole jig, and it will give you the confidence and momentum to advance your woodworking skills.
In certain situations only a pocket hole will suffice.  You will come across a project where a pocket hole is the only thing that makes sense.  This one is hard to explain but you will know it when you see it.
Shop tables, temporary pieces, etc. do not need to look awesome.  Because of this, it makes sense to just use pocket holes and make strong joints but not have to worry about the way it looks.
If you plan on building cabinets, it is a must have.  Building the carcasses and face frames is simplified dramatically.  And it also makes it very quick.
What are the Best Ones to Buy?
There a few different jigs that you should look at depending on where you are in skill level, budget, and potential projects.  I generally recommend the Kreg K4 Jig for people starting out.  This one will do anything that the others will do, but it is budget friendly enough that you can afford it.
Make sure to get the pocket hole screws that Kreg makes as well.  These are specially made to fit and are helpful to get for a variety of reasons.  In this post I laid out the differences between these and regular screws.
If you are interested in a more in depth discussion in regards to pocket hole construction go to my best pocket hole jig post.  You will be able to find out information about which ones are good for a budget and which ones are for more heavy production.
Conclusion
Pocket holes help in many ways, mostly through ease of use and solid construction.  I personally like them very much.  As I gain more woodworking skills I will probably start doing some more traditional forms of joints, but I doubt I will ever eliminate pocket holes from my repertoire.