If you enjoy farmhouse designs then you will love this curated list of cute and fun farmhouse signs.
They are great to hang around the house and outdoors.  The outdoor signs will sometimes weather too, which adds to the rustic style.
They are all accessible for the beginner.  A bonus is several use methods that I never even thought about doing.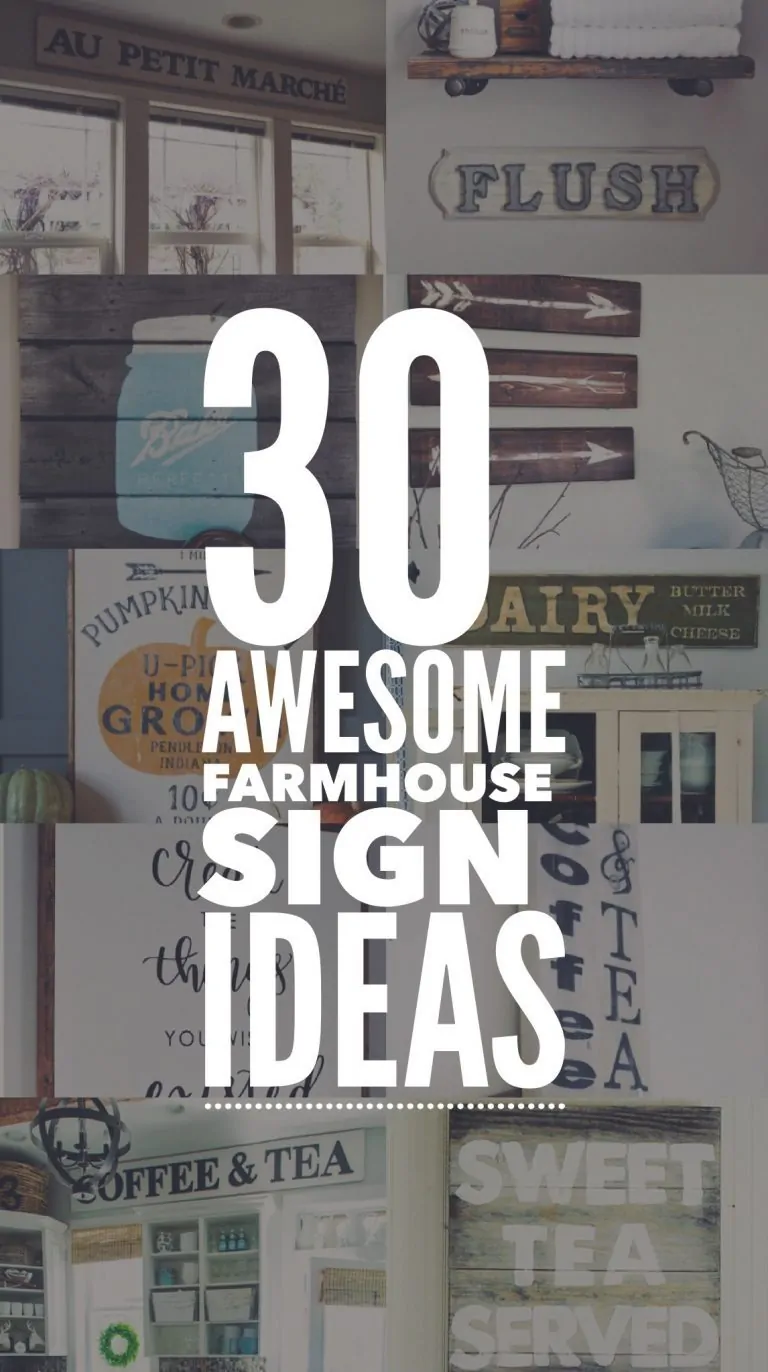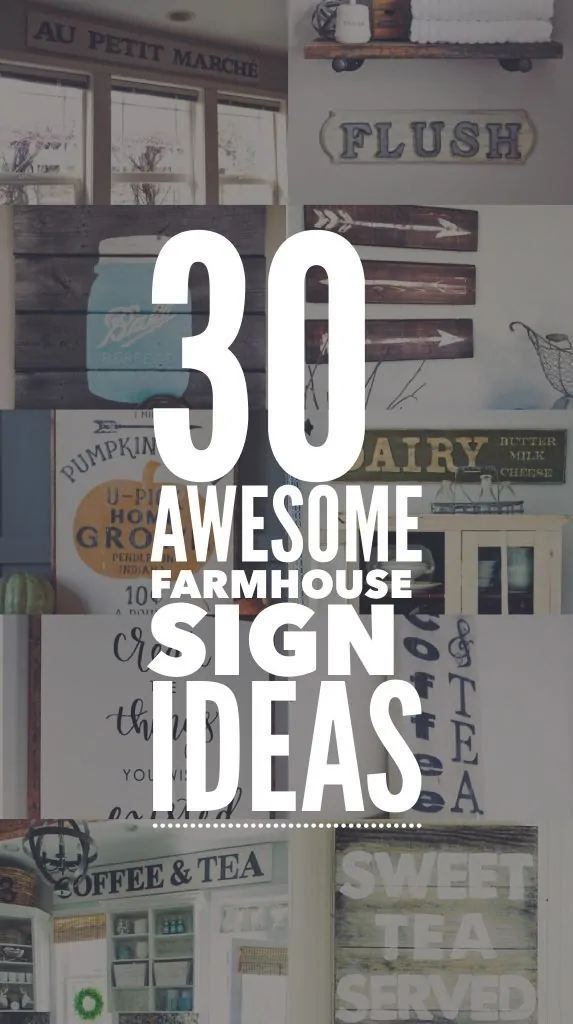 [toc]
1. Stencil Farmhouse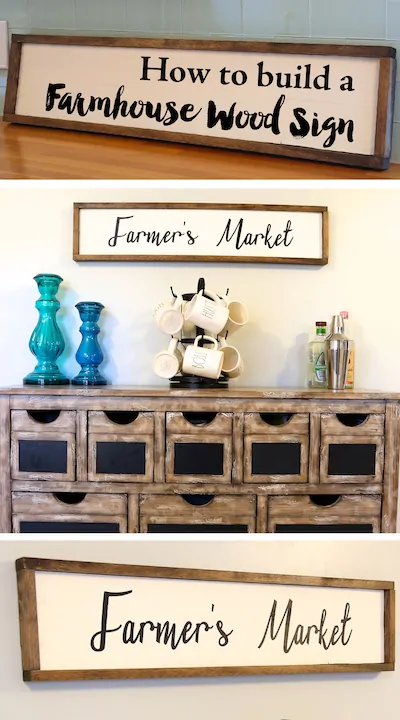 This sign is a great one for the beginner.  It is very simple to make and requires very few materials and tools.  The best part is how great it looks when you are done.
You only need a 1×4 and 2 1×2's for the wood.  You can hand paint the lettering or use a stencil.
The tools required are a cordless drill, nail gun, some paint materials and other common items.
2. Weathered Hanging

These cute signs are simple projects that don't require much assembly.  You will love their vintage style and you can even put them outdoors if you like, just put some polyurethane or other sealant over the top of them.
You only need some boards and a way to cut them to the correct size.  Then you can follow the directions to apply the signage of your choice.
Hang them up and add some farmhouse style to your home.
3. Old Desk

This sign makes good use of some old materials.  It looks like a great DIY project for any skill level.
It is built from an old desk that has a very weathered and worn surface.  If you have some old materials then you can easily do this same thing.
Use your creativity and come up with a sign you can stencil on it.  You don't need many tools, just some paint and maybe a saw if you need to trim it to the correct size.  You may also need to drill some holes to hang a rope.
4. Pallet Sign
Pallets are very popular for all kinds of cool furniture projects.  It only makes sense to use them for a vintage sign.
This sign itself is not made from pallets, but it is meant to mimic them.
The best part about this project is how easy it is to complete.
You can do this with only a few tools, such as a miter saw and cordless drill.  If you want to use pallets, you will need to source the material, but finding a good source of pallets will probably pay off in the long run.
5. Raised Lettering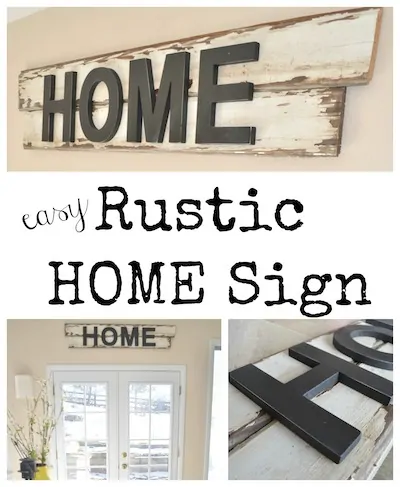 This sign is very cool because it uses some wooden letters instead of painted ones.  These can be bought pre-made from a place like Hobby Lobby.  Once you get these wooden letters you just need to paint them or stain them how you would like.
It gives it some depth and a little more character.  All you need to do to make this sign work is to build the background.
If you have some salvaged wood (like in this tutorial), then it makes your task even easier.  If not then you can buy wood and weather it a different way.
6. Old Wood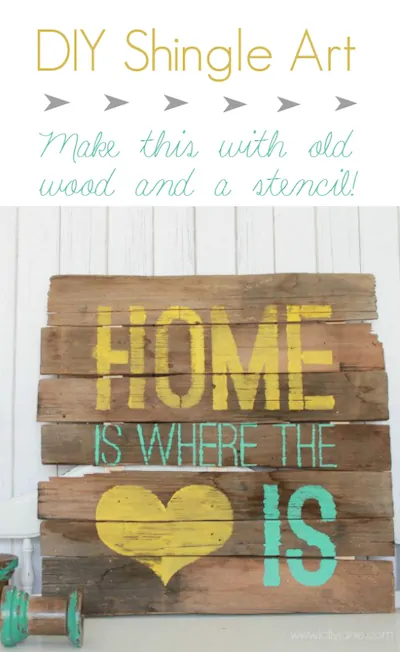 This sign is built from old, weathered wood that creates a very rustic vibe.  If you have some old wood laying around or can source some from somewhere then this project is perfect for you.
The rugged edges of this sign give it a worn and weathered look.
All you need to do is connect the boards with some slats along the back and then paint on your lettering and graphics.
This project used a stencil for the actual sign.  If you don't want to use a stencil then you can also paint it by hand.
7. Mason Jar Sign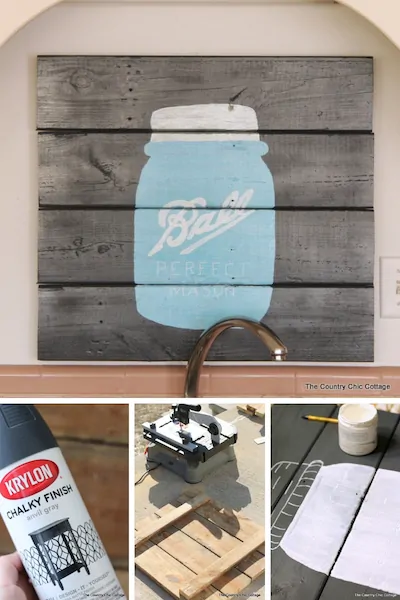 This sign features a mason jar design that is very neat to look at.  I like how it adds to the vintage style.
Like some of the other signs, you can use some old, weathered wood, or just simply buy new wood and make it look the way you want it.
This plan doesn't use a stencil, so you will need to be able to paint with a little skill, but you can print off the mason jar graphics and transfer it to the sign.
Check this awesome farmhouse sign out and build it today.
8. Arrows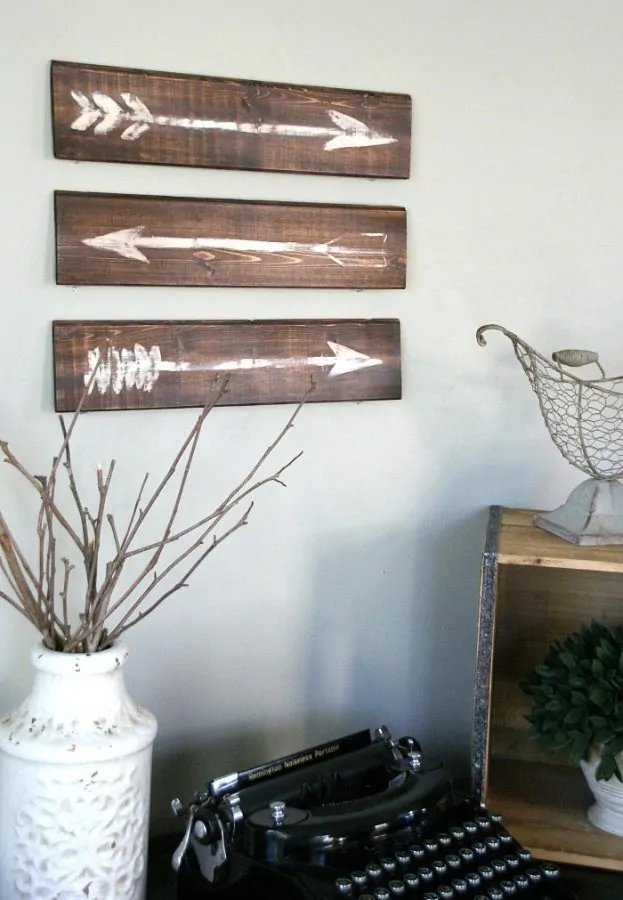 These cute signs are easy to make and could be made with a variety of different materials.
It is made with just a few boards, stain, and some distressed painted arrows.
9. Vertical Pallet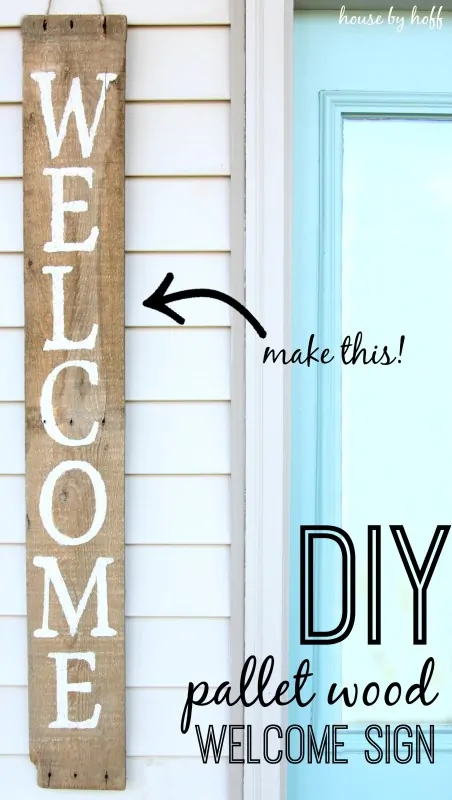 This is a unique design because it is vertical, unlike many of the others.  It also uses pallet wood to give a weathered and rustic look.
10. Farmers Market Sign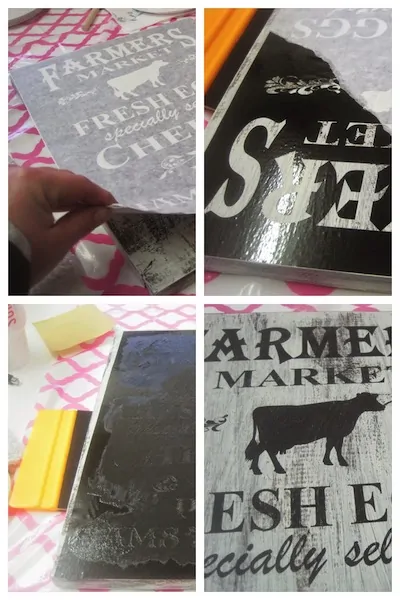 This sign uses a very neat stencil to create a rustic painted sign.  This particular stencil uses a farmer's market stencil advertising eggs, jams, etc.
11. Distressed Antique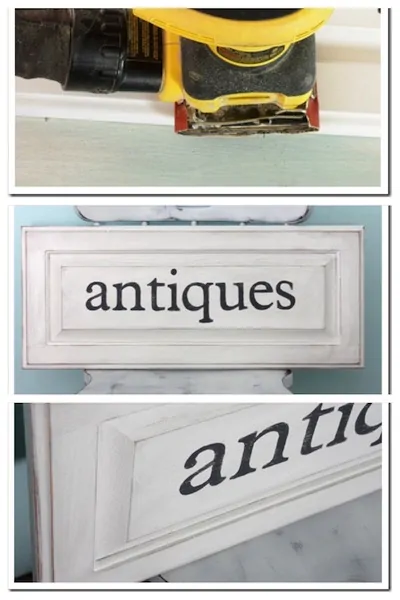 This sign uses what looks like an old cabinet door.  It has rails and stiles and a raised panel interior.
If you have something like this laying around or some old cabinets then you can build this sign.
12. Hand Stenciled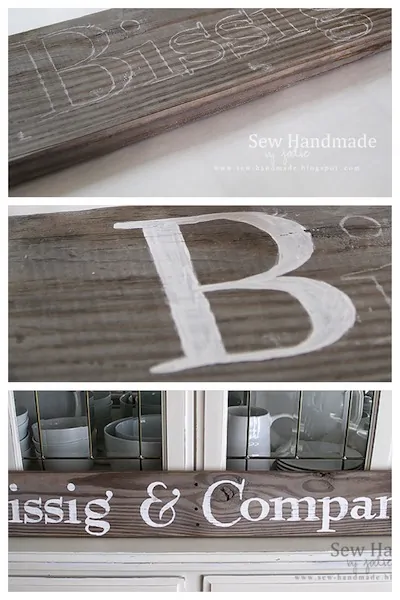 This pallet sign uses stencil lettering.  The tutorial shows a great process for transferring lettering from printed paper to the wood so that you can paint.
13. Painted Canvas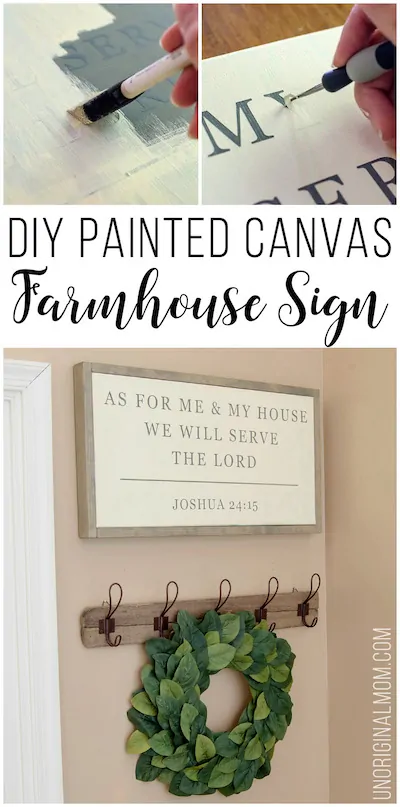 Use a stencil for the letters and paint to create this awesome sign.  When the paint dries you simply peel the letters off and you get this amazing result.
14. Simple Distressed Sign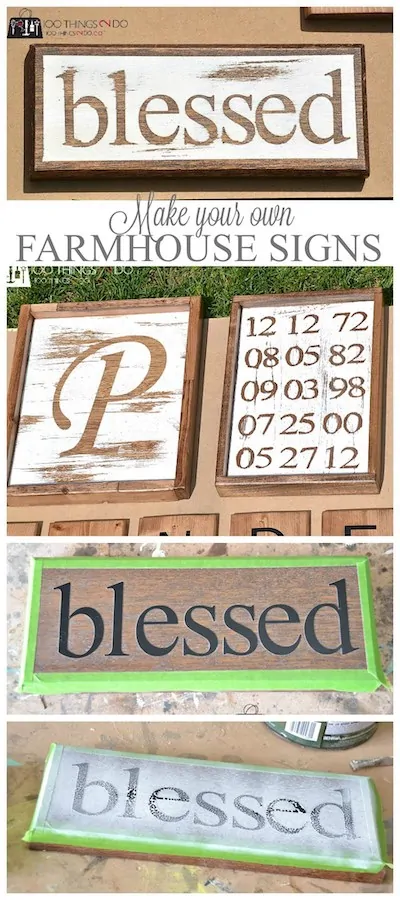 Follow this tutorial for a simple way of making distressed painted signs.  It is a good way to get started with simple letters and single pieces of wood.
15. Irish Blessing Quote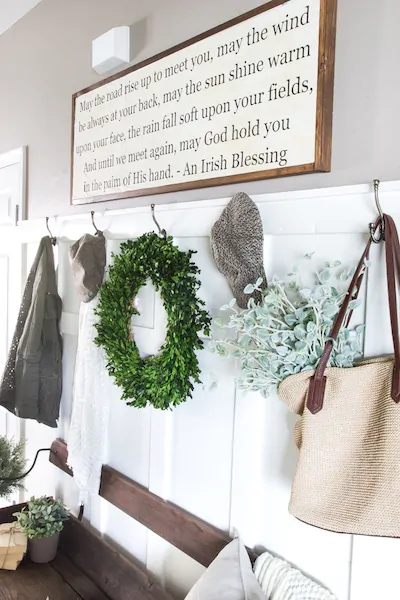 This sign is different that the others in that it is not painted.  It uses a printed paper quote that is attached to the sign.  Follow the tutorial to find out how it's done.
16. Easy Quote Sign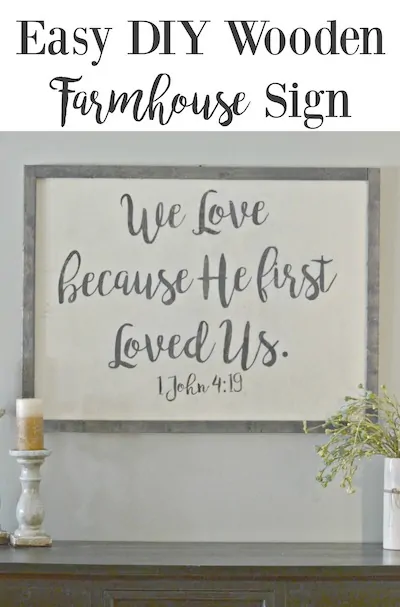 Follow this tutorial to see how to build a frame around your sign, along with painting this awesome quote.
17. Transferred Image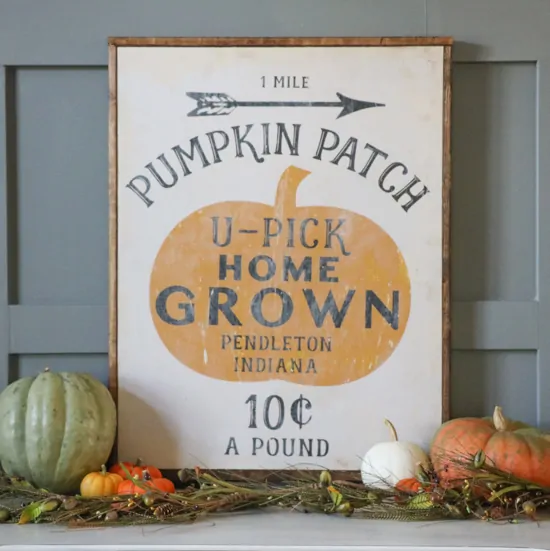 This sign uses a special technique to transfer the artwork to the surface of the sign.  A special process is needed including letting it sit overnight.  Go to the tutorial to learn more.
18. Vertical Bakery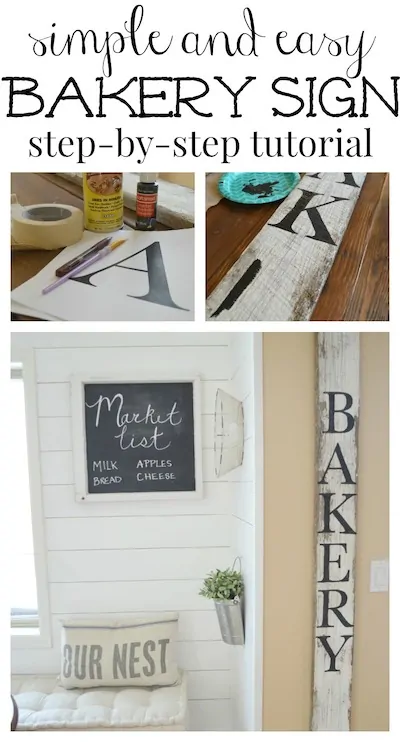 This bakery sign uses hand painted lettering to create its attractive design.  The look is rustic and attractive.
19. Sweet Tea Sign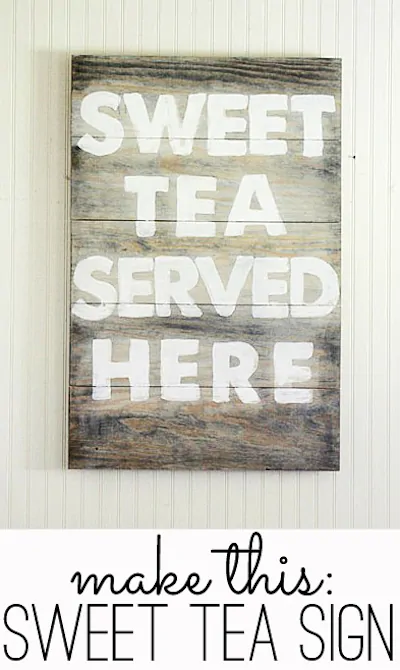 Make this sign without using any stencils at all.  Simply create the rustic board background and then paint on your own style of lettering.
20. Hand Painted
This sign design requires a bit more effort than some of the others, but the result is stunning.  The letters are all hand painted and then weathered with several steps involved.
21. Metal Sign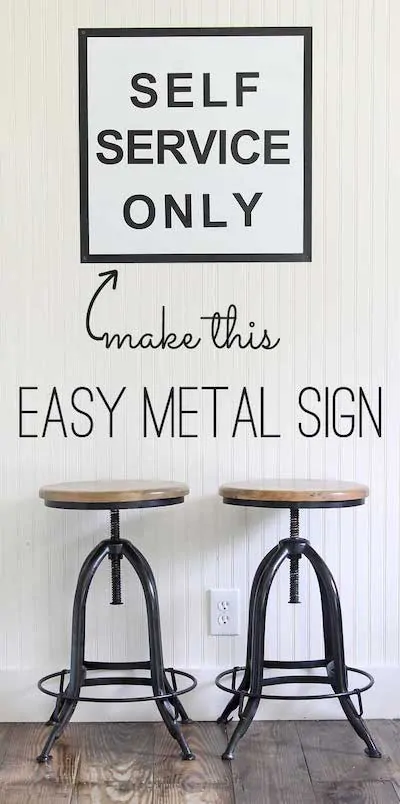 A metal sign can be just as stylish as wood signs.  This one has a great farmhouse charm with a black and white paint scheme.  This project requires a little bit of paint and lettering.
22. Flush Bathroom Sign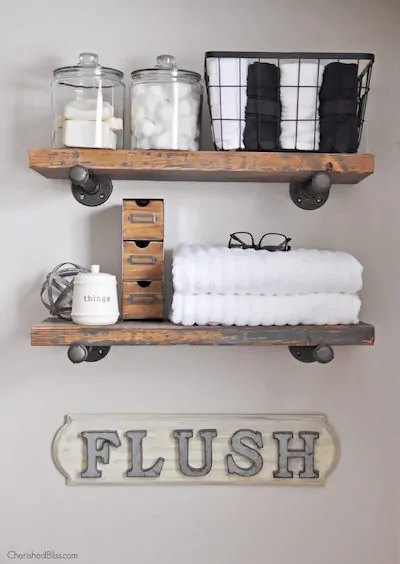 Build this sign using distressed wood and some metal letters that you can find at hobby lobby.  It can be used in the bathroom like you see in this tutorial or anywhere around the house.
23. Large V-Groove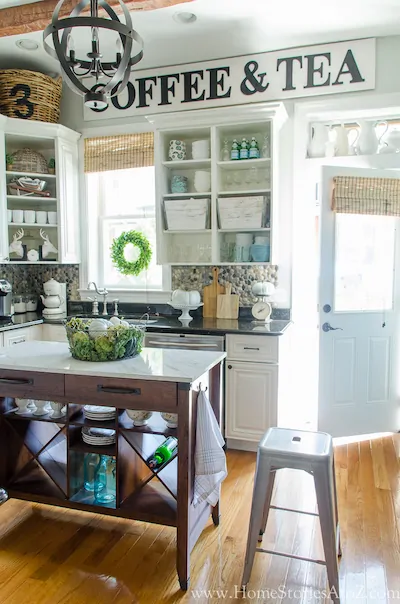 This large "Coffee and Eat" sign is an amazing farmhouse decor addition.  You should easily be able to build this sign.
Use some v-groove boards to give it a rustic paneled look and attach the craft letters for your lettering.
24. DIY Eat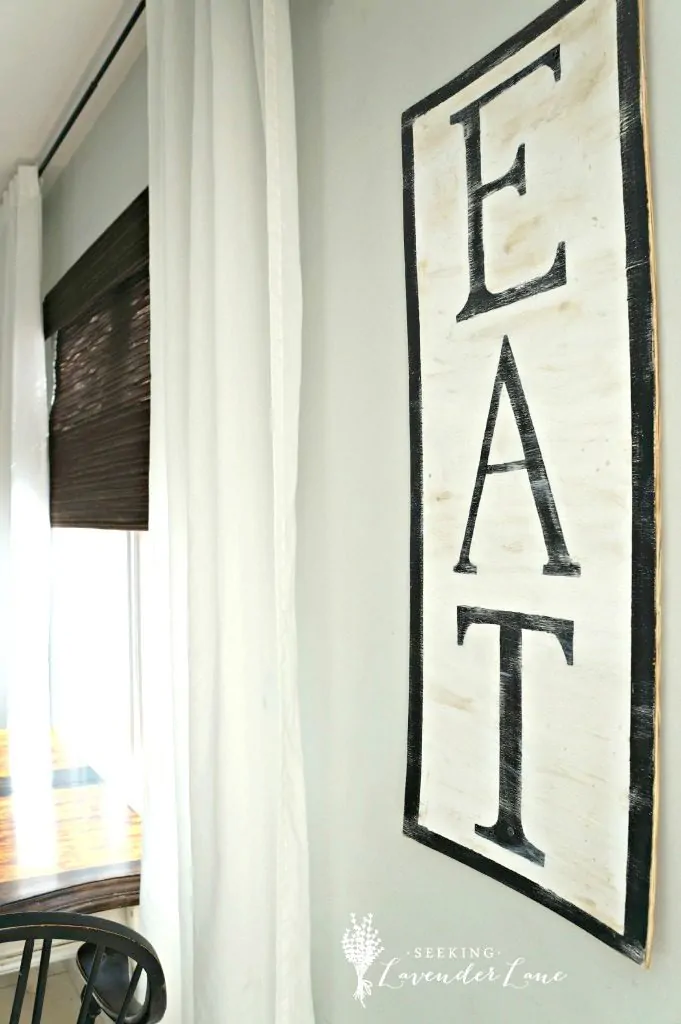 This vintage style eat sign can work perfect in that small vertical space that just needs to be filled.  It is a fairly basic project that requires very few materials.  You just need some paint, stencils, and wood to make it work.
25. Market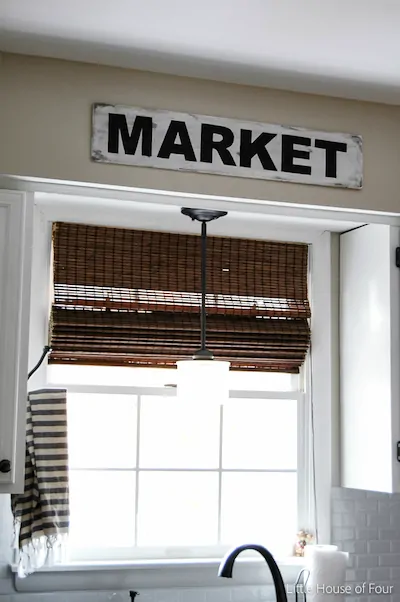 This market sign would be a great addition to any farmhouse kitchen.  It is made using a thin sheet of plywood, so it is light and easy to make.
The letters are made using a permanent marker and then it is weathered with a dark chalk paint.
26. Farmhouse Stencil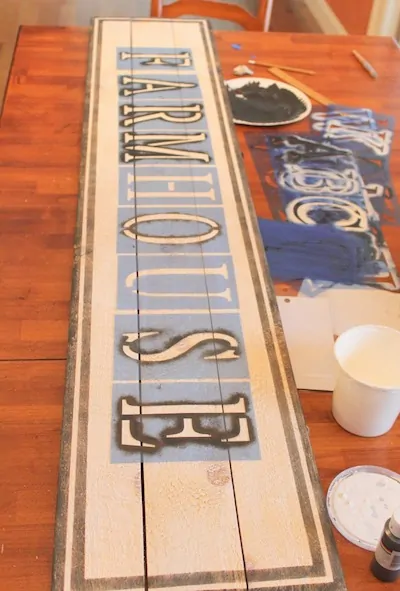 This farmhouse sign uses a stencil and craft paint lightly applied to give it a weathered look.  It uses three boards connected across the back.
27. Rustic Calligraphy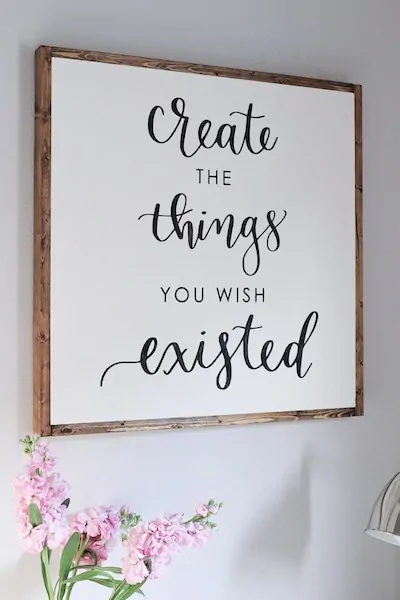 Use a vinyl machine to cut out the stencil for this sign.  You can also download the template and trace it with a pencil.
It uses plywood and boards for the frame, so you will need basic woodworking tools.
28. Basic Stencil and Wood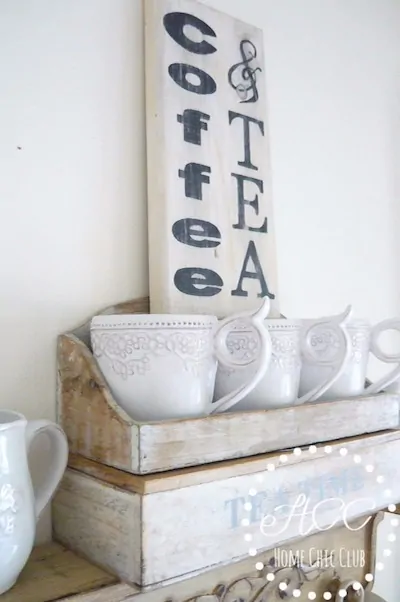 Follow this tutorial for a basic overview of how to make a farmhouse sign.  These signs are basic and attractive.
The background on these signs are made from a whitewash and raw wood as opposed to the more common solid painting.
29. Fixer Upper Style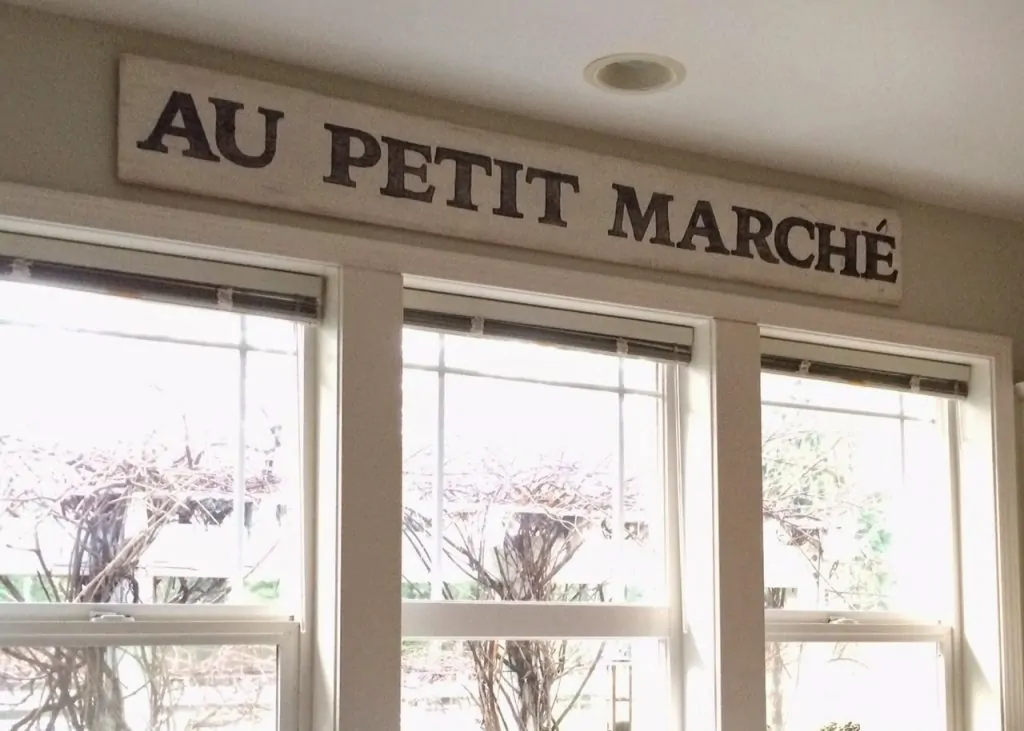 This Fixer Upper inspired sign is simple and easy to make.  A beginner should have no issue making this one.
It requires stencils and paint along with some other basic tools to get this one up in your house.
30. Large Farmhouse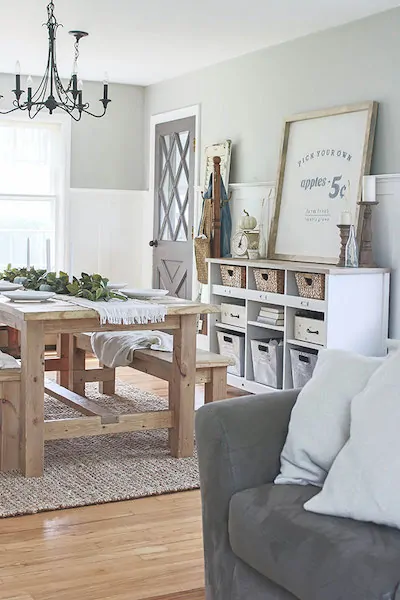 This large sign uses stencils you can print off of  blockposters.com.  It is a very neat way of doing it.
Use a pen to trace the stencil and make an indention in the wood so that you can paint it afterwards.
These signs all embody the classic farmhouse style.  And the best part is they are all different in some way.
Some are made using hand painted letters, and others use pre made wooden letters bought at the store.
Whatever you choose to do, hopefully you can find some inspiration from the awesome projects here.