When shopping for a cordless drill, you'll find no shortage of options. How do you know what drill is the best choice for your specific needs? For those of us who enjoy woodworking our needs may differ from someone who only needs it for basic homeowner tasks.
Personally, I want a drill that is lightweight and easy to maneuver because usually my tasks will involve drilling pocket holes, pilot holes for screws, and driving small screws. It still needs to be powerful, of course, so that is another consideration to take into account. A brushless motor is important as well, but most of the one's made now have this.
As with all cordless tools, your choices will also be influenced by what cordless system you currently own, or which system you plan to own. This is a major factor, because you don't want to have to buy batteries for 5 different systems. I think 2-3 max should be your limit.
Best Cordless Drill for Woodworking
While my choice for best overall combines several must-have features, the other drills on my list are also worth consideration. Whether you're looking for a drill to use on a variety of general household projects or you want something for heavy-duty jobs, you're sure to find plenty of options on the list below: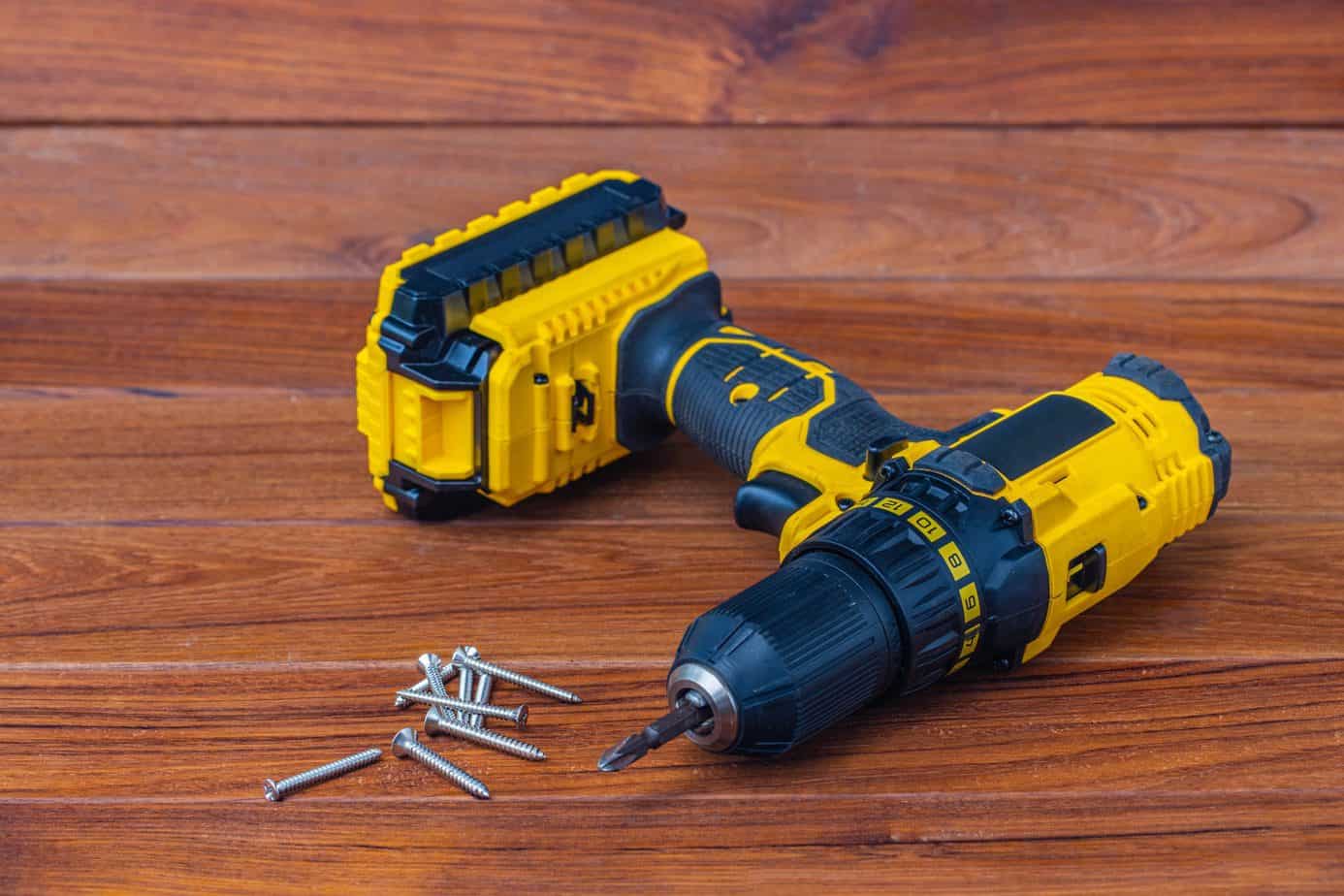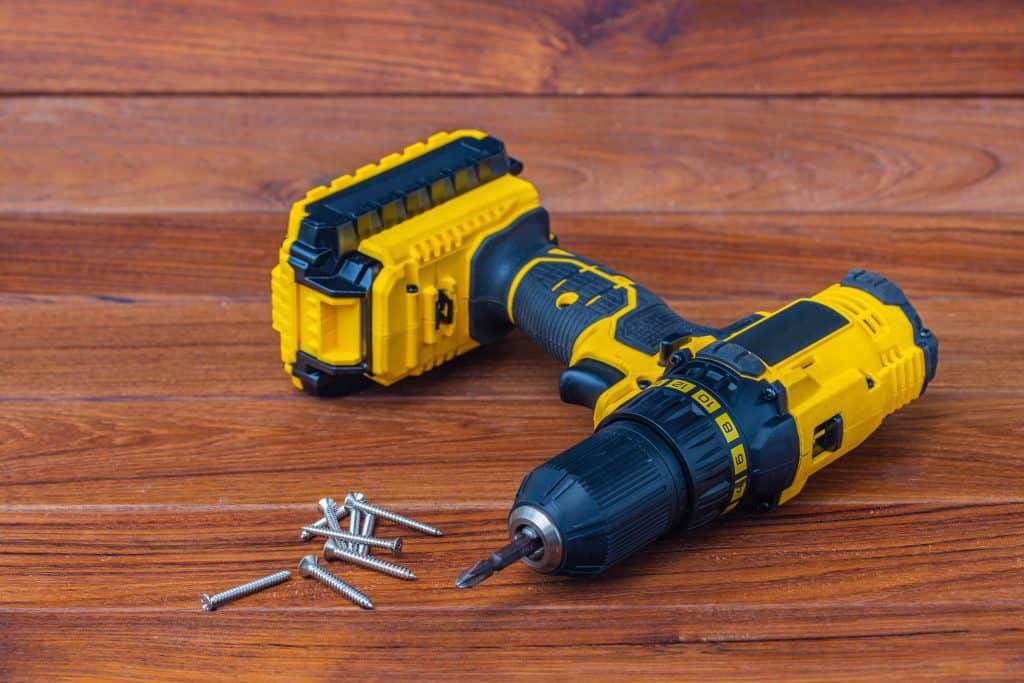 1. Industry DIY Pick: Milwaukee Fuel M12 Hammer Drill Driver
If you are looking for the most versatile and easy to handle drill, then I believe the Milwaukee M12 is the best of the bunch. It is powerful, lightweight, and easy to control for almost any task that you can think of.
This is my top choice for the best cordless drill for woodworking projects.
First, it'll work great for practically any repair or improvement work. You can use it to drill through wood, metal, and plastic. It has several different clutch settings to control your power efficiently.
Another feature I like a lot is the drill's portability. It's easy to hold at practically any angle because it only weighs 2.3 pounds. Use it when working in tight spaces like cabinets and closets. Plus, because it's cordless, you don't have to worry about a cord getting in your way while you move around.
Finally, it's my recommendation for the best overall because both men and women can use it. I think this could definitely be considered the best cordless drill for women too. With a small total weight and comfortable, ergonomic handle, you'll have no problem holding it even if you have smaller-than-average hands.
There aren't too many downsides here, but a few do exist. The most obvious is the lack of included carrying case. While that's probably a huge issue if you mainly work around the house, it might be a problem if you want to take the drill with you somewhere. You'll need a fairly durable bag to carry it. If you would like a case, it does come with one in the kit package. I highly recommend it.
Of course I am a big user of the M12 package, but that is also why I believe I am qualified to recommend this particular drill. It takes anything I throw at it.
Pros
Works on wood, plastic, and metal
Lightweight and portable
High quality Milwaukee build
Cons
If you absolutely need more power, then I would step up to the M18 package
2. Runner Up: Makita FD09R1 12V CXT 3/8″ Driver-Drill Kit
This pick is based off of two things: Makita's reputation as a stellar tool brand and this specific drill's performance and price point. They make high quality tools that simply perform when they are asked to. I have found Makita tools to be long lasting and durable.
This drill is a great choice, very similar to the Milwaukee M12. It offers two speeds to choose from and has a max torque of 250 in. lbs.
It uses a 12V battery which is good for those of you who are already into this system. For those who are not currently using the 12V Makita batteries, they make several nice tools that use this battery, so I would definitely consider it.
This drill comes in at 2.4lbs with the battery attached, so that is very lightweight. The ergonomic grip feels great to use, and the smooth power delivery is definitely something to enjoy.
Pros:
As with the Milwaukee, it is lightweight and easy to hold
Two speed selection
Good power for 12V battery
Well designed construction
Cons:
It lacks the power of a 18V of course, but I can't say this is really a negative.
3. Best Budget Option: Black + Decker 20 Volt Max
If you're looking for the best budget cordless drill for home use, the Black + Decker 20 Volt MAX is our top recommendation. It's a winning combination of quality, affordability, and versatility.
It has 11 clutch settings that allow you to accomplish all types of screw-driving tasks.
Although it's not loaded with accessories, it includes everything you need. Aside from the drill, you also get one 20 Volt MAX Lithium-Ion battery, a charger, and a double-ended bit.
One downside with this drill is that it does not include a carrying case, and I'm not sure if there is even an option to purchase one made for this drill.
My educated guess is that the lack of a carrying case is partially responsible for the drill's relatively low price. If you want a drill with a custom case, you'll likely have to spend a bit more.
Another minor downside is the lack of a second battery. You put the drill itself onto the charger. When the battery needs power, you have to stop work completely. Fortunately, the drill does have a long battery life, so you should complete most household projects without needing a charge.
Pros
Works on most materials
A cheap option
Includes battery and charger
Cons
Doesn't include many features
Probably not tough enough for professional use
Other Great Options
The drills above are my top three recommendations for most woodworkers and craftspeople. However, they're far from the only quality drills available. I've also selected a few other options, including drills with more niche specialties. If the three above don't exactly fit your selection criteria, check out these other drills I also recommend:
4. DeWalt 20 Volt Max Drill Driver Kit
If Black + Decker's 20 Volt MAX isn't what you're looking for, DeWalt's 20 Volt Max is a comparable tool. It's also lightweight and powerful.
The high-speed transmission delivers two speeds: 450 and 1,500 RPMs. You should have no problem drilling through even thick wood and metal thanks to the drill's powerful motor, which delivers 300 unit watts out (UWO).
Holding the drill won't pose a problem, even if you have small hands. It's 3.64 pounds (slightly more than the Black & Decker) with a width of 1.9 inches.
One major reason you might want this drill is if you plan to take it on the jobsite or otherwise carry it to different places. The DeWalt Max includes a zippered carrying case that holds the drill, two batteries, and the charger.
I recommend the DeWalt if you enjoy the brand and own some of the other cordless tools you can use this battery with. They make high quality tools and this one is no exception. This drill is powerful and heavy duty.
Pros:
Powerful motor with two speeds
Includes durable, zippered carrying case
Includes two batteries and charger
Cons:
Batteries may run out of power fairly quickly
Customer service can be difficult to reach
5. Craftsman V20
Although the Craftsman brand has lost much of its value over the years, don't count them out just yet. Their V20 drill is a solid performer suitable for DIY projects around the house.
The high-performance motor has a two-speed gearbox that lets you switch between two speeds for precise control.
It includes a Lithium-ion battery that lasts for about an hour. However, aside from the battery, it includes no accessories or attachments like screw adaptors or a carrying case.
However, despite the lack of extras, it's a reliable and easy-to-use option that you can use to assemble furniture and fix minor issues around the house.
Also, it's a safe choice to buy because it includes a three-year limited warranty.
Pros:
Long battery life
Powerful motor with a two-speed gearbox
LED light for increased visibility
Comfortable, rubber-coated handle
Powerful 20 Volt Battery
Cons:
Doesn't include accessories or attachments
Weights a heavy four pounds
6. Kobalt 24V Max Cordless Drill
If you're mainly concerned about power, and somewhat concerned about sticking to a budget, my top recommendation for a premium drill is the Kobalt 24V Max Cordless.
Drills don't get much more durable than this one. It can survive a fall from up to eight feet without taking damage. You'll notice it's sturdiness from the moment you put it in your hand.
However, it is a bit heavier than the other options discussed so far. The Kobalt weighs a fairly hefty four pounds and two ounces. You might want something lighter if you have don't have an abundance of arm strength or plan to hold the drill at awkward angles for long periods.
At 24 volts, you get professional-level performance. Aside from the drill, the kit also includes a 2.0Ah Lithium-ion battery, charger, double-ended bit, auxiliary handle, and belt clip. Everything fits (snugly) into the included soft bag.
Some people might find this drill a bit heavy and bulky for quick jobs around the house. However, it's exceptionally durable and well-made. Plus, it's strong enough to tackle professional jobs. If you want to buy a drill that will last for years, and maybe even decades, the Kobalt might be for you.
Pros:
Extremely durable
Suitable for heavy-duty jobs
Includes storage bag, battery, and bit
Cons:
Weight a hefty four pounds
Difficult to maneuver in tight spaces
7. Black + Decker 8V Max
The best drill isn't always the strongest or most powerful. Instead, you might prefer what's often called a "kitchen cabinet" drill. As the name implies, it's a smaller drill that fits into a kitchen cabinet. You mainly use it for minor repairs, furniture assembly, and other simple tasks around the house.
The Black + Decker 8V is my favorite kitchen cabinet drill. Weighing just 1.3 pounds, both men and women, including the elderly, should have no problem holding and using it.
Also, the mid-handle design helps center the bulk of the weight over your hand, allowing you to keep the drill level and under control.
The drill includes a double-ended bit and a 3/8-inch chuck. You can switch the bit quickly even if you've never used a drill before.
Powered by an eight-volt battery, it's not a strong enough drill for major renovations or big construction projects. However, it's a portable, reliable tool for removing screws and performing other everyday tasks.
Pros:
Lightweight
Easy to hold
Includes double-ended bit
Ideal for removing screws and small projects
Cons:
Not suitable for heavy-duty work
8. Kimo 12 Volt Drill Driver Kit
Do you want accessories? I mean, do you really want accessories? If so, you want this drill. Kimo's cordless drill features 48 premium accessories, including drill bits, screwdriver bits, twist bits, brushes, an extra battery, and more.
Kimo actually offers several different packages, including some with their 20 volt drill.
It's a 12V drill useful for DIY projects around the house and garage. However, it's also quite heavy. Weighing in at five pounds, it's the heaviest drill on the list.
Despite its heft, it's easy to hold and use. The contoured, rubberized grip minimizes vibrations and keeps your hand comfortable even after long use.
The battery is another highlight. It has a 33% greater capacity compared to standard batteries. Plus, it's guaranteed to last for at least 1,000 charge cycles. (A charge cycle is when a fully charged battery depletes and is then charged back to max capacity.)
Pros:
Includes a wide variety of bits and accessories
Comfortable, ergonomic grip
The battery has a large capacity and long life
Cons:
Weighs a heavy five pounds
Not powerful enough for heavy-duty construction
I have always enjoyed Porter-Cable products because I feel like they are simply built to power through the job. They aren't the fanciest or highest quality, but they build it with the right components and the right power.
This is a compact drill with a length of 6.9 inches. It weighs just 3.3 pounds. Overall, I found it svelte and compact but sturdy. Its size and design are clear highlights.
It's a surprisingly powerful drill, too. The Lithium-ion battery lasts for about an hour and 15 minutes before needing a recharge. That's impressive for a 20 volt drill.
Overall, Porter-Cable's 20V drill isn't packed with bells and whistles, but it is a solid, reliable, and powerful option.
Pros
Powerful 20 volt drill
Compact, sturdy design
The battery lasts a long time
Cons
The drill gets hot quickly
LED lights need better placement
General Tool FAQ
Determining differences between all these tools becomes difficult to do at a glance. Instead, you'll need to know some basics about how these drills work to make the best buying decision. Let's take a look at the answers to common questions people have.
What is a Cordless Drill Used For?
A drill is a common tool used in woodworking, metalworking, carpentry, and many other construction projects, both large and small. Generally, drills:
Create round holes
Drive fasteners (such as screws and similar objects)
A cordless drill is a handheld type of drill that runs off a rechargeable battery. They're extremely portable because you don't have to worry about plugging them into an outlet. Almost all, from the cheapest to the fanciest, share the following common features:
A handle with an on/off button you hit with your thumb or finger
Drill bits of different sizes
A battery
A battery charger
Note that the battery charger does require access to a standard wall outlet.
How Do I Determine the Power?
Drill powered is measured in voltage, which is a term used to express electromotive force or, in layperson's terms, electrical power. The lowest voltage level for a drill is six volts but they can exceed 20 volts.
More power isn't always better. A more powerful drill is often harder to control. Typically, it's heavier, too, because it needs a larger motor. Also, stronger drills often drain batteries quickly.
Low-voltage drills are easier to control. They're also lightweight. Battery life is longer, too, because the drill doesn't require as much power as a larger-voltage model.
What Voltage Should I Choose?
Personally, I prefer 12V drills. This is because I like the lighter weight and they usually have enough power. When drilling large holes or using a hole saw bit, sometimes an 18V is needed.
Cordless drills with a voltage of six, eight, or ten are commonly used for simple household tasks. They're often referred to as automatic screwdrivers because you'll mainly use them to insert or remove screws. Some that are around 10 or 12 volts are strong enough to drill into drywall or thin wood.
Drills with a voltage of 18, 20 or 24 are suitable for heavy-duty construction work. With these stronger drills, you can drill through wood, plastic, ceramic, metal, and other materials of a similar density (not concrete).
Keep in mind it's not always accurate to compare drills based on voltage. For example, the best 12 volt has a completely different purpose than the best 20 volt, which in turn has a different purpose than the best 18 volt.
Consider what tasks the drill is made for, and then compare it to other drills in its class.
How Do The Batteries Work?
Most of the drills they produce now use a brushless motor that operates really well. They are powerful and efficient.
Almost all cordless drills use Lithium-ion batteries, a powerful and clean type of rechargeable battery. Most drills include a battery charger that you plug into the wall. You can then charge either standalone battery packs or the drill itself (with its battery inside).
You'll want at least one spare battery pack. The best drills will allow you to charge the battery packs separately from the drill. You want the ability to continue using the tool while dead batteries charge elsewhere.
If you plan to use the drill all day long, you might want to avoid drills where the battery is non-removable. You have to put the entire drill on the charger stand, which means long breaks when you can't use the tool.
The drill's amp-hour rating indicates how long the batteries will last. The higher the amp-hour rating, the longer you can use the drill before needing to recharge the batteries. However, you can also save by buying a drill with a lower amp-hour rating.
What is a Chuck?
A drill chuck is a component at the end of the drill that holds the drill bit. It has three metal jaws that wrap around the bit to secure it firmly in place.
There are two types: keyless and keyed. Keyless chucks are simpler to use; you simply twist them by hand. A keyed chuck requires, naturally, a key to adjust the size.
A keyless chuck is usually the better option for household use. They'll hold the drill bit safely and securely. Plus, they're easier to use. You don't have to keep track of a key.
Generally, keyed chucks are only necessary for heavy-duty drills used for commercial-level applications. The key adds more than torque than what you can get by hand, so you can tighten the chuck extra-tight. You will see these on drill presses.
Are Cordless Drills Safe?
Generally, they're safe, but you must always follow proper safety guidelines. Any power tool can potentially cause serious injury.
Follow these guidelines for safety:
Take a good look at everything before you start. Inspect the work area. Always know what's behind whatever you're drilling through. Watch out for nails, knots, screws, and other potential hazards.
Also, inspect your drill. Make sure it's aligned properly. Check the drill and battery for any signs of damage. Ideally, the drill should have a fully-charged battery.
Make sure you wear all proper safety gear, including eye protection. Never wear loose clothing such as long-sleeved shirts. Also, avoid wearing jewelry, ties, and any other loose accessories.
When drilling, start with a small pilot hole. Keep the drill speed under your control. Slow the speed before breaking through the material.
Only hold the drill by the handle. Even though it's a common practice, avoid pressing on the back of the drill with your other hand. Doing so can easily throw off the balance and cause the drill to get away from you.
Above all, remain aware of what you're doing. It's easy to mentally check-out when drilling, especially if you're using the tool for long periods. Stay focused on the task at hand and avoid distractions.
Conclusion
Finding the best drill can seem confusing, but follow the suggestions in my cordless drill review above, and you'll find something you'll love. Just remember, you might not always need the most powerful drill on the market, so clearly determine when and where you plan to use your drill.
A cordless drill is a powerful, versatile tool. Whether you're tackling major repairs or something simple for around the house, it is a critical tool to have in your shop.