I got my hands on this Porter Cable circular saw because I needed a saw to use with my Kreg Rip Cut.  It is a pretty decent saw and I enjoyed using it because it is basic and powerful.
Disclaimer: I bought this saw myself.  I received no compensation for this unbiased review.
One of the best parts of this saw is its value.  It is one of the least expensive circular saws you can buy, but you don't really notice it when using it.
There were only a few drawbacks, and I will get into those below in the full review.
Overall, I would recommend this saw to a beginner or part time DIYer.  It is not the best for someone who needs more precision and higher quality features.  This saw will get the job done, but you may be disappointed in the thin frame components and lack of better elements.
For other options, go to my circular saw comparison guide here.
First Look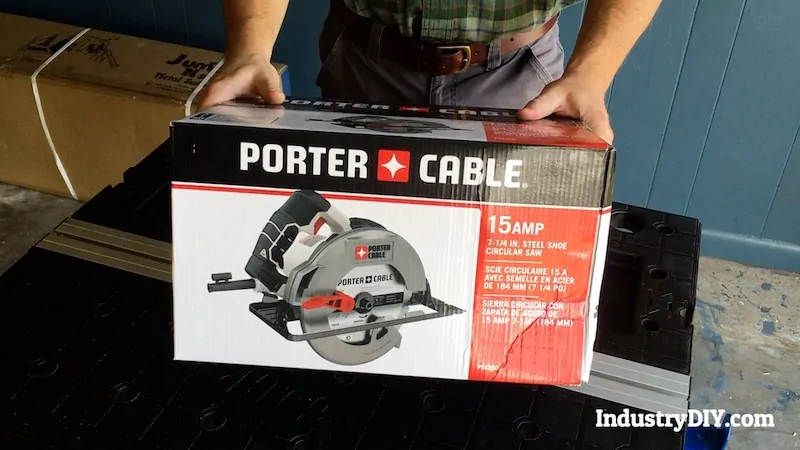 The PCE300 is Porter Cable's corded circular saw. The other circular saw they currently make is the cordless PCC660B, which uses a 6-1/2″ blade.  That means the PCE300 is the only circular saw available from P-C that uses a 7-1/4″ blade.
I generally like the bigger blade because they are really common to find at home improvement stores, and the larger blade is normally more capable.  It can cut thicker materials and I find that it cuts smoother.
Features
15 Amp motor
5500 RPM
9.5 lb
Steel shoe
Metal upper and lower guards
45 degree bevel
2-1/2″ depth of cut at 90 degrees
1-7/8″ depth of cut at 45 degrees
Includes 18 tooth blade and allen tool for blade changes
What's Good About It?
The bang for your buck is hard to beat here.  It is a quality saw that simply lacks some nicer features.  This doesn't meant that it won't function or can't do the job, it simply means you may be left wanting better stuff like a wider shoe or an easier to use bevel adjustment.
Power
It has plenty of power.  I never felt that it was underpowered.  I didn't cut some of the hardest wood out there, but I feel that it would match most circular saws as far as power is concerned.  It has the same 15 Amp motor as many of the others.
Blade Changes
Blade changes are easy with the included allen wrench.  I have questions about the storage on the cord, but so far I put it on there and haven't thought twice about it.
It is simple to change the blade.  All you have to do is hold down a locking button on the top of the unit and turn the screw holding the blade in place.  Do this in reverse to tighten the blade down.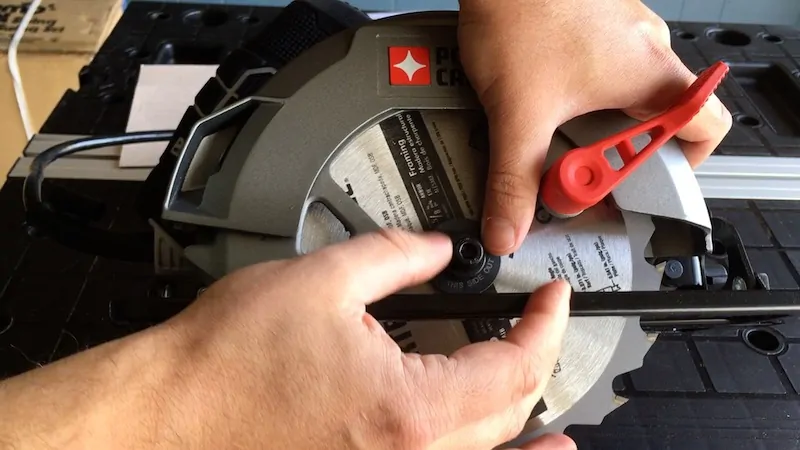 Upper and Lower Gaurds
The upper and lower blade guards work well and so far have not been a problem.  The best part is that these are made of metal, so no plastic pieces to worry about.  They are a bit thin, but that can be a good thing because it keeps the weight of the unit down.
Depth Gauge
It has a depth gauge (although kind of hard to see), so you can easily tell how deep it is set.  I recommend double checking this manually anyway, however.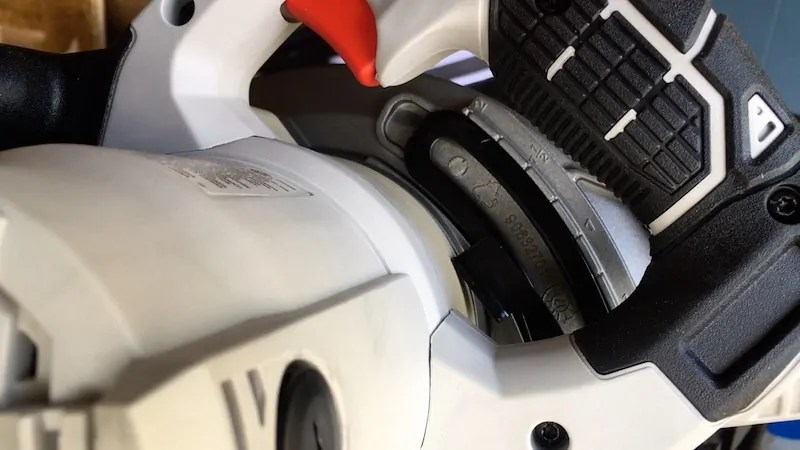 It would be better if they could move this gauge to where you can see it from the top as you are adjusting.
For most cutting with a circular saw the depth doesn't have to be super precise.  If you are simply ripping a plywood sheet, then set the depth to 1/8″ thicker than the sheet.
If you need more precise depth control, then I recommend measuring the blade depth from the bottom of the shoe.
Included Saw Blade
The included saw blade seems good enough.  I used it to make a few cuts.  I also had a Dewalt blade from a different saw that I ended up using as well.  The Porter Cable and Dewalt blades are most likely the same thing since they are both owned by the same parent company, Stanley Black & Decker.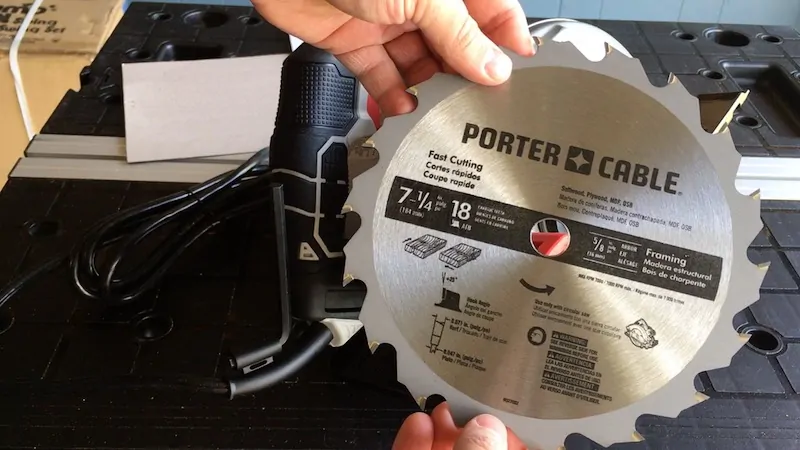 What's Not So Good?
Allen Wrench Storage
Like I mentioned above, I question the storage of the allen wrench.  This may seem like a minor gripe, but I am genuinely concerned.  I hate when I lose the included tool for something like this.  You can see it in the image below.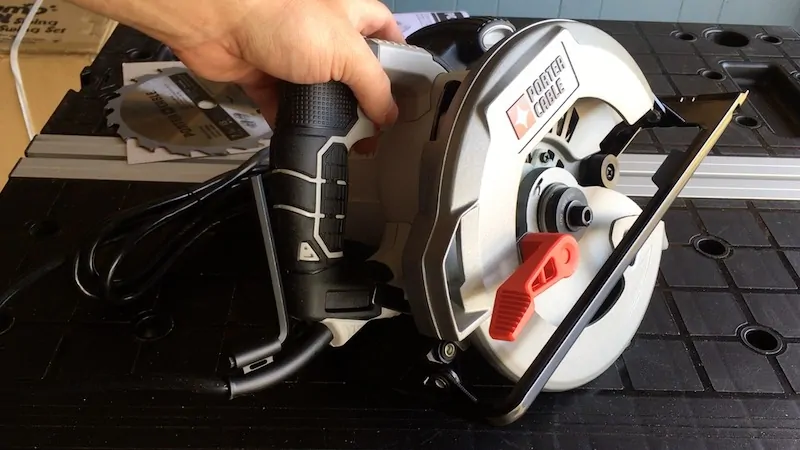 It is almost in the way of the handle as well.  It never did interfere with my operation, however.
I have to say, with all of my worrying, it has worked fine so far.
Skinny Components
The bevel adjustment is straightforward, but it all feels a little cheap.  This is to be expected at this price point, of course.
You shouldn't expect to cut at any real precise angles with this adjustment.  The tick marks on the gauge are sparingly engraved and hard to see.
The shoe is a too thin and too small for my taste.  I know it keeps the weight of the saw down, but I just wish it was a little beefier.  Time will tell how important this aspect is.  It is metal (instead of plastic), so I don't expect it to simply break.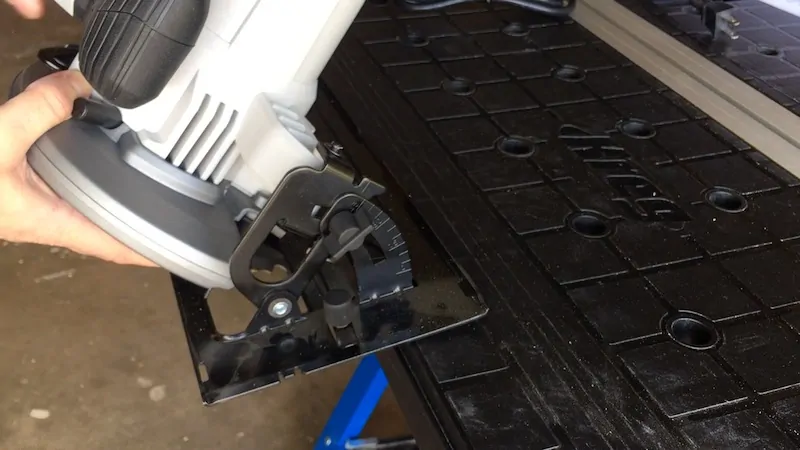 Final Thoughts
Overall I would say this saw fits for a certain buyer.  A beginning woodworker or part time DIYer is who I have in mind.
It will last someone like this a long time, and because it is fairly cheap, they can upgrade soon after without feeling like they wasted their money buying this cheaper saw.
The best part about upgrading after you buy this saw is that you will then have a backup circular saw.  Having backup and extra tools is something that I particularly enjoy.  I can't explain it.
If you are interested in purchasing this saw, you can buy it here.
Go to my full circular saw buyer's guide here to compare this saw with other top choices.