Why do you need a circular saw for your woodworking projects?
The circular saw is a staple for any DIY workshop. It is a versatile saw that you can use in all kinds of situations. You can use it to frame a house, rip a sheet of plywood, or crosscut a wide board.
I have used mine for years. It is a long lasting and effective tool. When a different saw doesn't quite get the job done it seems like the circular saw is always there to save the day.
So why should a beginner own one? It is such an important tool that you need to have it in your repertoire early on in your woodworking journey.
But choosing the best tool for a beginner to use is an important task. There is a large price range for circular saws, and it is important to get one that is good enough to last a while, but you don't want to break the bank at the same time.
So how do you decide? I have listed some criteria you should look at and also rated the top ones for a beginner to buy.
Before we go any further, here is my top pick.
Top Pick: Dewalt DWE575SB
[toc]
What 4 Features Should a Beginner Look for in a Circular Saw?
When looking for a circular saw it is important to understand that there are differences between them that may not be obvious. You may go to the store and realize that they all look the same.
For someone who is not familiar with the different applications of these saws it can be frustrating. You simply want a saw that will perform adequately at cutting things, mainly wood.
It is safe to say that all of these tools I have listed here will perform that task superbly. So besides cutting, what does a beginner need in a circular saw?
1. Reliable
The tool needs to perform well every time you use it. It does not need to be adjusted over and over.
The last thing a newbie needs is to try to figure out why the shoe is not perpendicular with the saw blade resulting in angled cuts. The structure needs to be true and consistent.
It needs to last a long time and be useful for many projects. It may be a long time before you want to upgrade your saw, especially if you don't use it all that often. For this reason it needs to have some longevity.
2. Easy Blade Changes
There will come a time when you want to change the blade in the saw. This could be due to a number of different reasons:
Blade becomes dull
Cutting hardwood vs softwood
Plywood requires different type of blade
Most of the tools nowadays have simple blade changes with some type of tool included. Many times the tool to change the blade is attached to the unit itself. This makes it quick and easy to change.
3. Correct Size
There are different sizes of circular saws. The sizes mainly revolve around what size blade you are using.
They range from around 3″ all the way up past 8″ and bigger. 7-1/4″ is generally regarded as the standard size, and it is the size that I recommend.
It is easier to find blades for this size, and it will cut 2×4's and other lumber without a problem.
4. Affordable
And last but not least, you should find a saw that is in your budget. A beginner will not need the absolute best saw with all of the fancy features.
It is more than ok to get one of the budget saws, as long as it meets the previous criteria listed here. The quality of these cheaper saws is still great, and some of the better technology like saw brakes and laser guides are being put on these lower level ones.
My Top Beginner Circular Saws
When you need to get a job done, look no further than the Skil 5280 circular saw. It will accomplish almost any task that you throw at it without skipping a beat.
It has many great features that will make your job easy, and it is ready for all kinds of stuff. This could include cutting studs for framing out a house or ripping a large sheet of plywood.
One cool feature, for example, is the laser guide. This will help you line up your cut and keep it in line as you go.
This saw is great for the beginner and experienced woodworker alike. Not only is it affordable, but it will be durable and long lasting.
Let's look in depth at some of its features.
Features
Powerful 15 amp motor
Laser for cut line accuracy
51 degree bevel capacity
Included carrying bag
Power on indicator for safety
Safety lock on trigger
Sturdy and wide shoe
Easy blade changes
Details
The motor will power through all kinds of wood. If you need to crosscut a piece of oak or maple, this saw should not have any trouble (provided it isn't super thick of course). It is 15 Amps of pure power, so you will be glad you don't have to worry about the saw being strong enough to cut something.
The single beam laser helps you line up your cuts. It shines a light in front of the saw to help with your accuracy. It will also help if you are having to 'eyeball' anything without a visible line.
I do like laser guides, but sometimes they are not to be trusted completely. They are great for reassurance, but you will almost always need to have an accurate line marked on the piece that you are cutting. This is just something to keep in mind when considering this tool (or any tool with a laser guide).
The 51 degree bevel ability will allow you to make angled cuts on your workpiece. There is a stop at 45 degrees, so it will be easy to set it to 45 while you are on the job.
It includes a carrying bag, which will be handy when you are toting it from one jobsite to another.
This saw comes with a few important safety features that will make you feel more confident when using it. It has a "power on" indicator when the saw is plugged in. This is something that I think most tools should have. Sometimes its nice to be able to glance at it and know that it is plugged in.
Like a lot of woodworking tools, it also has a safety trigger that has to be depressed before the trigger switch is pulled. This makes sure that someone has their hand on the tool and that they are fully in control of its operation.
A couple honorable mention features are the wide, sturdy shoe and the included wrench (that stays on the tool) for changing saw blades.
What's Good About It?
The power on indicator and laser guide set this tool apart from the others.
It also has plenty of other features to ensure you will find this tool useful.
What's Not So Good?
It is not high end. That is ok because you know what you are getting. A good quality tool that will perform every time.
TL;DR
A great beginner tool with a powerful motor and simple operation.
Some of Dewalt's tools just can't be beat. This circular saw makes a good case for being in that category. This is due to many different great aspects of the tool, but it also includes one feature that I just can't do without – the electric brake.
If you plan on being in woodworking for the long run or becoming a contractor, this tool will certainly stay with you for a long time. I understand most beginners will not want to think about that at this point, but just be assured that you won't regret having a long lasting circular saw.
It is a lightweight tool made with quality materials. The electric brake is a great feature when turning the saw on and off frequently.
The aluminum shoe is neat to look at and it also has engravings on it for certain measurements. It is a high quality component that should last the life of the tool.
Let's get into the features and explore what it has to offer.
Features
Lightweight at 8.8lb
15 Amp motor provides ample power
2-9/16″ depth of cut
Aluminum base provides strength
On tool blade wrench
57 degree bevel capacity
Stops at 45 and 22.5 degrees
Electric brake
Tough cord design
Details
This lightweight saw is easy to handle. 8.8lb is not much to deal with when moving across a large piece of plywood.
Some of the older models have weighed more, but with improved manufacturing ability and better design the circular saws being made now are quite light. This is great for a beginner because you may not be used to handling a powerful circular saw.
The 15 Amp motor provides plenty of power. You should have no issue sawing through hardwoods like oak and ash. It should cut anything around an inch thick with ease. Of course, once it starts getting up to 2 inches you will be slowed down significantly.
Speaking of depth of cut, this saw can cut up to 2-9/16″ deep. This is plenty thick for a circular saw. I rarely cut anything over 1-1/2″ thick with my circular saw, so this shouldn't be a worry.
The aluminum base is great for sliding across boards and it also adds to its all around strength.
Blade changes will be easy with the included on tool wrench. Simply hold down the blade lock and turn the nut with the wrench and the blade will come off easily (unplug the tool first of course).
The 57 degree bevel capacity is more than enough for anything most beginners will be doing. And it has stops at 45 and 22.5 degrees to help cut these angles at the right bevel.
The best feature of the entire saw (in my opinion) is the electric brake. It will stop the saw blade from spinning once you let off of the trigger switch. This is nice when you are cutting frequently. One of my old circular saws will spin for several seconds after I let off of the switch. Not only is this annoying, but it can also be dangerous if you don't pay attention to what you are doing. The electric brake helps with not only convenience but also safety.
What's Good About It?
It is lightweight, powerful, and versatile. You will be able to cut with ease and precision.
The saw blade brake is awesome and before long you will never want to be without it.
What's Not So Good?
It is pricier than some of the others on this list, but the value is still there.
The Makita may be slightly more user friendly, but Dewalt is right there with it.
TL;DR
A tough built tool that will last for many years.
This Porter-Cable saw may offer the best value for someone who just wants a circular saw to get started.
Who is it not for? Mainly professionals because it does not have the quality or features that a pro contractor is going to want. Fine woodworkers especially will be disappointed in its performance.
That only means that there will be special features that a seasoned woodworker will miss. For example, the bevel capacity is not as much as some of the other saws. It won't have the electric saw brake like the Dewalt.
All of this lack of features is reflected in the price, however. You are still getting a very good value, and for most people I bet they won't even notice the difference between this saw and a very good one.
Let's get into the details of why you should buy this one or pass it up.
Features
15 Amp motor has plenty of power
Steel shoe, along with blade guards offer durability
45 degree bevel
9.5 lbs for ease of use
Details
The 15 amp motor matches the ability of the other 7-1/4″ circular saws we have looked at it. It has plenty of power and Porter-Cable's quality will ensure that it lasts a long time.
A motor with that power will cut through nearly anything you need it to. Some woods may take longer than others, but it won't be bogging down unless you get the blade wedged.
The shoe and blade guards are all made from steel. This is more than adequate for plenty of jobs. It may be heavier than aluminum or magnesium, but it will still do the job.
The unit also has easy depth and bevel adjustment. It can cut up to 2-1/2″ depth, and the bevel goes all the way to 45 degrees. I have never needed more than these amounts in my time with a circular saw.
The saw itself weighs 9.5lbs, which is about average in the circular saw category. You shouldn't have a problem at this weight.
What's Good About It?
It is a great value. I can't even believe myself how they are manufacturing a saw like this for so cheap.
Because this saw is affordable and durable, it almost makes sense to have this as a backup to a higher end saw. It never hurts to have more than one circular saw.
What's Not So Good?
Overall it is lacking on extra features. For example, there is not an on-tool blade change wrench, the shoe is thin metal, and it doesn't have a laser guide.
These are not deal breakers for a beginner, but something to keep in mind for a long term tool purchase.
TL;DR
An affordable saw with essential features.
Makita 5007MG
This Makita circular saw is packed with features that make it a great tool for beginners and experts alike. There is very little to complain about with this saw.
With Makita you will almost always get a great feeling tool with high quality materials. It is important to have a tool with nice ergonomics or you won't ever want to use it.
The way a tool feels is important if you are going to be using a tool day in and day out. If you only use it on the weekends or a few times a month then that shouldn't be a concern for you. They will all be usable to some extent.
The Makita, however, will separate itself from the others when you use it many times a day.
Features
Magnesium components are lightweight and durable
15 amp motor provides enough power
56 degree bevel capacity
Built in LED light
On-tool wrench for blade changes
Included storage case
Rubber grips and adjustment levers
Easy to read settings
On tool saw depth gauge.
Details
The construction of this tool is high quality. Using magnesium makes it strong and lightweight. You will be able to cut materials with ease because the shoe will slide easily on the surface of your cutting material.
At 10.6 lbs it is not the lightest saw, but it also has more bells and whistles on it.
The 15 amp motor is on par with the other saws in its class. It is a powerful motor that will not bog down when you are cutting.
The saw has a cut depth of 2-1/2″ and a bevel capacity of 56 degrees. It has stops at 22.5, 45, and 56 degrees to make it easy to set the saw blade for these common angles.
There are two LED lights that shine ahead of the saw, making it easy to see your mark and make accurate cuts.
With an on-tool wrench for blade changes you can easily swap blades for different materials. You may not need to do this very often, but it will be simple when the time comes.
All of the adjustment levers (like for depth and bevel settings) are covered in rubber for easier handling. The grips of this tool are also very ergonomic and rubberized. All of this adds to a good feel for the tool, and you should have no problem going all day cutting with this saw.
One of the cool features of this saw is that depth gauge. You can see how deep the saw is going to cut by looking at the back of the tool. There is a gauge that will show you 1/2″, 1″, etc. depending on where it is set. I am not aware of any of the other saws having this feature.
What's Good About It?
The ergonomics are great, the settings are easy to change, and the components are durable and high quality.
It sets itself apart with the depth gauge on the back of the unit.
You can use this tool all day long and not be disappointed with how it feels or cuts.
What's Not So Good?
It is nearly two pounds heavier than the Dewalt circular saw. This could cause a little bit more fatigue in the long run, but for a beginner that is not a big enough difference to worry about.
A laser guide or electric saw blade brake would really make this tool unbeatable.
TL;DR
A high end saw that a beginner can use and grow with.
Circular Saw Anatomy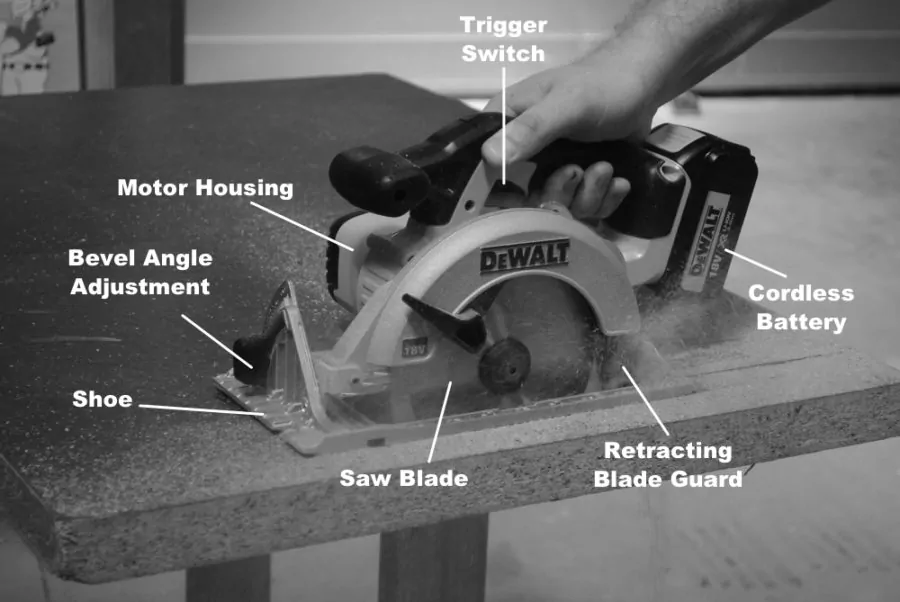 This image shows the basic components of a circular saw. If you need a refresher or are new to this tool, I will go over the aspects here now.
Trigger Switch: Starts and stops the saw blade by activating the motor.
Motor Housing: The electric motor that turns the saw blade.
Bevel Angle Adjustement: Changes the bevel angle of the blade
Shoe: The bottom frame of the saw that slides on the material. Controls depth and angle.
Saw Blade: Blades for these tools range from 6″ to over 10″. Commonly 7-1/4″. There are different styles for different materials.
Retracting Blade Guard: Covers exposed blade for safety. Moves up when cutting material.
Cordless Battery/Corded Tool: Newer tools can use cordless batteries, others plug in to A/C outlet.
Features Explained
If you are wondering why some features are important and some are not mentioned, I have laid out below why some features are worth talking about.
This is not an exhaustive explanation, but it should help a beginner understand what to look for when buying a circular saw.
Materials
Some of these saws use different metals for the shoe and other components. Most commonly you will see steel, aluminum, and magnesium.
Steel will be the heaviest out of the three, but also the cheapest. Typically the higher end units will use aluminum and magnesium because they are strong and lighter. They will also cost more of course.
Some cheaper units may even use plastic. This will work, but I don't necessarily recommend it because it can be flexible or even break under too much pressure.
Laser Guide
A laser guide can improve your ability to follow a cut line. It is not something you can depend on 100%, however, because it is not always calibrated exactly where it needs to be.
I use a laser guide to help get it lined up initially, but I always have a marked line to cut. A great use for a laser is if you don't need a cut to be exact, you can use it to ballpark your line.
It is not a must have as far as circular saws go, but it is still a neat feature.
Depth and Bevel
The depth of a circular saw matters because the deeper it can cut the thicker boards you can go through. In general, these saws cut around 2-1/2″ deep. This should be deep enough for plenty of projects.
Deeper cuts will usually require some kind of bandsaw or other tool.
The bevel adjustment on a circular saw allows you to tilt the saw blade and cut angles up to 45 or even 56 degrees. This allows you to make miter joints and other angled cuts because you can easily tilt the blade as needed.
Corded vs Cordless
This article has focused strictly on corded circular saws. I don't intend on mixing a review of corded and cordless tools because they are really two different categories.
Corded tools offer the advantage of always having power because it is plugged in, and they are usually lighter as well because they don't have a heavy battery attached to them.
Cordless saws are great because they are so portable. The only sacrifices are the weight and the usage time of the battery. They are also more expensive and you need to have a charger and battery set to go with it.
Left vs. Right Blade
Circular saws come with the blade on the left or right side of the tool. Some people prefer it to be on one side or the other, but personally I can handle either side alright.
A left handed person may prefer a left side blade, and a right handed person may prefer a right side blade.
For a right handed person the advantage of a right side blade is that the saw blade is off to the side, so the wood chips and other debris will not be directly in front of you.
Also, the wide part of the shoe will be on the board you are holding. You will hold a board with your left hand, and run the saw with the right hand. This allows the saw to stay more stable as you near the end of a cut.
FAQ
Q: Should I Get a Cordless Saw?
A: This answer depends on a couple different factors. Do you currently own a set of batteries that you can use for the cordless tool? Do you plan on needing a cordless saw while you are working, or will you usually have access to an outlet?
If you don't need one and don't want to spend the extra money for batteries, etc. then a corded saw will work perfectly fine.
Q: Which Brand is the Best?
A: These brands are all high quality, and I would not include them in this article if I didn't think they would be durable and long lasting.
Second, each of these brands is really producing products for a certain type of person and price point. It is important to identify who you are and what you want before you decide which brand makes products for you.
With that said, you won't go wrong with any of the four I have talked about in this review.
Conclusion
If you are a beginner you may be wondering where to start or what tools to buy to get going.
You should get a circular saw if you plan on doing any kind of DIY projects, wood construction, or just simple weekend projects because they are really versatile and useful.
They are great beginner tools because the learning curve is small, but their capability increases through experience.
Choose one of the tools in this review and you will be building projects in no time.