The Makita XRM08B is a cordless bluetooth speaker made for the garage, jobsite, or campground.  You can easily take this with you on any adventure, just pack a battery or two and you will have great tunes with you the whole time.
First let's talk about why this unit makes your life better:  it plays your favorite music with great sound and volume.  It stays charged up for a long time, so no need to worry about it dying on you all the time.
It is durable and portable, so take it anywhere (except in the lake – not entirely waterproof).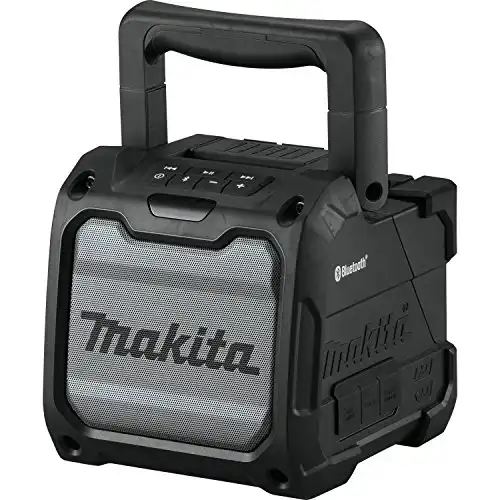 I am going to get into some of the best features of this speaker and some things to consider if you are thinking about buying this one.
Features
Bluetooth capability – connect to iPhone, etc
Auxiliary input for line in functionality
USB port for charging
Over 30 hour run time on full battery
Handle for easy carrying
Simple control panel
Rugged case construction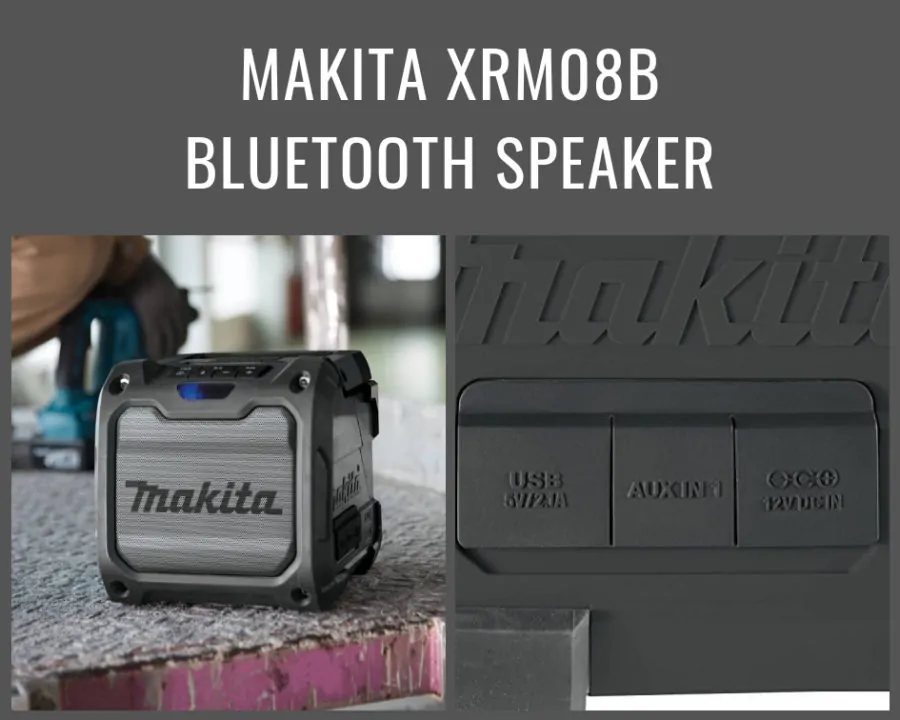 Why You Should Buy This Speaker
It is seriously convenient to be able to hook up your phone via bluetooth to play music.  I love this feature.  It is becoming more and more common, so it isn't super special for this unit to have it, but it is still something to get excited over.
It also has an auxiliary line-in and a USB port for charging devices.  This is a little bit more rare because some units are not able to charge devices.  It can do this due to the fact that the batteries Makita makes store a lot of energy.
Speaking of batteries, this speaker can use Makita's 18V LXT Lithium Ion battery, or the 12V Max CXT Lithium Ion battery.  This versatility is rare in such a small unit.  You will especially enjoy this if you own Makita equipment already.
If you do not own Makita equipment, it might behoove you to look into purchasing some.  They make quality equipment and powerful batteries.
The fold up handle on this unit is great for increasing its portability.  You will love being able to pick it up on the go and throwing it in your toolbox.
I have owned a few speakers and radios that were just difficult to move around.  There was no handle or obvious place to grip it when picking it up.  With this unit that will be an afterthought.
The case is built with strong and durable material.  I believe you will be pleased with its rugged simplicity.
You can see how simple the control panel is.  This is great because there is not need for a radio tuner or extra preset buttons.  Yon only need a few controls, especially if you hook it up via bluetooth to your phone.
In short, I think you should buy this speaker if these features sound amazing to you.  There are some drawbacks, but nothing related to the quality of build.  I will get into that now.
Why You Should Not Buy This Speaker
You should not buy this speaker if you want more.
By this I mean do you want a radio?  Do you want it also charge the batteries you hook up to it?
The shortcomings of this unit are mostly due to what it's made for and it isn't.
It will not play radio stations like some of the bigger unit.  This is because it doesn't come with a tuner, and it was never going to be designed this way.  Makita actually makes a bigger unit that has a radio tuner with presets.  You can check it out on my review page of the best jobsite radios.
Another thing this will not do is charge batteries.  Not all of the bigger radio units will charge batteries, but this is becoming more and more common.  Note that you can only do this when the radio is plugged into the wall with an AC adapter (usually included).
A couple other features that this does not have is any AC power output (like the Dewalt radio) or bigger and more powerful speakers.
These are all things to consider when thinking about buying a radio or speaker for your garage or workplace.
You should not buy this one if you want some or all of these features AND you are not willing to buy BOTH the radio and the speaker (this is what I would do).
Conclusion
You should consider this bluetooth speaker if you plan on listening to music outdoors, at a jobsite, or in your garage.  You can pretty much use this anywhere, even in the house if you want to.
The best part about it is its simplicity and practicality.  If you want something more, then I would recommend getting a radio instead.  It will be bigger and more powerful with more features.
The BEST thing to do, however, is to buy a speaker AND a radio.  Why?  Because n0w you have options.
You can use the small unit when you don't need a ton of sound or all of those extra features.  The bigger radio would be great outdoors on a construction site where it can be loud or windy.
Getting back to the XRM08B: it is great little speaker with some amazing versatility.  You would not be disappointed should you buy it.