Get the Best Random Orbital Sander for the Money
In this post you will find a short review of the top sanders available on the market, along with my personal recommendations. To find the top tools quickly, see the table below. Scroll down to go in depth on each tool.
There are several different kinds of electric sanders, but I recommend the random orbital sander for most DIYers and hobbyists. Professionals use this tool frequently as well. It is a very popular tool and you should have no trouble finding sanding pads at hardware stores.
If you have a sanding job that needs to get done, look no further than a random orbital sander. Of all the different styles of sanders, it is often the best tool for the job.
It allows you to easily sand large areas efficiently and effectively. Because of the random circular motion of the pad, it doesn't make swirl marks and leave a nice smooth finish. The direction of the wood grain is not relevant with this type of motion.
[toc]
Scroll down for an in depth look at each sander in this list.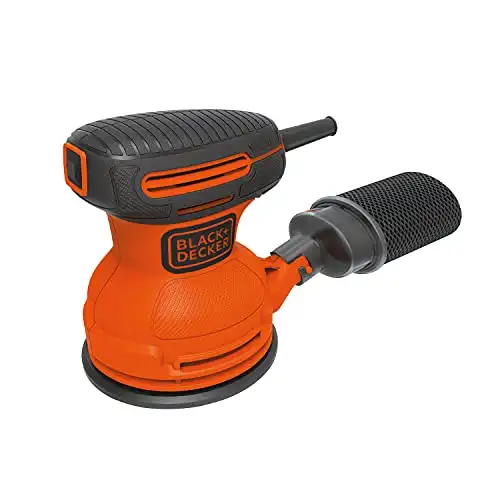 The Black and Decker random orbital sander is an efficient and compact sander made for all kinds of jobs. It is very barebones, but it is at a low price point, so that is expected. It can be used for a variety of jobs, from sanding a boat down to getting a table top perfectly smooth. Its sanding pad action is just as good as any of the others available on the market.
I would say that the B+D sander is an entry level/low use application. I would not get this tool if you plan on building a lot of furniture or see yourself using it for several years. This is simply because I believe you will at some point want a sander with a few extra features (like variable speed) and maybe a slightly more powerful motor.
Let's get into some of the features of this tool to see what it's all about.
Features
5″ hook and loop sanding system
Compact 2 Amp motor
3.2 lb
12,000 Orbits Per Minute (Single Speed)
Cheaper than most other brands
Details
This sander can accomplish most sanding jobs with relative ease. The small design makes it portable and simple to use. It is on the bottom end of the price range. It is not as feature packed as some other random orbital sanders, but it is still very useful.
The motor itself is not quite as powerful as some of the other sanders, but I doubt that you will find that to be a factor. Only during extended periods of sanding and tough jobs will this ever be an issue. If you are doing some serious sanding, then you may want to consider a different one with a more powerful motor.
The dust extraction is similar to the others with a port and a dust bag. The dust port is not compatible with a vacuum, but you can probably rig up a hose to it with some duct tape that works good enough. I do recommend using a shop vac with any sander (that has a dust port) because it keeps things so much cleaner.
What's Good About It?
The design of the sander is ergonomic and fits well in your hand. Users have reported that it is comfortable to use for extended periods of time.
At its price point the value is very good. It is powerful and efficient, yet very affordable.
It should last a long time.
What's Not So Good?
It does NOT have variable speed sanding. It sands at a rate of 12,000 orbits/minute, which is a good clip that will accomplish many tasks. If you need a slower speed, however, this is not the sander for you.
The dust collection could be better. It needs to be able to fit a vacuum easily so that dust collection can actually occur. The bag does collect some dust, but it is not an impressive system by any means.
TL;DR
A basic, affordable, and effective sander meant for the budget minded DIYer and hobbyist.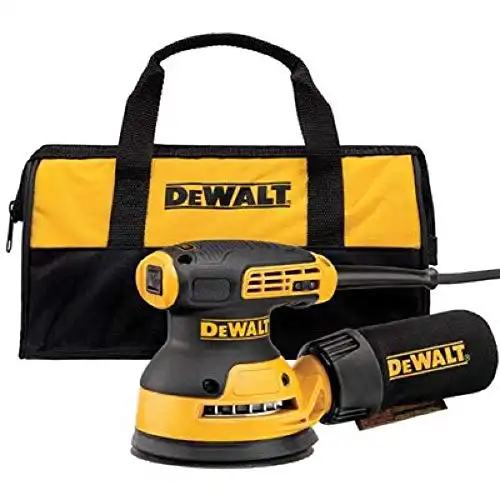 This Dewalt random orbital sander is a high quality tool made for both experts and novices. It has many nice features that make it stand out from the competition. It is variable speed, has a dust sealed switch, and has a powerful 3 Amp motor.
I think this sander would be a good choice if you are new to random orbital sanders. Dewalt is a great brand and I never hesitate to purchase one of their pieces of equipment.
If you are simply upgrading or need to replace an old sander, this is a great choice as well. I think you will be pleased with its durability and how comfortable it is to use.
When compared to the other sanders available this one will be among the top choices.
Features
5″ hook and loop sanding system
Powerful 3 Amp motor
2.9 lb
8,000-12,000 Orbits Per Minute (Variable Speed)
Dust Sealed Switch
Comes with Carrying Bag
Details
The powerful 3 Amp motor should allow you to accomplish most tasks with ease. I can see this sander working to polish on concrete countertops, which is not an easy job. I have used one of my sanders (an older Craftsman) on concrete countertops and it struggled a bit.
The variable speed allows you to speed up the sanding action when you want to get more aggressive. A faster speed allows you to sand quicker but it makes it more difficult to carefully take off wood where you want it. Slow it down when you need to be careful where and how much you are sanding.
The dust port connects to a small bag that is included. If you choose to use a vacuum (which I recommend), it is made to fit Dewalt vacuums or it will work with a universal connector. These can be found here:
The best bet in my opinion would be to get the sander and then see how it fits to your shop vac (if you have one). You can get a rubber hose to go from 1-1/4″ to 2″ or whatever size your vacuum is and connect it all with hose clamps.
The dust sealed switch will help increase the longevity of the electronics. This is a nice feature that some other sanders will not have. The shape and low height of the sander will make it comfortable to work with and use efficiently.
What's Good About It?
It is built with high quality materials and feels good in the hand.
Some thought has been put into the components, such as the dust sealed switch and the variable speed control.
It has a powerful motor that should accomplish any job you throw at it.
It is a good value for its price.
What's Not So Good?
The dust port may be hard to adapt to a shop vac. This seems to be an issue with most of these sanders, however.
The range of the variable speed may not go low or high enough for some people's taste. I would like one that could go lower than 8,000.
TL;DR
A high quality tool with features a woodworker would demand, and only a few weaknesses.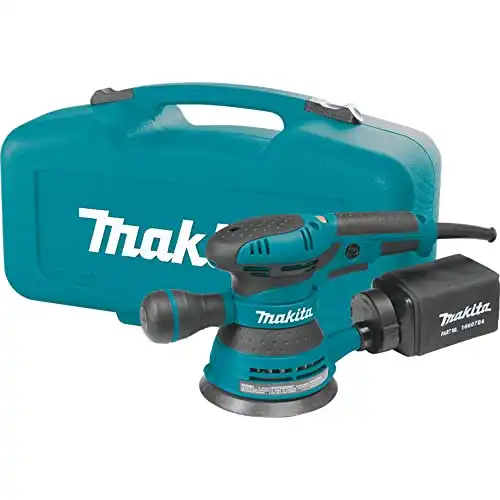 Makita BO5041K 5" Random Orbit Sander
Buy on Amazon
IndustryDIY.com is a participant in the Amazon.com Services LLC Associates Program, an affiliate advertising program designed to provide a means for sites to earn advertising fees by advertising and linking to Amazon.com
This sander is a top class tool with many unique features. It has an adjustable front handle that you can move to suit your desired hold. It is variable speed and has a pistol grip and two finger trigger that helps improve comfort and control. The powerful motor (3 Amp) will accomplish most tasks you need to do.
I believe this sander is a great tool for the experienced hobbyist or professional. That does not mean that a beginner shouldn't get this tool, however. It is easy to use and should last a long time. A beginner can take this tool and be set for a long time.
It has some great features that you won't find on competitor tools, such as the slow stop and slow start. This is indicative of some of the thought that went into the design of the tool. It shows that it wasn't built to a price point, but for what the user actually needed.
Features
5″ hook and loop sanding system
Powerful 3 Amp motor
3.5 lb
4,000-12,000 Orbits Per Minute (Variable Speed)
Adjustable Front Handle
Comes with Hard Case
Pistol grip with two finger switch
Slow start and slow stop
Details
The extra front grip on this machine really separates it in terms of functionality. This, combined with the pistol grip style, changes how you hold it completely from the other sanders in this list. You should be able to have more control along with less fatigue. Two hands are usually better than one in this case.
The grip on the front is adjustable. You can move it to the front, left, right, etc. This is a nice feature that Makita has thrown in there.
Another aspect that I like is how the variable speed goes down quite low, to 4,000 OPM (Orbits Per Minute). This low speed gives you some extra functionality. You could, for example, sand a veneer at a slow speed with a fine grit and not worry about just tearing through it immediately.
The sander is built with heavy duty components. It utilizes a sealed ball bearing for the orbital motion, and has a high powered dust control system.
The dust system is similar to the others. It doesn't directly fit to a shop vac. This is an annoying thing that I have found to be common with a lot of tools. They seem to all have their own style of outlet for the dust bag.
The two finger switch makes it to where you can carefully switch the sander on and off as needed. The switch also has a lock on it so that it will stay on without you having to hold the trigger down. I like the fact that it has a trigger switch instead of a simple on/off switch. This way you can pulse it on and off as you move it to spots that need sanding. It basically gives you an extra method of control.
What's Good About It?
The sander is quality built with many nice features. Besides it being heavy duty, it is also ergonomic and well suited for time extensive tasks.
The front handle and pistol grip provide a refreshing alternative to the usual style of random orbital sanders.
Variable speed control is great with this sander, going from 12,000 all the way down to 4,000 OPM.
It comes with a hard case for storage and transportation, always a plus.
What's Not So Good?
The dust control system is not well suited to hook up to a shop vac. The outlet for the dust port is quite small, so some conversion system will have to be cobbled together to hook up to a standard shop vac. You will find this with most random orbital sanders, however.
It is a little bit heavier and bulkier than the other sanders. This is to be expected with the different grip design.
Some users have reported that the hook and loop system for holding pads can fail sooner than expected, not holding the sanding pads well. This seems to be a rare occurrence and most users do not experience this problem.
TL;DR
A well built sander with several unique features that help it stand out from the competition.
The Bosch sander is a variable speed random orbital sander designed for hobbyists and professionals alike. It has many nice features that make it a great choice if you decide to buy a sander.
One of the most interesting features of this sander is its dust collection system. It comes with a microfilter system that catches small particles of dust as you sand. It works surprisingly well, especially compared to some other sanders.
I think this tool is a great choice among the four that are listed here. It is variable speed, easy to use, and fits great in your hand. The dust collection system is unique and could really benefit you by not having to have a shop vac every time you sand something.
Bosch tools are usually very high quality and this one is no exception.
Features
5″ hook and loop sanding system
2.5 Amp motor
3.5 lb
7,500-12,000 Orbits Per Minute (Variable Speed)
Comes with Soft Carrying Case
Microfilter Dust Collection Bag
Details
The variable speed on this sander ranges from 7,500 to 12,000 OPM. This is a nice range, although it doesn't go as low as the Makita. This is still a good range and will suit most people because more than likely you will only need the higher speeds.
The sanding pad is designed to hold onto the sandpaper better by utilizing more hook and loop fibers on the bottom surface. It also uses a microcellular backing that helps to sand evenly and reduces swirl marks.
It comes with a vacuum hose adapter, although this is still a gamble on whether or not it will fit the shop vac that you want to use.
The best bet is to simply use the dust collection system that comes on it. The bag uses a microfilter system that is supposed to filter out the fine particles of dust that occur when you are sanding. Some users have said that it works surprisingly well.
The shape and size of the sander is similar to the others in this list. It is very ergonomic and comfortable to use. The switch is on the front of the unit and is simply an on/off style switch.
What's Good About It?
The way this tool works makes it easy and fun to sand projects. It is comfortable and pain free to maneuver around a workpiece.
The dust collection system is impressive and innovative. It does a much better job capturing the dust than a basic bag does.
The motor is powerful enough to get the job done.
The hook and loop system has more hooks on it than other sanders, making it hold on to the sandpaper better.
The variable speed gives you options on how aggressive you want to be.
What's Not So Good?
The dust collection bag can fill up quickly, requiring you to empty it frequently. This is not good for larger projects and prolonged sanding. In this case you should probably hook it up to a shop vac.
If you need to quickly sand a doorframe in your house, however, that microfilter bag will work great because it won't cause a big dusty mess.
The variable speed range is not as large as some other sanders, but it is still more than adequate.
It can be quite loud, but I think this is due to the bag filtration system, plus the fact that random orbital sanders are just loud by nature.
TL;DR
A nice multi-featured sander with better dust control than the others in this price range.
Important Things to Consider When Buying a Random Orbit Sander
What type of work is it for? This could influence what price range you will be going for along with the capabilities of the sander. If you are a cabinet shop that needs a heavy duty sander, then make sure to get one with a large motor and one that is comfortable for using extended periods of time.
How often will you be using it? If you are a DIYer who only needs it from time to time for various projects, then a cheaper one will surely suffice (especially with a RO sander because they are all very capable).
Do you like a particular brand? This is not very important with the corded variety, but if you decide to go cordless then obviously you will want to get a tool that matches a battery set that you already own.
Do you really need variable speed? Some may not care if their sander can change speeds; you should be able to control the sanding action through pressure and skill of using the tool. The variable speed is nice to be able to fine tune sometimes.
Don't be too cheap. These tools will last a long time, probably 5-10 years or longer depending on usage and how well you treat it. It is not worth saving $20 on a tool if it isn't comfortable to use or doesn't have a feature that you need.
Conclusion
As with all tools, make sure to do your research and pick one out that suits your situation. To me finding a tool to buy is half the fun. The other half is obviously actually using it.
If you have never used a random orbital sander before then you will be so surprised at how it makes your life much easier. They are one of the most important tools that you can have in a workshop.
For general sanding jobs and DIY projects I highly recommend a RO sander.