A portable table saw is the best for doing tasks that other equipment just can't accomplish. You can rip boards with a circular saw, but it can be difficult and you really need a track saw for this job.
If you need to rip boards like 2×4's or cut dados, then a table saw is easily the best tool for this.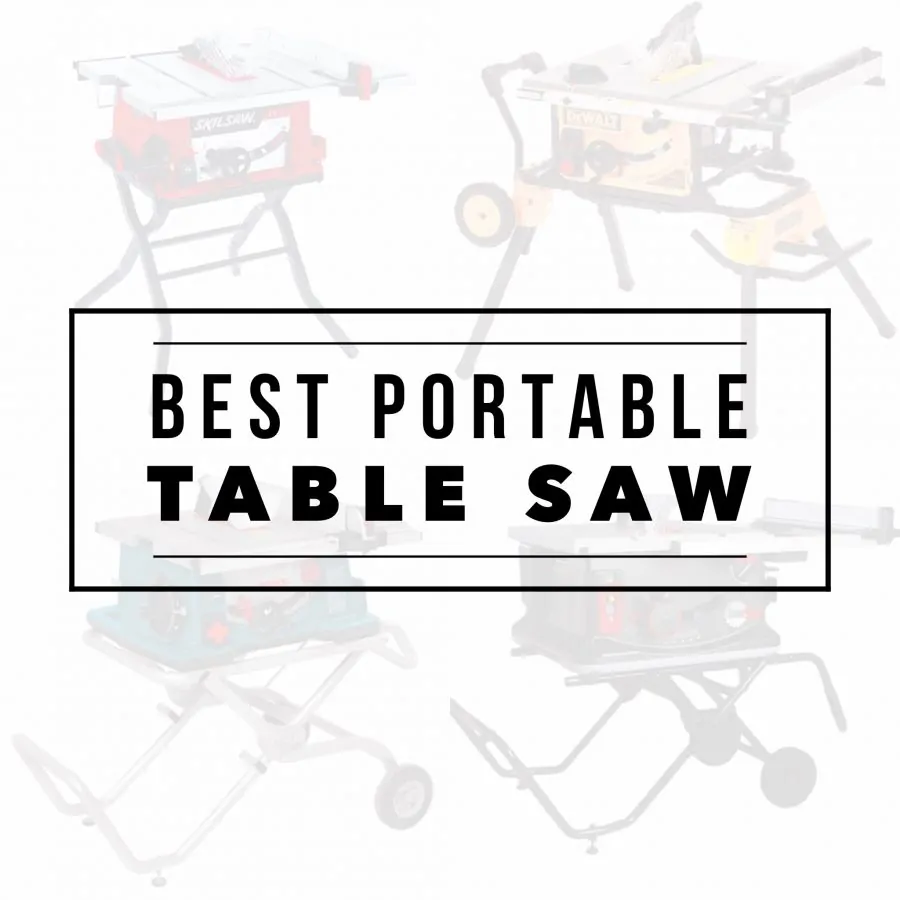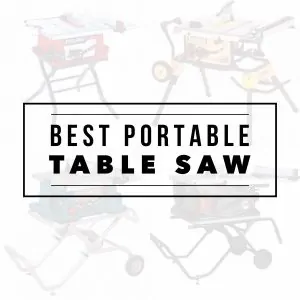 Why do you need a portable table saw? For one, they are usually very good and can work well enough to be your full time saw. You really need one if you regularly work on the job site or move from place to place.
This post is here to help guide your decision making when looking to buy one. I have selected three saws for my top categories: Best Overall, Best Budget Choice, and Safety Conscious.
I won't list any tools here that are just junk. A tool may be budget, low end, but it is still built to get the job done. You may want to step up to the higher end if you plan on using it more often and for a longer period of time.
List of the Best Portable Table Saws
Honorable Mention
Must-Have Table Saw Accessories
These accessories increase the capability of your table saw. Some may be specific to certain models, so be sure to check compatibility.
For Dado Cuts:
Saw Blades – Dewalt Saw Blade Combo Pack (For higher quality go for Freud Blades)
Push Blocks and Sticks:
For Miter Cuts – Kreg KMS7102 Table Saw Precision Miter Gauge System
Calibration Gauges:
1. Best Overall – Dewalt DWE7491RS
This table saw brings many great features into one unit. The fence is smooth to move and easy to make adjustements.
A DIYer could use this saw just as well as a professional contractor. Use it in your garage or on the jobsite.
Let's look at some of the features:
Features
Rack and pinion fence system for smooth adjustements
32-1/2″ rip width provides ample cutting ability
Optional rolling stand allows superb mobility
On board storage system
Large table for good material support
This saw gives you everything you need in a jobsite table saw. It can rip up to 32-1/2″, which is impressive considering how portable it is.
It has a dust port on the back that you can hook a vacuum up to that will help cut down on sawdust.
Users generally agree that its accuracy is sharp and its power is more than enough for the job. You will be hard pressed to find a better portable table saw than this one.
2. Best Budget Choice – Skil 3410-02
If you need a cheap, reliable table saw, then this is the choice for you. It is portable (comes with a metal stand), so you can use it in and around the house.
This saw is perfect for the DIYer who will only use it occasionally or a few times a month. This is not to say that it won't perform more often, but those who need more frequent use will also need more feature like a bigger table, more precise fence system, and better mobility.
Features
20″ x 32″ table surface area
3-1/2″ height cut capacity
Portable steel stand
15 Amp motor
EZ View system on fence for easy measurements
You will be able to rip, crosscut, and bevel boards with this simple yet powerful table saw. It has a decent table work surface, although the cut width is not as wide as some of the others.
The fence is accurate and easy to use. It has a sight gauge for aligning the fence. They call this their EZ View system.
Overall, if you need a table saw but really want to keep the cost down, this saw is a great choice.
3. Safety Conscious – SawStop JSS-MCA
If you are concerned about using a table saw and the health of your fingers, then a SawStop is likely the unit for you. Its unique technology is made to prevent severe injuries from the saw blade.
This tech has been packaged into a jobsite table saw so that you can use this at your worksite.
Let's look at some of its best features.
Features
One turn saw blade raising
25.5″ rip capacity
Solid fence with ErgoLock
Collapsible cart with wheels
Tilt the blade in 1 degree increments
Onboard storage compartment
This saw provides you an option for extra safety. This is really its main selling point. The other aspects of the saw are decent, like the fence system and maneuverable cart.
Some users have been disappointed in the quality and precision of this unit (for the price). The surface top is not always truly flat and the fence could work better.
The onboard storage compartment is a nice touch. You can store some accessories in here like the miter gauge.
4.
Bosch 4100-10 10″ Gravity-Rise Worksite
Table Saw
Bosch has made a high quality saw with a great portable stand. DIYers and contractors can both take this saw and get their work done.
One of the better parts of this saw is its solid construction. The aluminum top and hefty plastic pieces mean it should last a long time.
Features
15 Amp motor provides ample power
Large cast aluminum top
Light, portable stand with wheels
Advanced guard system with riving knife
Soft start system
The soft start is great when working at home or on the job. It will prevent the motor from blowing any circuit breakers with a high draw at start up.
The cutting capacity is 25″. This is about average for these jobsite saws. The stand is probably the best part about this saw. Its gravity rise design works well along with the big tires.
5.
Wen 3720 10″ Jobsite Table Saw
Wen's jobsite table saw is a competitive in terms of value and ability. It isn't quite as nice as some of the others (no cast table top, stand is not as burly), but it still has some great features.
It has an outfeed extension that helps hold your material as you push it through the saw. This is a nice touch, along with an included rip stick.
Features
26″ rip capacity
Outfeed table extension
Onboard storage
Included rip stick
The onboard storage holds the rip stick, miter gauge, and other included tools.
Some of the complaints about this saw include alignment issues. This is something that you will need to check occasionally and make sure that saw blade bevel is correct and parallel to the fence.
The fence itself is strong and accurate. It should work well and can extend out to rip up to 26″.
6.
Makita 2705 10″ Contractor Table Saw
This efficient saw is a great choice for any type of woodworker or DIYer. If you are familiar with and like Makita tools then you will enjoy this unit as well.
It is well built with great accessories and adjustment capability.
Features
Powerful 15 Amp motor with electric brake
Adjustable slide guards
Adjustable riving knife/spreader
Machined aluminum table top
On board storage for miter gauge, accessories
Stand is available for this unit, but not included
As with most Makita tools, the quality and design is impressive. It is not without some flaws, however. Some users have reported the table top not being completely flat and some of the pieces can be out of alignment.
These problems are usually very small and alignment issues can be fixed with just a little effort. Most of these saws will not be in perfect alignment right out of the box.
It includes many great features. The adjustable riving knife is great for different types of cuts. You can change the settings from the front of the unit. Other aspects worth mentioning are the on board storage, extending table wing, and the precision fence.
If you decide to buy this saw, you can be sure that this is a quality tool that will help you get the job done.
7.
Dewalt DW745 10-Inch Compact Job-Site Table Saw
The DW745 is a Dewalt's entry level table saw. It is a quality tool for hobbyists and beginners. I think professionals could use this tool with success as well, but I don't recommend it for them.
This is strictly because I believe they should upgrade to Dewalt's higher end table saws and get a few extra features.
Let's look at some of the features and why you may need to buy this tool.
Features
Rack and pinion fence system
Large and clear measurements
20″ rip capacity
Included push stick
Tool free adjustments
Telescoping fence rails
This saw is one of the lighter ones at only 45 pounds. It doesn't include a stand or rolling cart, but at that lighter weight some people can carry it by itself.
You should buy this saw if you want a compact, portable table saw with expected capability. It is durable with a roll cage design, and the cast table top ensures that it is flat and true.
The rip capacity is somewhat limited when compared to some of the others, but this is a lower end saw so that is to be expected. It is still decent for adequate for most jobs.
It is a quality saw that may not be top end, but will still get the job done for many people.
FAQ
Q: Why do I need a table saw?
A: A table saw will allow you to perform tasks that other tools cannot do. Sometimes you can do a job with another tool, but it will be very difficult.
Some examples of these jobs:
Ripping a narrow board
Dado cuts
Rabbet cuts
Ripping sheets of plywood down to size
Track saws do a good job of breaking down large sheets, but there comes a point where a board can be too narrow for it to be used. A table saw can be set up to cut as thin as necessary.
Q: What are some things to know about using a table saw?
A: Safety is the most important aspect of using a table saw (or any saw for that matter). One thing to make sure to do is to observe all safety guards and components that have been installed on your unit.
It is not wise to remove any of these guards.
Table saws can be dangerous if used improperly or without consideration for wood conditions.
Be sure to use push sticks when necessary and take the correct measures to prevent kickback (keep riving knife/splitters in place and set correctly).
It should go without saying that you need to wear eyewear to prevent debris from flying in your eyes.
Q: Should I get a portable table saw or a permanent one?
A: This answer depends completely on your situation. Do you have the need for moving your saw from one place to another? Or will it remain in one spot? Portable saws are also more compact, so if you are tight on space then that is a good choice to consider.
If you have the space and plan on using the saw quite often, then you may be interested in stepping up to a contractor style saw or even a cabinet saw. These are more expensive too, so price can be a factor.
For beginners a portable saw like the ones in this list is a low risk option. You can still upgrade later on and sell your smaller saw if you would like.
Conclusion
If you need a portable or jobsite table saw then this list should give you a good idea of which ones are right for the job.
Beginning woodworkers can use a saw of this size because the investment is low and the capability of the units are not even that limited. Contractors and other professionals will also be able to use these saws because they are easy to move from one place to another.
I like the idea of owning a portable table saw along with a permanent fixture in my shop. This is because I can have the full range of ability in my shop but also be able to go to a remodel project somewhere and have a table saw.
Whatever you decide to buy, make sure to do your research and stay safe while making awesome woodworking projects.