A miter saw is an important tool in any woodworkers arsenal. I believe it is one of the top tools that you can have in your woodshop.
You can crosscut boards, miter them, etc. with ease. They work great and cut safely. You can use them for all kinds of projects like building furniture and installing trim or crown molding.
Purchasing a miter saw is one of the best investments you can make as a woodworker.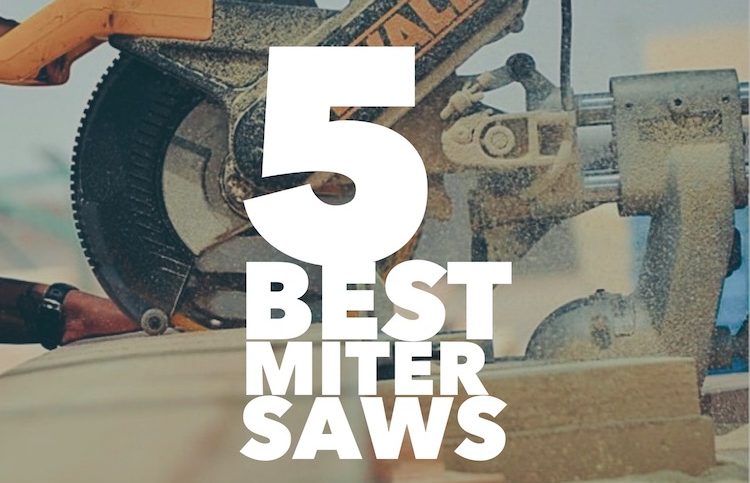 List of the Best Miter Saws
In this post I have separated each saw into what I think are the best categories to consider. Each section has a short overview of the tool's features and benefits.
Best Overall – Dewalt DWS780 12″ Double Bevel Sliding Compound
Budget Friendly – Genesis GMS1015LC 10″ Single Bevel Compound
Best for Beginner – Makita LS1221 12″ Single Bevel Compound
Most Popular – Dewalt DW715 12″ Single Bevel Compound
Most Innovative – Bosch GCM12SD 12″ Double-Bevel Glide
1. Best Overall – Dewalt DWS780
The top pick is also the most expensive. But before you write it off, consider that if you buy it you will not need another miter saw for a long time.
It has some of the best features of any saw on this list, and is a proven workhorse. Let's look at some of the features.
Features
Precise Mitering Ability
Handle on Top for Portability
Powerful 15 Amp, 3800 RPM Motor
Cross Cuts boards up to 2″x16″ wide
Cuts 2×12″ at 45 degrees
The best part of this saw is its cutting capacity. Cutting a 16″ wide board in one pass is impressive. My small 10″ miter saw cannot even cut 8″ wide boards with having to turn it over.
The frame is made with rugged and durable castings. It is portable (although maybe a little heavy). It is all around a top quality saw, and you will not regret buying it. Buy it Here.
2. Budget Friendly – Genesis GMS1015LC
The best saw for a budget comes in at much lower price than many of the others in this list. It is also the only 10″ saw I have included. This is because I generally believe you should go for the 12″, but if you are on a tight budget then the 10″ saws are generally cheaper.
Features
Laser cutting guide
Electric brake stops blade
Lock for blade changes
9 miter angle stops for common angles
Cast aluminum body for solid construction
This saw lacks many of the features that the others have, but it is still a very good value. You will be able to cut many boards with this tool.
The capacity is more limited. You can still cut wide boards, but you will normally have to flip the board over and cut it again on the other side.
If you are tight on a budget, then this is the saw for you. I think a basic miter saw is better than no miter saw at all. Buy it Here.
3. Best for Beginner – Makita LS1221
This saw has been chosen as the best for beginners. This is due to its great power, precision, and durability. Combine that with its middle range price and you have a great saw.
Features
15 Amp motor spins at 4000 RPM
Miter stops at 9 settings
Handle designed for comfortable operation
Electric brake stops blade
Pivoting fence for larger material
This saw delivers smooth, strong power for precision cuts. It is great for a beginner because it is not too much saw or too great of an investment for starting out. But it should last you a long time if you choose to buy it.
Its cutting capacity is pretty decent for a non sliding model.
This saw doesn't do everything, but what it does do, it does well. Buy it Here.
4. Most Popular – Dewalt DW715
This saw is one of the best in its class. It has a proven history of performing.
For that reason it has been one of the best sellers for a long time.
Features
15 Amp motor spins at 4000 RPM
11 miter angle stops
Allows you to clamp at other miter angles
2×8″ crosscut capacity
4 bevel positive stops
Tall, sliding fences support crown molding
Dewalt has made sure that this saw has features that keep customers loyal to the brand.
It has the ability to cut at different angles and bevels repeatedly with accuracy. All of the positive stops incorporated into the tool help with this task.
Its crosscut capacity is great for a non sliding model. Most people will never cut a board wider than 2×8. It will serve a beginner very well in this regard. Buy it Here.
5. Most Innovative – Bosch GCM12SD
The Bosch miter saw is a well designed piece of equipment. It features a unique gliding mechanism instead of the usual sliding compound miter saw.
One benefit of this design is that it results in a very compact saw for smaller workspaces.
Features
Axial glide system for durable precision
Easy to read bevel and miter angles
One touch fence accuracy lock
Ambidextrous and ergonomic trigger handle
15 Amp motor spins at 3800 RPM
The gliding mechanism provides a smooth articulating motion. It is pretty fun to use actually. And the best part is that the saw is pretty compact from front to back.
It is still very accurate with this system. You are not really sacrificing anything with this saw. It is among the most competitive 12″ sliding saws on the market.
This saw is great for someone looking for a high quality saw that is compact and powerful. Buy it Here.
Which One to Buy?
Many make this choice more complicated than necessary. I would simply consider 3 things:
Budget
What kind of boards will I cut
How frequently will it be used
Your budget will determine what price range you are looking at. I almost always recommend getting the best one you can, but the lower priced ones are also well built.
Do you plan on cutting wide boards, up to 12″? And will this be a frequent occurrence? If so, then definitely go for a sliding compound saw. A larger 12″ blade will also have more cutting capacity.
I have a 10″ saw and every time I use it I wish I had got the 12″ model. It is slightly bigger and a bit more expensive, but it is well worth it for extra cutting ability.
In general I recommend going with a 12″ double bevel sliding saw. You won't regret going for the better models. You will save time and effort, making your woodworking more enjoyable and higher quality.