Other Great Miter Saw Blade Options
Below are a few more choices of miter saw blades. The fact that they are below the above three does not necessarily mean they are lesser choices, simply that there are several other options that you might consider.
1. DEWALT DW3128 12″ x 80T Thin Kerf Miter Saw Blade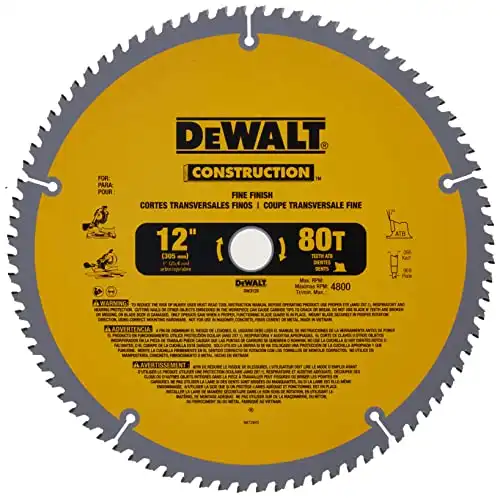 The DeWALT 80-tooth Miter saw blade has a thin kerf and boasts of an anti-stick rim which allows the blade to do its job without any hindrances. It is a great thin kerf blade, and although this blade is 12″ it is also available as a 10″. The following are some of the features, pros and cons of the blade.
Features
The blade has a thin kerf that allows it to cut through material fast and smoothly.
It has extremely sharp construction carbide teeth for clean cuts.
The anti-kickback shoulder is useful for preventing binding.
It has a wedge shoulder design which makes the blade more durable and allows it to cut accurately.
Pros
The blade boasts of a computer-balanced plate that is able to cut down on vibrations and allows the blade to do its job more accurately.
The thin kerf allows for an ATB grind and is great for cross-cutting.
The anti-kickback shoulder or the wedge design is unique and helps the saw cross-cut without any resistance or unnecessary vibration.
The teeth are extremely sharp and efficient.
Cons
Some users have noticed the blade tends to become dull very quickly.
The yellow paint on the teeth does come off and it affects the appearance.
Despite some of its drawbacks, this is a great saw blade for cross-cutting. It is very competitive with a blade like the Makita. Sometimes decisions like these come down to brand loyalty or something like price. I recommend testing both over time and seeing what you prefer.
2. HICO 10″ x 100T Thin Kerf Miter Saw Blade 5/8-Inch Arbor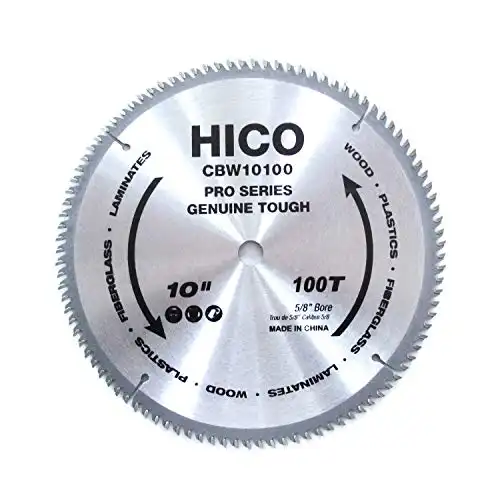 The HICO 10-inch Miter saw blade has 100 teeth and is genuinely tough. It is great for special woodworking that needs fine and consistent finishes. It has an ATB grind and can be used on laminates, wood, plastic, fiberglass and more. It uses hi-density carbide with a touch of titanium and the superiority of this material shows in the work the blade manages to do. The following are some of the features, pros and cons of the blade.
Features
The blade has a 0.1-inch thin Kerf and a 15-degree hook angle.
It has stabilizer vents (that have been laser cut) which is able to trap and reduce noise and vibration while cutting.
It has an Axial Shear Face grind that allows it to cut through wood more easily.
The hi-density carbide and titanium material makes the blade extremely durable.
Pros
The blade has an incredible double-side grind design which allows for smooth crosscuts.
The blade can be used for cutting chipboard, plywood, softwood, hardwood and more. It is compatible with a miter saw, table saw and circular saw.
The 100 teeth the blade has provides an incredibly smooth finish on the material you cut.
The Axial Shear Face grind allows the blade to simply cut through the wood in one swift motion.
Cons
The blade is extremely sharp but it tends to dull more quickly than expected.
The blade is kind of slow on wide or thick boards.
The 100-teeth saw blade has an Axial Shear Face grind which is unique to this blade when compared to the others on the list. With this many teeth, it is really better for specialty applications like moulding, trim work, or real fine woodworking applications.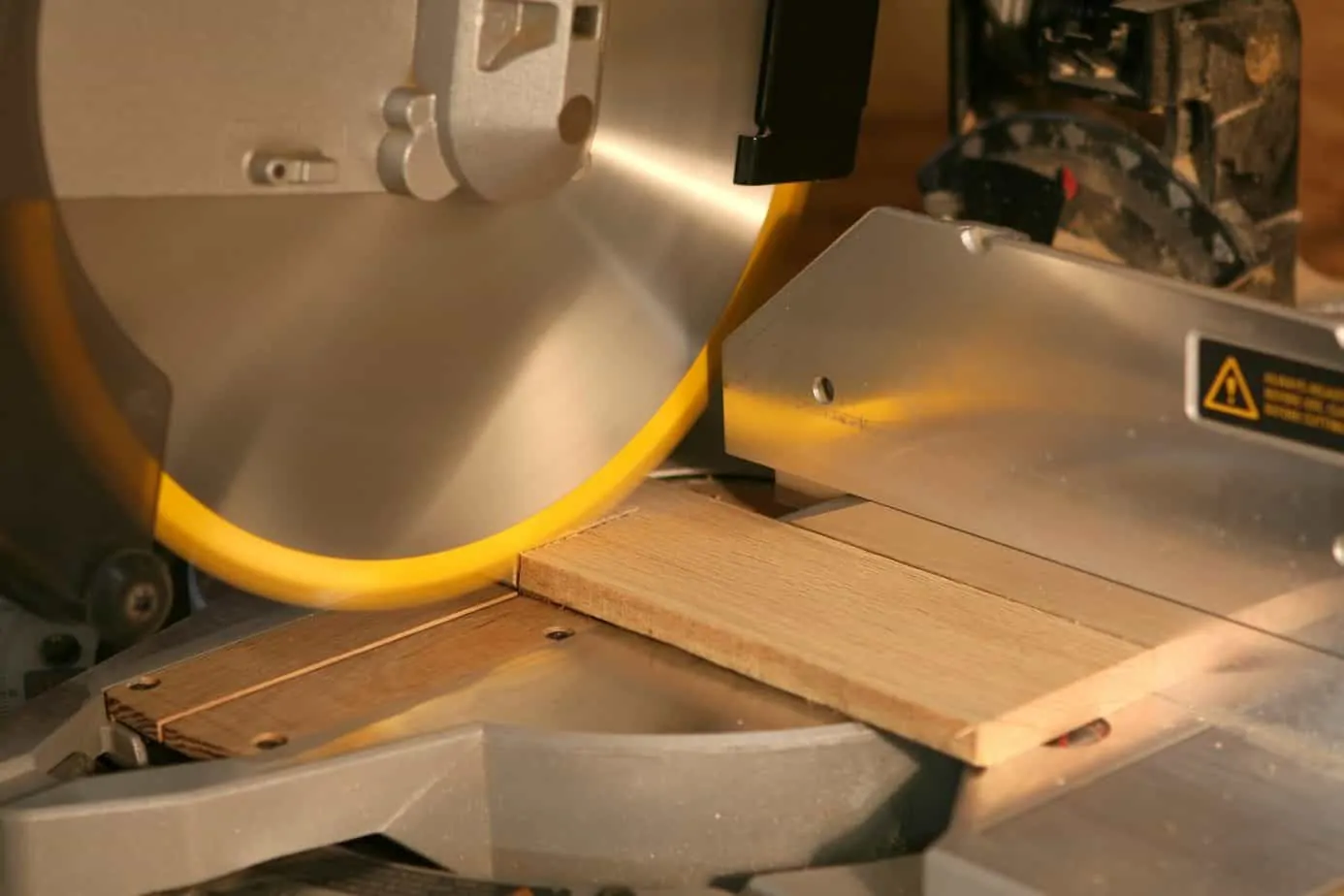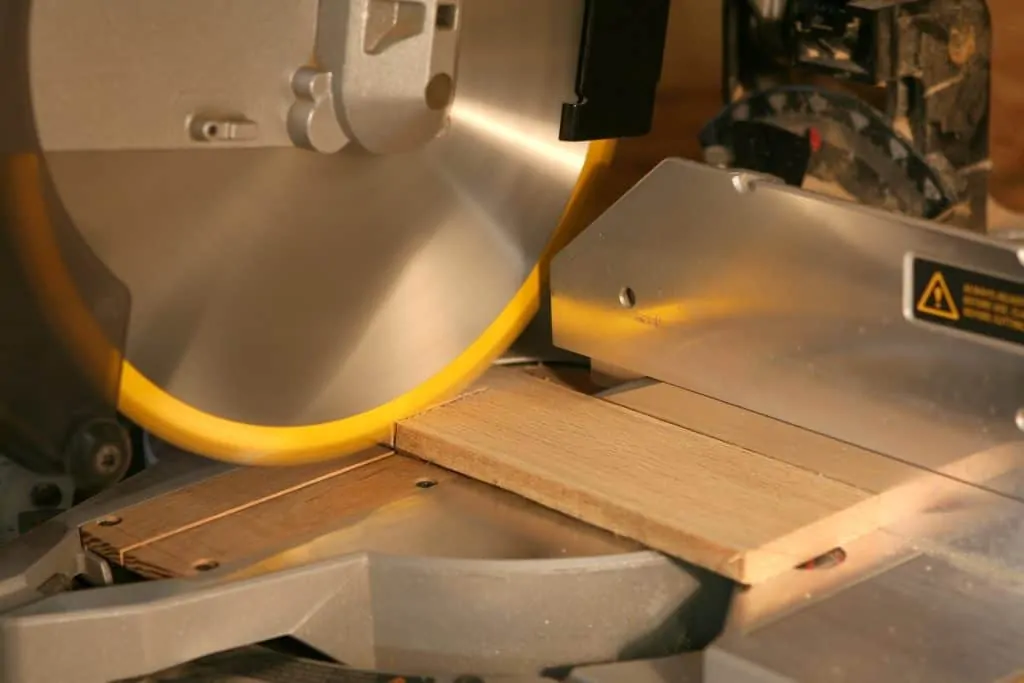 Things to Consider before Buying
Before you settle on a miter saw blade of your choice, you need to think about certain factors that will ensure you pick the right blade for your saw. The following are some of the factors that you may want to consider before buying a miter saw blade.
How many teeth does my blade need?
The teeth of the blade are of the utmost importance because this will decide how the blade cuts through the material. If the teeth are not sharp or treated correctly, the blade will not be able to do its job.
More teeth generally mean you are looking for a finer finish, with less chips and inconsistency. So why would someone need less teeth? Less teeth can be cheaper, first off, and also they usually work just as good for things like framing and rough cutting. They can really chew through material.
More teeth, generally great than 40 or 50, help create a fine finish that will produce a very clean cut. This also means the saw will take a little longer to cut the wood and can also get hotter. Once you get up to around 100T then you are looking at specialty applications instead of simply cutting regular boards for a basic project. By this I mean things like fine trim work or small, fragile type projects.
What Kerf Thickness Should I use?
The kerf is the width of the cut the blade makes at a time. The thinner the kerf is, the greater control you can exercise on the blade and the saw while you are cutting through the material. A thin kerf makes the process of cutting smooth and allows you to make cleaner cuts. This is also a good quality for a blade to have for more efficient cross-cutting.
The drawbacks of a thin kerf can be the saw blade has some flexibility, so you have to be careful not to have any lateral pressure on the blade. This generally doesn't happen with a miter saw, but can with a table or circular saw.
Also, a thin kerf may not be able to be used on a table saw if you are using a riving knife that is wider than the blade.
Saw Blade Material
The material of a blade makes a huge difference. The material will decide how durable a blade is and how many years' worth of use you can get from it. The material used in a blade also decides how powerful the saw can be and how rapidly it can move. If the material is too thick or too heavy, the saw is likely to have a less rapid feed rate. Most of the blades mentioned above have a hi-density carbide finish or something similar. They also have corrosion-resistant coatings that make them a lot more durable. When you are in the market looking for a good miter saw blade, do not forget to check the material. This should be one of the most crucial deciding factors.
Type of Grind
The type of grind, of course, is another important factor. Some of the blades mentioned above have an ATB grind or an Alternate-Top Bevel grind which is great for cross-cutting solid wood of a variety of kinds. One of the blades mentioned above boasts of an Axial Shear Face grind which allows for a smooth motion while cutting and prevents resistance in the material. Every blade will have a different type of grind but you should certainly pay attention and look for the one that suits you.
Conclusion
From the saw blades that have been mentioned above, it is apparent that there is a lot of variety in the market. You can pick up different kinds of blades for your miter saw, as long as they have sharp teeth, a durable body and will not vibrate or make noise when you apply power on them.
While some saw blades are good for cross-cutting, others may be good for trimming and for providing finishing touches. Before you set out to buy something in the market, be sure to know what you are looking for so you can make an accurate decision.