Other Great Tool Belt Options
While the above three tool belts are some of the best choices for most people, there are many other options available. I have curated a top list of other tool belts that could be great for DIYer's, woodworking, roofers, etc. Scroll down below and see if one fits what you are looking for.
1. Style n Craft 98434 Pro-Framers Combo
This tool belt features firm, quality leather that keeps the pouches open and sturdy. Some have complained that the leather is a bit too thin for their taste, but that also means it is not too stiff.
The pocket mostly work great for various tasks, but I have seen several complaints about the tape measure holder. It is simply too small and not in the best location. But that won't be an issue if you carry a smaller tape measure like a 12′.
Overall you can find a higher quality tool belt, but for full leather and with a decent belt this is not a bad value.
2. Occidental Leather 8580 M FatLip Tool Bag Set
The Occidental Tool Bag is generally the gold standard for tool bags. The pockets are double stitched nylon and the belt is high quality leather. The layout is well thought out and will hold a ton of tools.
One thing to remember with this belt is that it can definitely get heavier because it is not made with cheap materials, but there aren't too many complaints in this department.
If you are concerned about it getting too heavy then it would be a good idea to grab the optional suspenders.
You can add or subtract different pockets and storage compartments, so many people are very happy with the modular design. They make different types of bags for framing, dryall, electricians, etc. Any of these styles of bags could be used for DIY and woodworking as well.
Occidental makes several different styles of tool belts that are all good quality. Here are a couple listed below:
3. CLC Custom LeatherCraft 51452 Framer's Tool Belt
This is one CLC's best tool belts, a 4 piece framer's tool belt with fabric and leather trim. It has a total of 27 pockets and sleeves for tools and nails, screws, etc. The double tongue belt is always great to see because it ensures long lasting toughness.
It is a great competitor to the Occidental tool belts I previously reviewed above. There are plenty of pockets and they are big enough to hold larger tools without bending or folding over, and you should easily be able to reach into these pockets with gloves on.
The padded belt increases comfort and usability while the actual function of the belt fits many different waist sizes.
It doesn't have many problems except maybe some of the positioning of the pockets are questionable, such as the hammer loop being on the back side. Of course these positions are all subject to each person's desires, so you will simply need to try out different locations for your tools before you know what really works for you.
I think this belt is a good contender for heavy duty use. It is rugged enough that it could last a long time, and to increase the usage it is always worth considering some tool belt suspenders.
4. DEWALT DG5617 20-Pocket Pro Framer's Combo Tool Belt and Suspenders
This tool belt comes with suspenders and is built with thoughtfulness and durability. It has 9 main pockets and 11 smaller sleeves. It has a zippered pocket and another loop for things like keys.
Each of the tool belts has a handle for ease of carrying.
The suspenders are "yoke" style and there is an extra pocket and cell phone holder on the suspender chest (although the cell phone holder is a bit small for the types of phones they make nowadays).
The reviews for this tool belt are mostly very favorable, and people mention how they would definitely buy this one again.
Dewalt even makes a drill holster and an impact driver holster as well, so it may be worth looking at these to add to the tool belt. I will link them here:
5. Dickies Work Gear 57026 Single Side Apron
Unlike the previous tool belts, this is one is a lighweight and light duty tool belt. It might be that you don't always (or ever) need one of the large and bulky tool belts, so this one could do the job just fine.
It has 5 pockets and is constructed of heavy duty canvas with reinforced stitching. It is made to be strong yet comfortable and supple.
2 of the pockets are large for bigger items, and then it has 1 plier style pocket and 2 smaller pockets for things like pencils and screwdrivers.
The belt is webbing with a plastic buckle, so please don't confuse this as a competitor for the double loop leather buckles above. It is meant to serve a different purpose and I think it does that quite well. The belt will fit waists from 32 (this seems a little high for the smallest size?) to 52 inches. If you are 32″ and below it may be worth looking for a different belt because this one does not go below that.
Tool Belt FAQ
With all tool buying decisions it is important to consider all of the factors that may go into owning that tool.
With tool belts it is pretty straightforward, but it is still worth mentioning because this is a guide on tool belts afterall.
In this section I will cover a few different aspects of buying and owning a tool belt:
Features Important for Buying Decisions
How to Clean a Tool Belt
Wearing a Tool Belt Correctly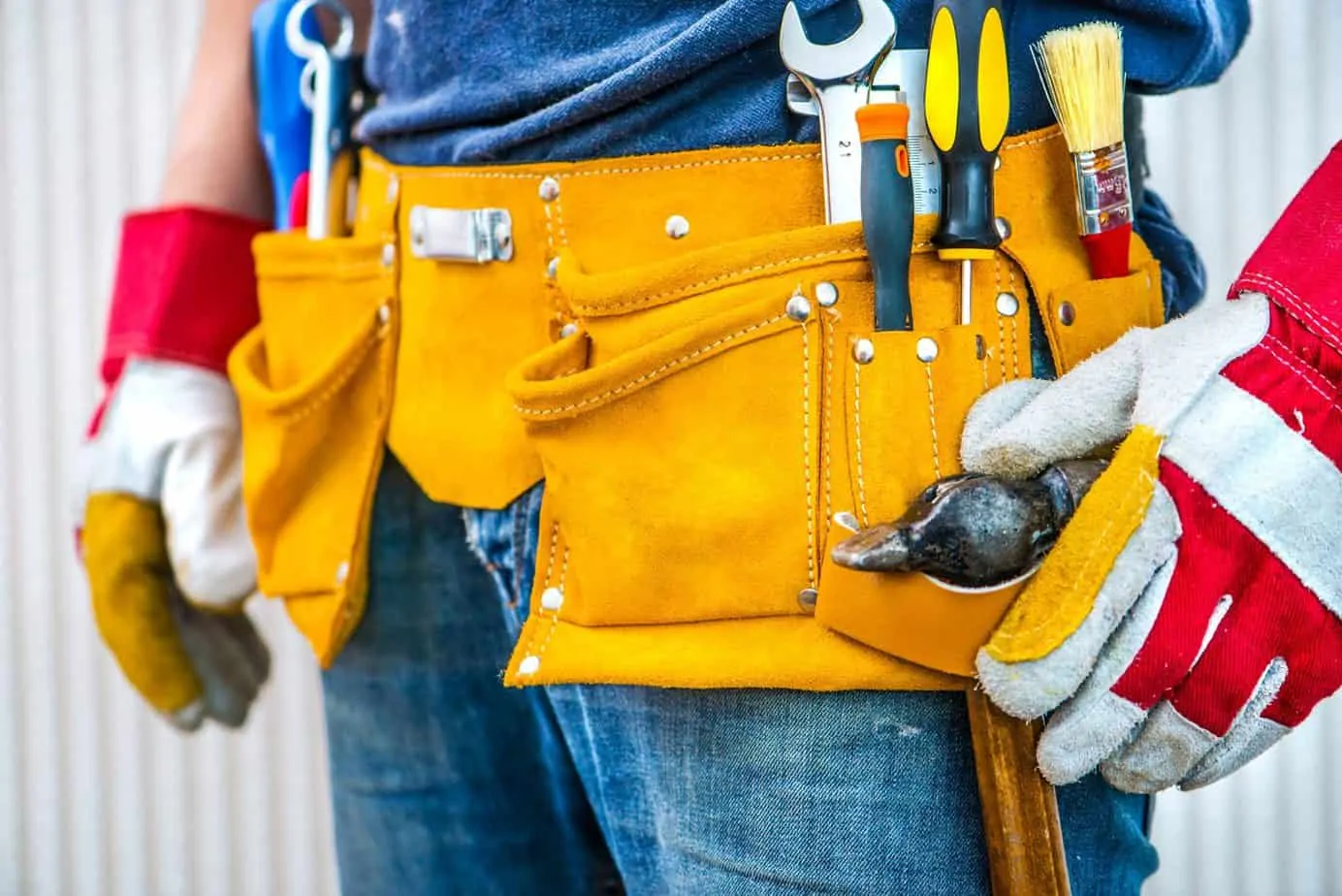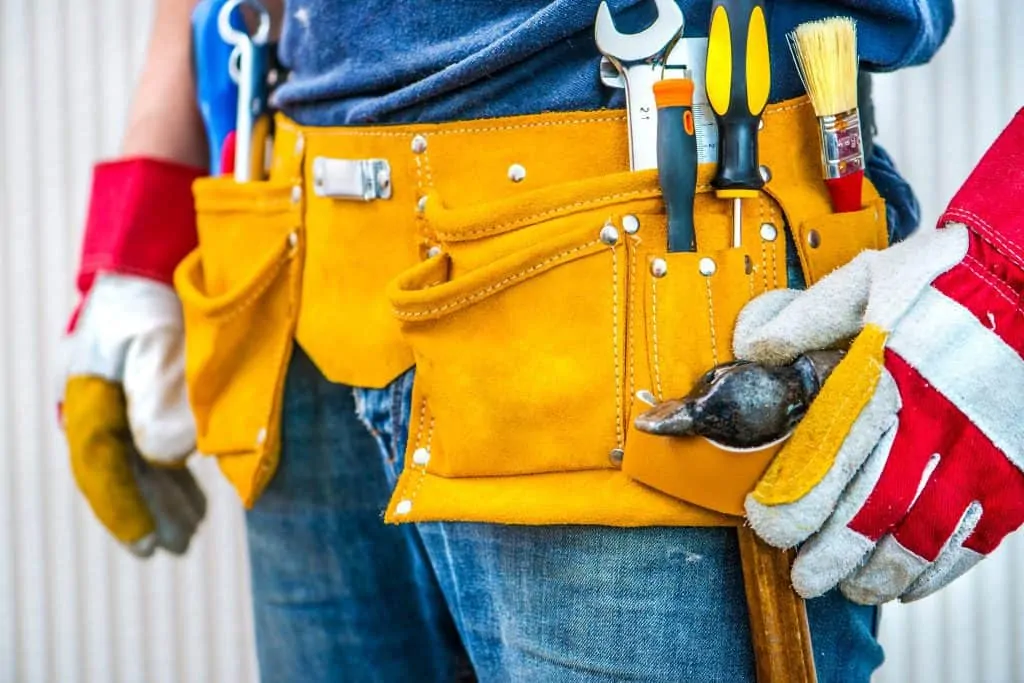 Features Important for Buying Decisions
What features you need in a tool belt is highly dependent on what you will be doing with it. Will you be roofing at a fairly consistent rate? Will you be assembling furniture in your garage or framing a new addition to your house? Each of these situations calls for a different style of belt.
Although I covered it above, you should look at the reviews and product descriptions to determine if a belt will work for your job. Here are some things to look at when inspecting a belt:
Will it fit your waist size? Most of these belts accommodate a large range of sizes, but for people on the smaller end or larger end you should check to make sure there aren't reviews complaining of it not fitting well one your end of the spectrum
What material is it made from? Some materials are easier to clean than others and some are more durable than others. Of course leather is a good way to go, but it can also be more expensive and perhaps less durable in a high moisture environment.
Is it large enough pocket wise? How many tools will you need? Make sure you go one or two pockets over what you think you will normally be carrying.
Do you need suspenders? Will it come with suspenders? This is mainly a weight issue, but even a light weight belt will be hard to hold on your waist for an extended period of time.
How to Clean a Tool Belt
For leather tool belts you will want to make sure that you keep the leather sealed from water damage. If you can accomplish this then cleaning it should never be an issue.
To keep it impervious to water, use a conditioner and sealer to make sure it will remain supple and sealed.
To clean it I recommend using a vacuum in the pockets and anywhere that debris will gather. Once that is done (and you know the leather is sealed well), you can rub it down with a damp cloth.
Nylon belts are generally easier to clean because you don't have to worry about keeping them sealed. Use a (preferably biodegradeble) soap that you can brush into the nylon and then rinse it clean.
Wearing a Tool Belt Correctly
Wearing a tool belt in a correct fashion is simple to do but also critical for safe use in the short term and long term. You don't want to injure your back from days of bad weighting or incorrectly adjusted suspenders.
I personally believe that if you plan on wearing a tool belt for over an hour on a consistent basis then you should go ahead and get suspenders. It will help the way you work and feel dramatically. And they aren't even that expensive (in fact many tool belts come with suspenders) so there is no reason not to do it.
Make sure to spread your tools evenly around the belt so that it is weight correctly. Place the most used tools by your dominant hand.
Once you have placed your tools where you want them, I suggest crouching and moving around as if you were working, and testing the placements and maneuverability of the tool belt. A lot of this learning will just come from experience and testing, but when you are starting off this is the best way to get going.
Conclusion
Whether you are doing a big job one time or a small job many times (or a combination of the two), you could probably benefit from a nice tool belt. It is my hope that you can use this roundup to help in your buying decision.
After studying these tool belts I believe that there are many good products out there, just make sure to find one that fits what you need.