Getting a new tool is a good way to make a handyman's day. Whether it be for the holidays, a birthday, or other special occasion, giving a tool as a gift is one of the best choices you can make.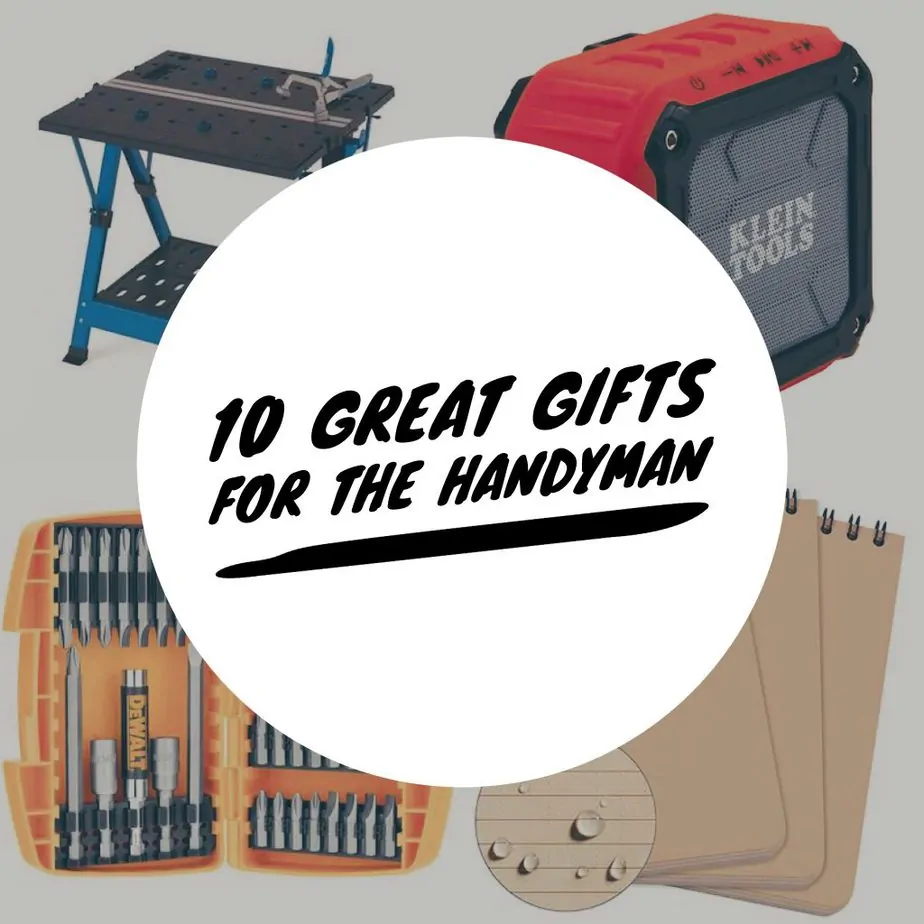 But the problem with many guys is that they already have everything. That's where this list comes in handy. I bet there is something they could use here.
In this post I've compiled some of the best gifts for that doer in your life. You can find a great gift in this list, whether it be for your dad, husband, or any other deserving person.
1. Klein Bluetooth Speaker
A bluetooth speaker is a must have when you are working on a DIY project. This one by Klein Tools is compact, durable, and has some awesome features.
2. Dewalt Screwdriving Set
There is nothing better than having an extra case full of screwdriving bits. This gift is great because it doesn't matter how many someone has. You always need more.
3. RZ Mask
Breathing clean air is important when doing DIY projects. This face mask filters out the dust and is comfortable as well. It beats those disposable ones that are so uncomfortable.
4. Bench Dog Glasses
Protecting your eyes is of the utmost importance when doing DIY projects. If you know someone who regularly works without eye protection, buy these glasses for them. Not only is it great for the eyes, but is has ear plugs attached for hearing protection.
5. Bench Dog Cookies
Bench Dog makes some great stuff, and these bench cookies are no exception. These are great for gripping your workpiece while using a tool. These are great to have around, so don't hesitate to buy these as a gift even if they already have some.
6. Kreg Jig K4
The Kreg Jig K4 is an awesome tool for building all kinds of woodworking projects. If you know someone who likes to build things, then this could be a great upgrade to their shop.
7. Black Diamond Headlamp
When you need a headlamp nothing else will do. These Black Diamond headlamps work awesome, and that handyman will be glad to have it next time he has to get in that crawlspace.
8. Kreg Mobile Project Center
The Kreg Mobile Project Center is a very handy portable workbench. Even if you don't use the Kreg Jig system this thing is great for all kinds of DIY projects.
9. Rite in the Rain Notebook
These Rite in the Rain notebooks are great for dirty and wet environments. I use these in the woodshop because they handle dust and debris so much better than regular paper.
Buy On Amazon
10. Calculated Industries DIY Calculator
This calculator is a huge time saver. It easily calculates measurements in feet and inches so you don't have to waste time writing out conversions or other calculations. The calculator shown here is for the DIYer, but they make several for other industries as well.